By
for on June 29th, 2021
'Good Omens' Will Officially Return for a Second Season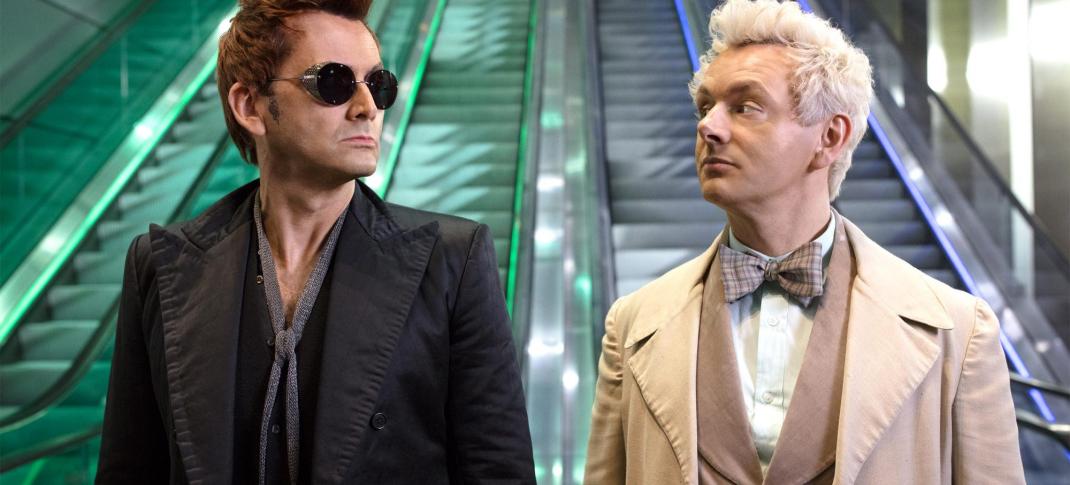 It's a streaming miracle: Amazon has confirmed that a second season of the fantasy drama Good Omens is officially on the way, which will reunite stars David Tennant and Michael Sheen as caustic demon Crowley and bookish angel Aziraphale.
Based on the beloved 1990 novel Good Omens: The Nice and Accurate Prophecies of Agnes Nutter, Witch by Neil Gaiman and Terry Pratchett, the show was originally conceptualized as a limited series and ended with the unlikely celestial duo thwarting the Apocalypse and literally staring down Satan together. 
The slight problem here, as fans of the original novel ​already know, is that the first season of the Amazon Prime series essentially used all the available source material from the original novel. So it's not at all clear where we go from here.
Sure, our lead angel and demon are immortal celestial beings, and Gaiman himself has long said that he and his co-author Pratchett had discussed at some length what a sequel set in this universe might look like. Some of those ideas were incorporated into the series' first season - the existence of Jon Hamm's officious angel Gabriel, for example - but others will be used in its second.
All we know right now is that Season 2 will apparently find Aziraphale and Crowley still happy living among mortals in London's SoHo neighborhood when an unexpected messenger presents a surprising mystery. 
What glorious (and dangerous) trouble will our favorite angel and demon find themselves in this time? Good news! #GoodOmens is returning for Season 2 on @PrimeVideo. pic.twitter.com/cFJQMo0Vkj

— Neil Gaiman (@neilhimself) June 29, 2021
Gaiman is returning as co-showrunner alongside Douglas McKinnon and will co-write the new episodes with newcomer John Finnemore. 
"It's thirty-one years since 'Good Omens' was published, which means it's thirty-two years since Terry Pratchett and I lay in our respective beds in a Seattle hotel room at a World Fantasy Convention, and plotted the sequel. I got to use bits of the sequel in Good Omens — that's where our angels came from. Terry's not here any longer, but when he was, we had talked about what we wanted to do with 'Good Omens,' and where the story went next," Gaiman said.
Filming is slated to begin later this year in Scotland, though there's no word yet about when we might expect to see Season 2 on our screens. 
Are you looking forward to more Good Omens? Let's discuss in the comments.
---
By
for on June 29th, 2021
More to Love from Telly Visions