By
for on June 7th, 2023
The 'Good Omens' Season 2 Trailer Promises a Different Kind of Divine Mystery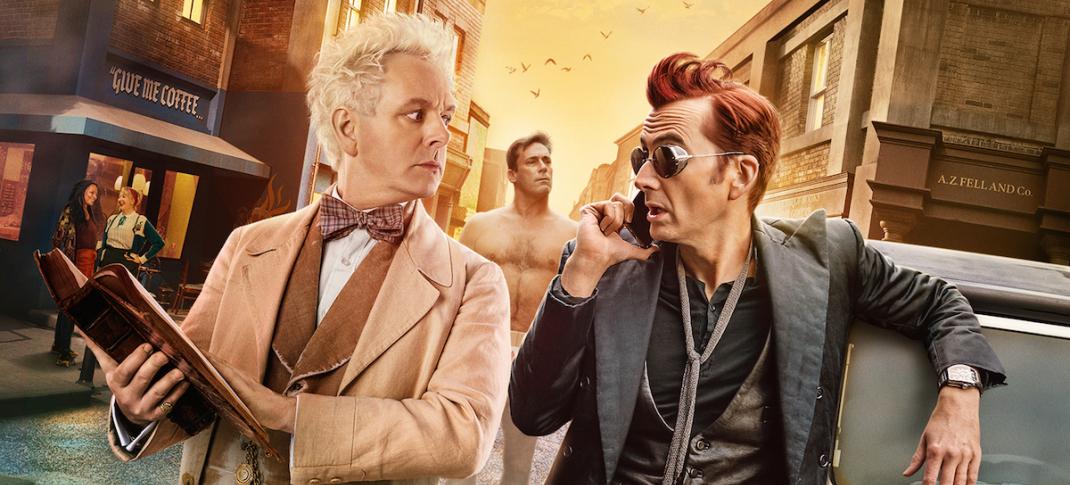 It's probably fair to say that many fans were a bit apprehensive when the news broke that Prime Video had renewed its hit (allegedly) limited series Good Omens for a second season. After all, the first was both critically acclaimed and essentially perfect, not to mention it pretty much used all the material available in Neil Gaiman and Terry Pratchett's beloved 1990 novel of the same name. 
But, with the arrival of the Season 2 trailer, it seems safe to say that, if nothing else, the Good Omens vibes remain ineffable. Stars Michael Sheen and David Tennant are back as fussy angel Aziraphale and caustic demon Crowley and honestly, it feels like they never left. And, having thwarted the Apocalypse, they'll have to tackle a more immediate sort of mystery: The arrival of a very confused Archangel Gabriel (Jon Hamm) in Aziraphale's rare bookshop, who seems to not only be missing several key pieces of his wardrobe but his memory as well. 
To some extent, this makes a lot of sense — after all, Gaiman has said before that he and Pratchett discussed what further stories set in this universe might look like, and the Prime Video series drew on some of those ideas during the series' first season. It's where the existence of the Archangel Gabriel came from, and who knows, perhaps some element of this amnesia plot may have stemmed from those conversations as well. (I think it's definitely not an accident that this second season does seem to center on Hamm's character.)
But, if the trailer's anything to go by, fans everywhere can breathe a sigh of relief. Everything about this clip feels like a natural extension of the series' first season, from Crowley and Aziraphale's ineffable connection to the officious bureaucracy of reals, both divine and damned. (And, if we're honest, the whole of Season 2 could consist of Aziraphale leaving Yelp reviews about the staff quality of the restaurants he and Crowley have dinner in, and I'd be fine with it.)
Here's the Season 2 description. 
Originally based on Terry Pratchett and Neil Gaiman's international best-selling novel, Good Omens 2 explores storylines that go beyond the original source material to illuminate the ineffable friendship between Aziraphale (Michael Sheen), a fussy angel and rare-book dealer, and the fast-living demon Crowley (David Tennant). Having been on Earth since The Beginning, and with the Apocalypse thwarted, the duo are getting back to easy living amongst mortals in London's Soho. That is, until the archangel Gabriel (Jon Hamm) turns up unexpectedly at the door of Aziraphale's bookshop with no memory of who he is or how he got there. While Crowley is leery as to why the archangel has come to the bookshop, Aziraphale is keen to solve the mystery behind Gabriel's condition. However, hiding the archangel from both Heaven and Hell quickly disrupts their lives in unforeseen ways. To solve this mystery and thwart Heaven and Hell in the process, the duo will need more than a miracle; they'll need to once again rely on each other.
Alongside Tennant, Sheen, and Hamm, the bulk of the first season's cast is also returning Doon Mackichan (Two Doors Down) as Michael, Gloria Obianyo (Dune) as Uriel, and Derek Jacobi (Last Tango in Halifax) as the Metatron. Nina Sosanya (Staged), Maggie Service (Quiz), and Miranda Richardson (And Then There Were None) will also be back, but they'll be playing new characters this time around, as you can probably tell from the trailer above. 
New faces joining the ensemble include Tennat's father in law. Peter Davison (Call the Midwife) and his eldest son Ty Tennant (House of the Dragon), plus Quelin Sepulved (The Man Who Fell to Earth), Donna Preston (The Sandman), and Shelley Conn (Bridgerton). 
Good Omens Season 2 will arrive on Friday, July 28. Season 1 is currently streaming on Prime Video.
---
By
for on June 7th, 2023
More to Love from Telly Visions