By
for on March 25th, 2022
The 'Why Didn't They Ask Evans' Trailer Features An All-Star Cast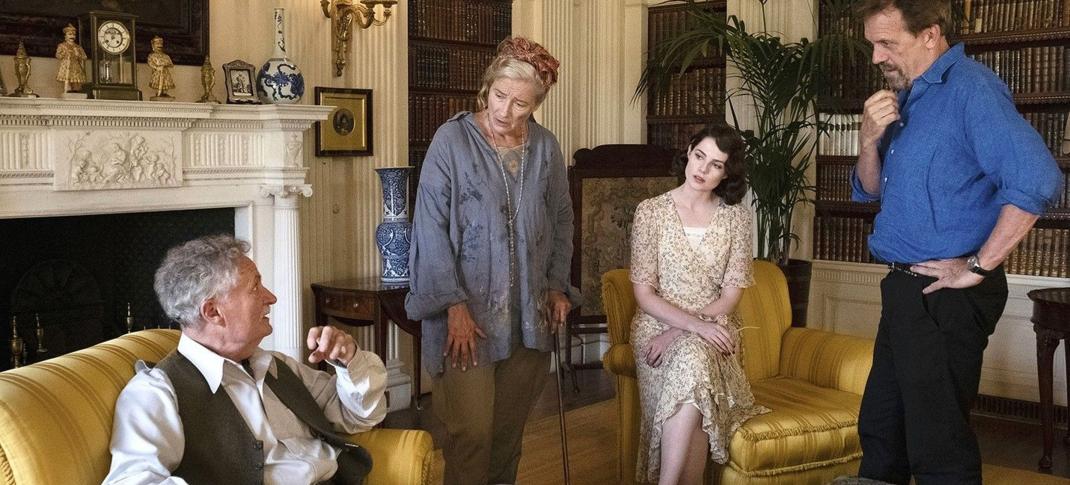 Why Didn't They Ask Evans? isn't anywhere close to the most popular of Agatha Christie's 66 novels. It came out the same year as Murder on the Orient Express and it didn't star one of her regularly scheduled detectives of Hercule Poirot, Miss Marple, or Tommy and Tuppence. Due to not having one of her standard crime solvers, it's only been adapted-as-written once before, in 1980, making BritBox's new version that arrives this April the second faithful adaptation ever. (There was a third adaptation in 2011, but it reconceived the novel as a Miss Marple story for the ITV series Agatha Christie's Marple.)
But that means that the mystery (and the pair who solve it) will be new acquaintances for fans tuning in to the three-part series. A passion project for Hugh Laurie, who fell in love with the book as a teenager, BritBox's Why Didn't They Ask Evans? is the first in a planned line of Christie adaptations, each from different directors who put their own spin on it, a marked departure from previous adaptation series, which were either TV series started the same group of actors like David Suchet or Julie McKenzie, movie series all from the same writer like Sarah Phelps, or films that starred the same actor in the detective role, like Peter Ustinov or Kenneth Branagh.
Laurie may be doing an off-beat story as the leading edge of this new wave of Christie adaptations. However, he has stuck to the traditional choice to turn the cast of Agatha Christie's story into an all-star affair. Will Poulter (Dopesick) and Lucy Boynton (The Politician) lead off the group as the amateur sleuths Bobby Jones and Lady Frankie Derwood, looking to solve the crime after a dead body turns up. But the trailer features a cavalcade of names and faces, all of whom may be the culprit in this whodunit.
Here's the series synopsis:
Based on the iconic 1934 Agatha Christie novel, Why Didn't They Ask Evans? follows the amiable Bobby Jones and his whip-smart friend, socialite Lady Frances "Frankie" Derwent. An unsuspecting Jones discovers the crumpled body of a dying man on a golf course who, with his last breath, gasps the cryptic question of the series' title. Armed with only a photograph of a beautiful young woman found in the dead man's pocket, these amateur sleuths embark on a crime-solving adventure and prove surprisingly adept at unearthing clues. The levity of the duo's wit and banter belies the danger they continuously encounter as they pursue the answer to the mysterious question. 
Hugh Laurie wrote and directed all three episodes and joins Poulter and Boyton in a more minor role. Other major names include Jim Broadbent (Game of Thrones), Emma Thompson (Love Actually), Conleth Hill (Vienna Blood), Maeve Dermody (The Beast Must Die), and Daniel Ings (I Hate Suzie). Also in the cast: Amy Nuttall (Downton Abbey), Alistair Petrie (Sherlock), Jonathan Jules (Small Axe), Miles Jupp (The Thick of It), Paul Whitehouse (The Personal History of David Copperfield), Morwenna Banks (Skins), Joshua James (The Ipcress File), and Richard Dixon (Poldark).
Why Didn't They Ask Evans? will arrive on BritBox with three episodes on Tuesday, April 12, 2022.
---
By
for on March 25th, 2022
More to Love from Telly Visions