By
for on April 22nd, 2022
'Why Didn't They Ask Evans?' Review: A Delightful New Detective Duo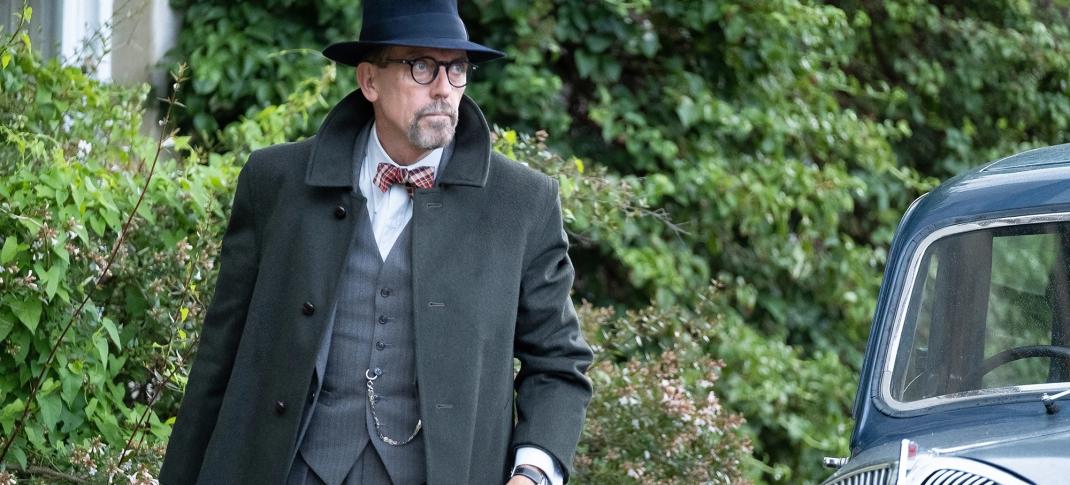 When asked if I would be interested in writing about the most recent screen incarnation of Agatha Christie's 1934 novel, Why Didn't They Ask Evans? I jumped at the chance.  The casting announcements alone made watching this mini-series must-see TV for me. What Anglophile wouldn't want to watch a bevy of accomplished British actors perform a screenplay written and directed by the multi-talented Hugh Laurie? I'm confident I've never watched the 1980 TV movie version of this mystery. It's more likely I would have caught the 2009 episode reworked for Agatha Christie's Marple.  Regardless, I'm confident this adaptation is the new standard for this particular story and an excellent template for future adaptations of Christie novels.
If, like me, Evans is unfamiliar to you, let's set the scene. It begins on the golf course of the quaint Welsh village of Marchbolt sometime in the early 1930s. Bobby Jones (Will Poulter) is caddying for the kindly local GP, Dr. Thomas (Conleth Hill). Hearing a scream, the (recently) former sailor runs to the cliff's edge to find a rather mangled-looking fellow lying on the beach below. Jones scrambles down the cliffside and reaches the man in time to hear his final words – "Why didn't they ask Evans?" While he waits for help to arrive, Bobby notices a photo of an intriguing young woman in the man's outer jacket pocket.
Just then, a posh chap happens upon the scene. He says he's been house hunting in the area and agrees to stand watch over the body until Dr. Thomas arrives with help. With a somewhat eccentric "You are dismissed Bobby Jones" and a military salute, Roger Bassington-ffrench (Daniel Ings) sends the young man on his way. (Yes, that is how the name is spelled. Christie may not be as well known for satirizing the upper middle classes as Jane Austen, but she has her little jokes.)
Bobby is the son of the local vicar, Rev. Jones (Alistair Petrie), and one of his many talents is playing the organ for services. He spots a young woman getting into a chauffeur-driven car as the congregation exits. She's Lady Frances Derwent (Lucy Boynton), Frankie, as Bobby knew her when they were kids, and she's eager to pick his brain about the unfortunate man's death on the beach. She insists Bobby must find out what the victim's last words meant. She also poses the possibility that this incident could be foul play.
As the story's pair of amateur sleuths, Bobby and Frankie command (and I mean that in a good way) every moment of the viewer's attention. Poulter is an actor I've been keeping my eye on since he starred in 2007's indie film, Son of Rambow. His portrayal of Bobby radiates integrity, competence, and a sort of quiet chivalry. Lucy Boynton, who first got my attention in the 80's period musical film Sing Street, is a force of nature as a rich girl with a heart of gold. Frankie is intelligent, persistent, daring, and has fantastic dress sense.
Despite the distracting, attractive young couple and their obvious chemistry, other characters deserve mention. Bobby's business partner, Knocker Beadon (Jonathan Jules), is a loyal shipmate with an impish attitude, balancing out his friend's more reserved personality. While too brief, the cameos by Emma Thompson and Jim Broadbent as Frankie's parents, Lord and Lady Marcham, were a delightful bit of comic relief from two Oscar-winning national treasures. Comedian (and avid fisherman) Paul Whitehouse was appropriately cast as The Angler's Arms landlord. From Ivy, the flirty telegraph operator, to Mr. Miller, the mischievous traveling carnival operator, all the supporting roles had a moment to shine.
As in any Christie narrative, there are many suspicious characters, several of which are red herrings. The Caymans are a married couple, Leo (Richard Dixon) and Amelia (Morwenna Banks). The latter identifies the deceased as her brother Alex Pritchard. However, the woman in the photo Bobby found is not her. Then there's the Bassington-ffrench family. Roger, who Bobby met on the beach, likely swapped out the aforementioned photo. He lives with his brother Henry (Miles Jupp) and Sylvia (Amy Nuttall), Henry's wife, the three apparently on pins and needles around each other, in a fancy house called Merroway Court.
Lady Frances and her boys (Bobby, Knocker, and a doctor friend) stage a car accident at Merroway Court's gates to access the Bassington-ffrenchs. Frankie keeps her eyes open and her wits about her as they encounter Dr. Nicholson (Hugh Laurie), the director of a nearby sanitorium, recently called in to assess Henry's mental instability due to drug addiction. The doctor's wife, Moira (Maeve Dermody), happens to be the woman in the photo Bobby found in the dead man's pocket. She fears for her life and, just by the by, her husband's been performing some concerning electroshock experiments on his patients. (Not exactly Dr. House, but maybe a cheeky nod?)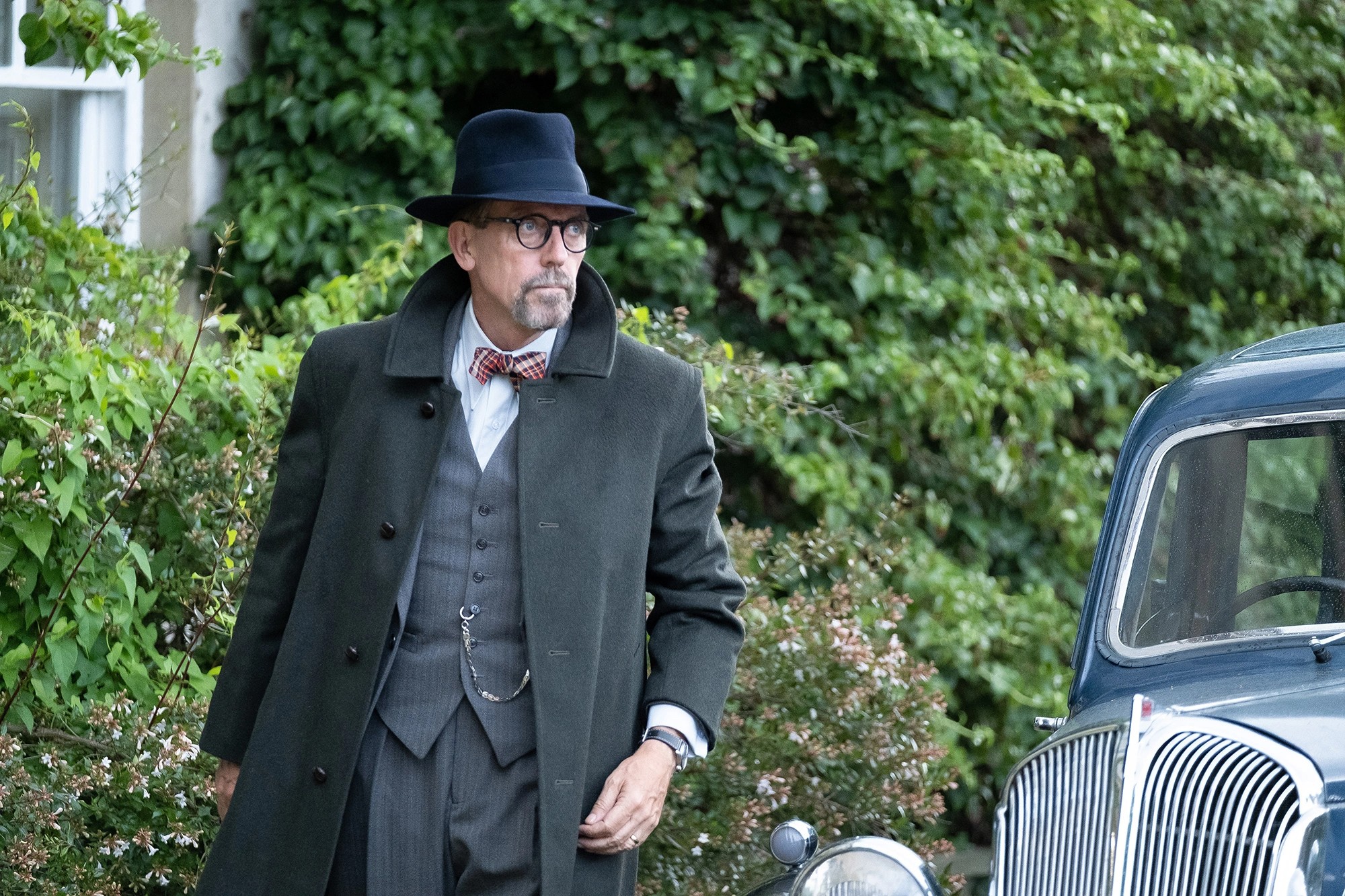 Finally, the most apparent baddie of the bunch is a mysterious man who is very clearly stalking Bobby Jones. Perpetually dressed in a black suit, bowler hat, and an intimidating expression, wherever he is spotted, bad things happen to Mr. Jones or his friends, among them a suspicious suicide, a near-fatal poisoning, and a vicious strangling attempt. The identity of this Bond villainesque henchman and his employer is not revealed until late in the series. And, oddly enough (or perhaps not), the answer to the titular question was pretty close to home.
I'll admit I lost the thread of the investigation a time or two, but that's not unusual for me since I'm more concerned with characters and exciting dialogue than logic. Overall, it was an enjoyable three hours watching impressive banter, lovely scenery, and a well-crafted tale. If this is Hugh Laurie's directorial foray into the murder mystery genre, it better not be his last. BritBox is heralding this limited series as the first of several adaptions in an interconnected Christie universe, and hopefully, those that follow will be just as entertaining.
All three episodes of Why Didn't They Ask Evans? are streaming on BritBox.
---
By
for on April 22nd, 2022
More to Love from Telly Visions