By
for on October 26th, 2013
Who Needs CGI?: First Look at Benedict Cumberbatch Filming Smaug in 'The Hobbit'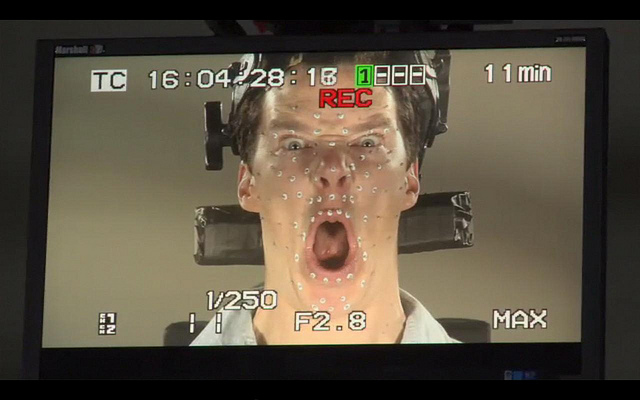 The second installment of director Peter Jackson's epic The Hobbit trilogy, subtitled The Desolation of Smaug, will open in theaters on December 13. Fans everywhere have been beside themselves with anticipation basically since the credits rolled on An Unexpected Journey last December, eager to see J.R.R. Tolkien's story continue.
Of course, the main thing we're all excited about is basically what it says on the tin – this is the one that's got the dragon in it. Yeah, we will finally meet the titular and legendary Smaug the Golden in this installment, and, if the initial trailer where we finally get to hear him speak is any indication, he's going to be pretty impressive.
And, of course, many of us would argue he was always going to be pretty impressive given the fact that such an impressive actor is behind-the-scenes. Sherlock star Benedict Cumberbatch, who seems to have a different movie out every other week for the duration of 2013, is playing Smaug – or, at the very least providing his voice (which you can here in the trailer above) and doing the motion capture work that is turned into Smaug through the magic of the folks at the Weta Workshop. (Who, obviously, is not our WETA, but who we like quite a bit all the same. Gollum is awesome.)
Anyway, it would appear that Cumberbatch got very method about the whole be a giant dragon thing, if these screenshots from a behind-the-scenes documentary included on the recent Unexpected Journey extended DVD are anything to go by. (Thanks, TolkienNerd for the photos!)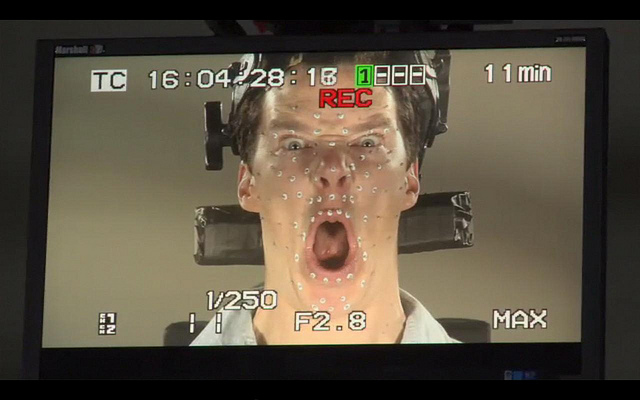 Do we even need to CGI this? I mean, come on.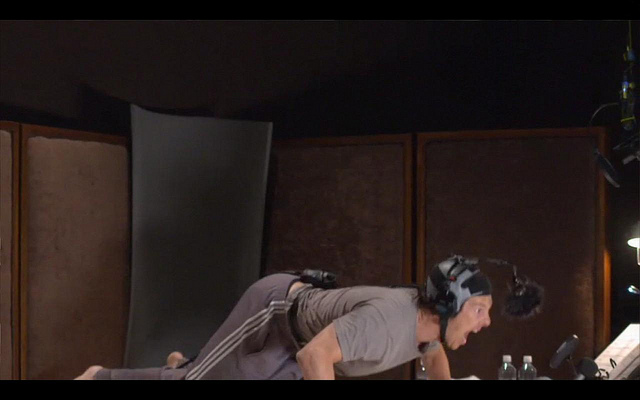 Rumor has it Cumberbatch crawled around on tables while doing his lines. Someone better tell me that there is video of that and that I will get to see it someday.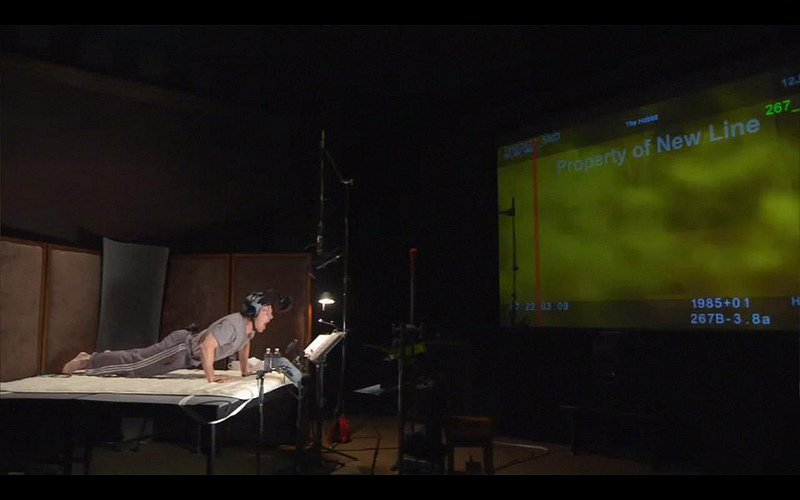 This must have been so much fun to shoot, right? And here I thought they'd just be in a voiceover booth for half of it… Clearly an incorrect assumption.  There are even a couple more screenshots over at Tokienerd's Flickr page. It's like Christmas kind of! 
Is it time to watch this movie yet? Seriously, this is killing me. How about you all? Are you excited for The Desolation of Smaug? 
---
By
for on October 26th, 2013