By
for on December 19th, 2014
Watch: Martin Freeman in Middle Earth's Answer to 'The Office'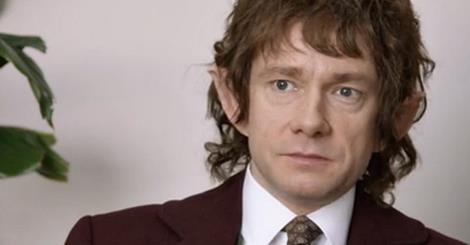 Hi gang! I've been on vacation for the past week – so if you noticed that the blog was dark over this time, that's why – and now that I'm back catching up it seems like a lot happened during the past few days!
Clearly the best thing that I missed out on – and it's so good I'm not even upset that I'm writing about it so late – is the fact that Sherlock star Martin Freeman hosted the iconic Saturday Night Live last weekend.  While I haven't managed to watch the entire episode yet – though I hear from various corners of the internet that the whole thing was actually good, something of a rarity during the past few years of SNL – I did catch the standout moment that resulted when the worlds of two of Freeman's biggest hits collided.
The Office: Middle Earth imagines what life might be like for Bilbo Baggins following the conclusion of his quest in The Hobbit. It turns out that life looks a lot like the iconic  British sitcom The Office, which also starred Freeman as loveable everyman Tim way back when. Only this time, there are definitely more orcs. 
"The brave Hobbit, Bilbo Baggins, now works at a paper company," Bilbo said. "And I drive a Jetta."
The clip basically does several really great shot-for-shot recreations of some of the more memorable moments from the popular British comedy, and features Gollum, Tauriel (as Pam) and Gandalf, who hilariously stands in for Ricky Gervais' David Brent.
Watch for yourselves below. Even if you've seen it already it's worth another look – there are plenty of sneaky references to the original The Office hidden throughout, including several that you probably won't catch until a second viewing.
Now that Freeman and company are done with The Hobbit film trilogy, where do we sign the petition to make this into a real show? Asking for a friend. 
---
By
for on December 19th, 2014