By
for on October 2nd, 2013
Meet Benedict Cumberbatch's Smaug in New Trailer for 'The Hobbit' Sequel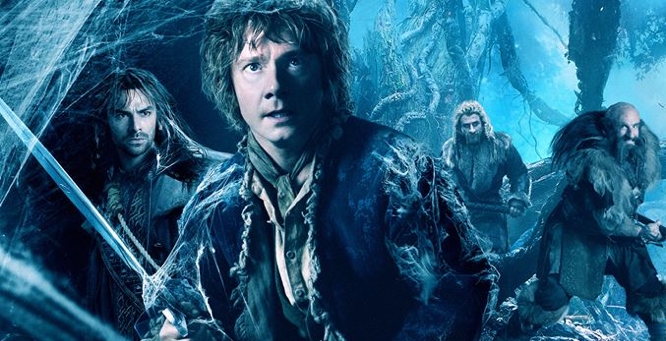 The second installment in director Peter Jackson's massive The Hobbit trilogy, subtitled The Desolation of Smaug, is due to hit theaters this December and fans everywhere have been beside themselves with excitement – well, since basically last December when An Unexpected Journey premiered – to see Tolkien's story famous continue.
And also most of them (you? us? everyone?) are sort of (really) looking forward to seeing finally that titular dragon that our hero Bilbo Baggins has to face off with. Luckily, you get a little bit of your wish today.
Sherlock's Martin Freeman reprises his role as hobbit Bilbo Baggins, alongside fellow returning stars Sir Ian McKellen, Richard Armitage, Aidan Turner, Lee Pace, Sylvester McCoy, James Nesbitt, Peter Hambleton and more.
In the trilogy's second installment, they'll be joined by Luke Evans as Bard the Bowman, Evangeline Lily as a warrior elf princess named Tauriel created just for this film, and Stephen Fry as the Master of Laketown (though he doesn't show up in this trailer).  Original Lord of the Rings trilogy cast member Orlando Bloom is also back as the always perfectly coiffed elf Legolas, and seems to have not only retained his skill with a bow, but managed to not age in the past ten years. Sheesh.
Oh, and this trailer (finally) marks the debut of Freeman's Sherlock co-star Benedict Cumberbatch as Smaug, and, yes, you finally get to hear the actor's long-awaited voice work as Middle Earth's most fearsome dragon. So, get ready, fangirls everywhere.
(Spoiler: It's awesome. Seriously. Everything is awesome.) 
Watch for yourselves below. 
The Hobbit: The Desolation of Smaug opens in theaters on December 13, 2013.
Come flail with me in the comments
---
By
for on October 2nd, 2013