By
for on March 10th, 2023
IFC's 'Hullraisers' to Raise Hull Across AMC+ Brands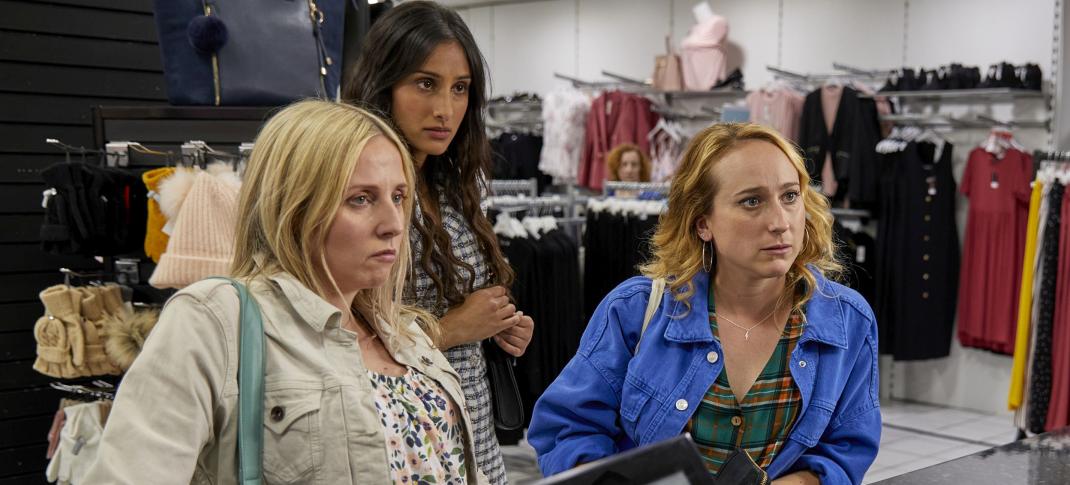 As AMC Networks struggles to find its footing in the new entertainment landscape, its network of niche brands is finding strength in crossing their streams. AMC+ and horror streamer Shudder have been sharing movies, BBC America feeds AMC+ and AMC, the cable channel, and Acorn TV is letting everyone taste Happy Valley. The share and share alike strategy is now enveloping the previously standalone IFC, which has mostly been high-end art films since launching its streaming service. But with the arrival of Hullraisers, it too is getting into the sharing game, with Sundance Now and AMC+ also streaming it come April 5, 2023.
In AMC Network's defense, Hullraisers is a comedy that could have landed in multiple places on the AMCN spectrum, as it's a good fit for Sundance Now and BBC America, Acorn TV, and AMC+. The comedy series, a remake of the Israeli hit Little Mom, is landing on three of those to start. The series comes from writers Lucy Beaumont, Anne-Marie O'Connor, and Caroline Moran, and focuses on three BFFs who live in Kingston upon Hull, hence the name. 
The first trailer introduces stars Leah Brotherhead (Bridgerton) in her first leading role as Toni, a struggling wannabe actress whose early motherhood is getting in the way of her career. Sinead Matthews (The Crown) plays her older sister, Paula, with Taj Atwal (Line of Duty) rounding out the threesome as their joint BFF, Rana. As fans can see, theirs is not the easiest of friendships but one they value when life gets hard.
Here's the synopsis for Hullraisers:
British sitcom adapted from the Israeli sitcom Little Mom, Hullraisers follows the lives of three working-class women living in the Yorkshire city of Hull, self-described actress and chaotic mother Toni, her down-to-earth older sister Paula and best friend, policewoman Rana, as they navigate their daily lives, their chances at romance, and their dreams for the future.
Brotherhead, Matthews, and Atwal are joined by Yanick Ghanty (Bring On the Bollywood) as Paula's husband, Dane, Perry Fitzpatrick (We Hunt Together) as Toni's love interest, Craig, and Merch Husey (The Durrells in Corfu) as Rana's on-again-off-again Aldi. The series also co-stars Shobna Gulati (Doctor Who), Felicity Montagu (Beyond Paradise), Pippa Fulton (Emmerdale Farm), Natalie Davies (Aladdin & The Stolen Stories), Matilda Firth (Disenchanted), and newcomers Oliver Turner and Jaylan Batten.
The six-episode series originally debuted on Channel 4 and streaming service All4 in April 2022, with a second series commissioned in August. All episodes will be available on IFC's streaming service, Sundance Now and AMC+, starting April 5, 2023.
---
By
for on March 10th, 2023
More to Love from Telly Visions