By
for on May 8th, 2023
Idris Elba's Apple TV+ Thriller 'Hijack' Commandeers A Release Date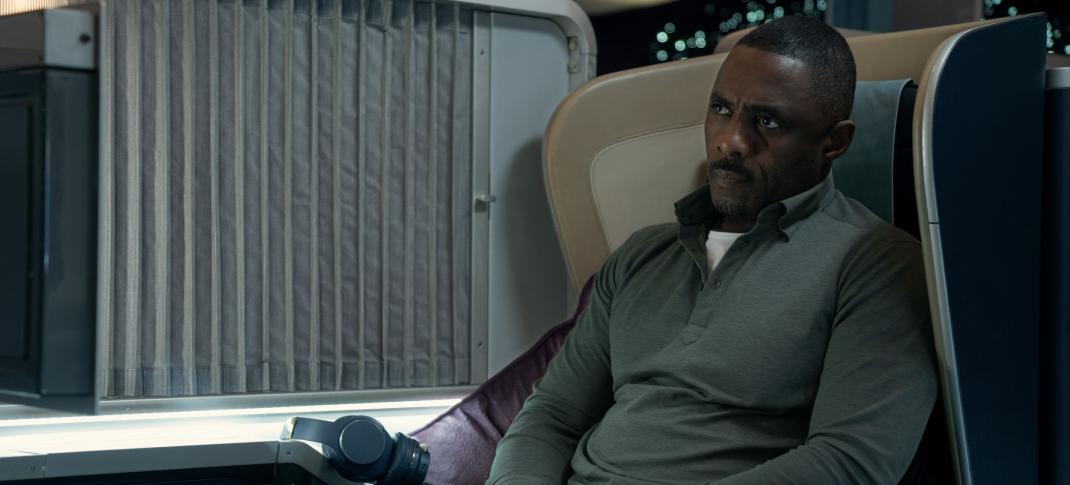 Idris Elba may have put to bed any James Bond rumors with his Luther: The Fallen Sun refusal to drink a martini, but just because he has no interest in being handed a license to kill or a double-0 number doesn't mean he's about to retire for being an action hero. Case in point: Elba's new series on Apple TV+, Hijack, where he will find himself going from hard-nosed business negotiator to dealing with a hostage situation 40 thousand feet in the air, as he is tasked to defuse a potentially explosive situation in just seven hours. 
TV series rarely do "real-time" adventures, except perhaps as a single episode one-off. The notable exception to this rule was the American program 24, a post-9-11 terrorism fantasy series on Fox, which took advantage of the standard broadcast season's standard 24-episode format to play out "a day in the life" of Keifer Sutherland's Jack Bauer. With Hijack, Apple TV+ is the first to resurrect the concept of telling thriller-type stories as a season-long gimmick, with the show's seven-episode season, each representing one hour of events.
Remarkably, none of the high-profile streaming services have attempted this format since the shift in the entertainment landscape binge-model release strategies and seasons that run 6-10 hours tops. 24 was initially a hit due to its structure, but it quickly became a different sort of unreality, as a character who does not sleep or use the loo in 24 hours seems a bit off. Having an action-thriller dramatized in real time over a far more realistic span seems a no-brainer format, either as a single release drop of all episodes or week to week.
Here's the show's official synopsis:
Told in real-time, Hijack is a tense thriller that follows the journey of a hijacked plane as it makes its way to London over a seven-hour flight, and authorities on the ground scramble for answers. Elba will star as Sam Nelson, an accomplished negotiator in the business world who needs to step up and use all his guile to try and save the lives of the passengers — but his high-risk strategy could be his undoing. 
Along with Elba as Sam Nelson, the series stars Archie Panjabi (Life on Mars) as Zahra Gahfoor, a counterterrorism officer on the ground when the plane is hijacked and becomes part of the investigation. The series also co-stars Eve Myles (Torchwood), Christine Adams (Black Lightning), Max Beesley (Jamestown), Ben Miles (The Capture), Neil Maskell (Peaky Blinders), Jasper Britton (Blackbeard), Harry Michell (The English Game), Aimée Kelly (Grantchester), and newcomer Mohamed Elsandel.
Hijack is the first project out of Apple TV+'s first-look deal with Idris Elba's production company, Green Door Pictures, which was signed back in 2020. Elba is also an executive producer on the series, along with series writer and creator George Kay (Criminal) and Jim Field Smith (Truth Seekers), who helmed all seven episodes of the series as lead director, both of whom produced on behalf of their own company, Idiotlamp Productions. It is the third series done in conjunction with 60Forty Films, the production company behind Apple TV+'s other British series, Slow Horses and The Essex Serpent.
Hijack will debut on Apple TV+ on Wednesday, June 28, with two episodes, with the remaining five released weekly through July 26, 2023.
---
By
for on May 8th, 2023
More to Love from Telly Visions