By
for on May 5th, 2022
'Baking Show's' Noel Fielding Joins Untitled Apple TV+ Comedy
Noel Fielding was already a known comedian in the U.K., famous for being part of the sketch comedy troupe The Mighty Boosh, though anglophilic Americans probably knew him best from his role on The IT Crowd. But it was Channel 4 tapping him as part of The Great British Baking Show's Great British Talent Recast that turned him into an international figure, even if his opening sketches with Matt Lucas are not really a fan favorite.
Fielding is trading in on that name recognition in a push to take his fame further than his "U.K. celebrity" status and has signed on with Apple TV+ as part of the streaming service's new push to cross over into U.K. programming. Fielding will star in a brand new as-yet-untitled comedy series, where he will play Dick Turpin, a legendary British highwayman from the early 18th century, one history turned into a romantic figure after his execution in York in 1739.
For Americans who haven't heard of Turpin, the man was originally a Yorkshire tradesman, following in his father's footsteps as the local town butcher. Somewhere along the way, he turned to a life of crime and by the early 1730s, was part of a poaching gang known for burglary, murder, and stealing horses. (It was that last charge that Turpin was executed for.) He is most famous for being the subject of a 19th-century tale by the Victorian novelist William Harrison Ainsworth depicting his (probably fictional) 200-mile overnight ride from London to York on his horse, Black Bess.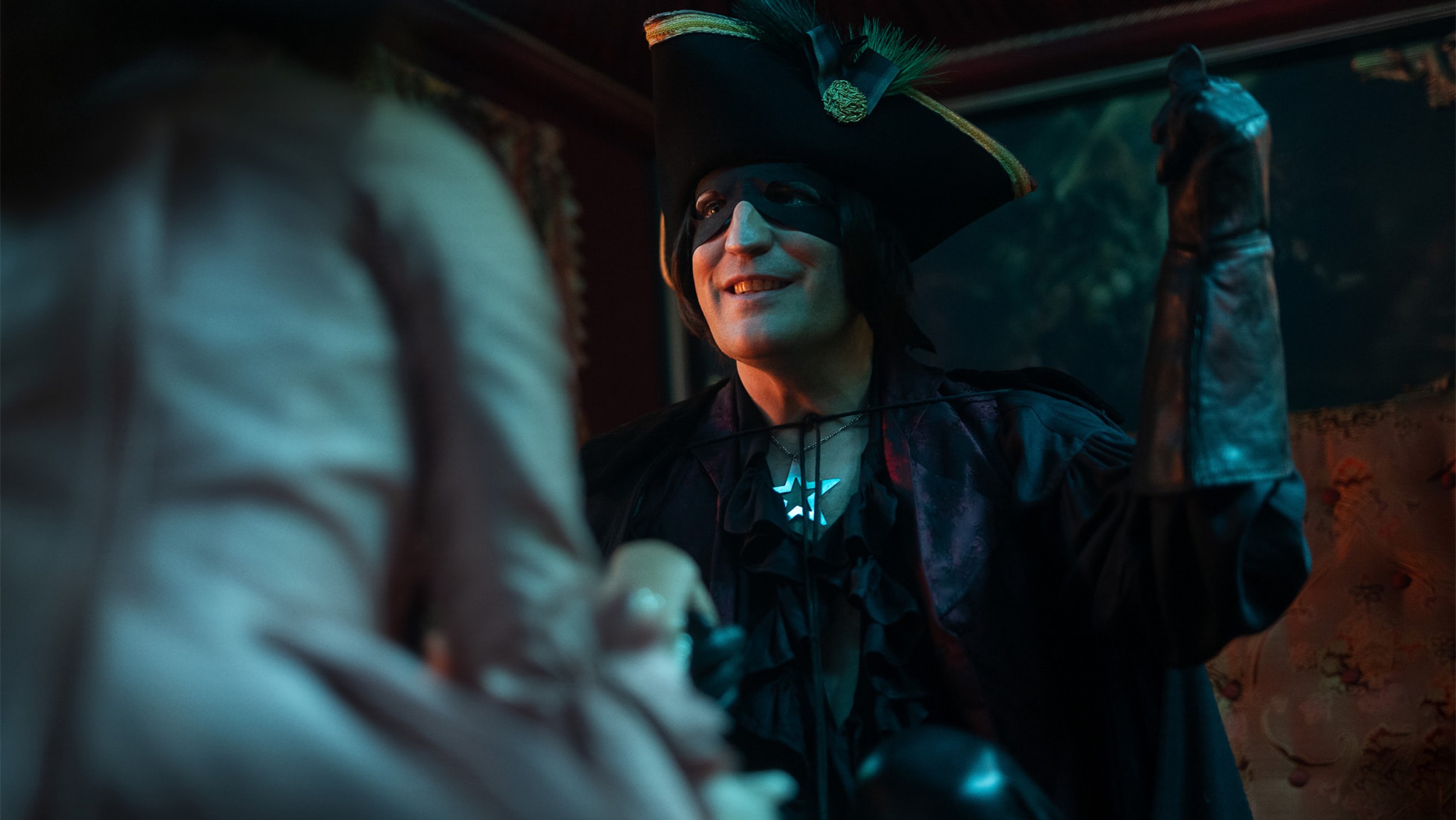 Here's Apple TV+'s synopsis of the series:
In this irreverent retelling, Dick is the most famous, but least likely of highway robbers, whose success is defined mostly by his charm, showmanship, and great hair. Together with his gang of loveable rogues, Dick rides the highs and lows of celebrity — and does what he can to escape the clutches of the Thief-Taker General.
Though filming for the series is only just underway, there's no cast confirmed beyond Fielding so far, and there's no official title as yet, Apple TV+'s press release came complete with first look images of Fielding as Turpin. It should surprise nobody that they feature the gothy British comedian looking like he stumbled drunkenly out of a Renaissance Festival in full garb and hit every wooden step on the way down.
The series hails from The Outlaws' Claire Downes, Stuart Lane, and Ian Jarvis; Fielding and Jeremy Dyson (The League Of Gentlemen) are credited as script consultants. Ben Palmer (The Inbetweeners Movie) is set to helm all episodes.
Noel Fielding's as yet untitled Apple TV+ series does not yet have a release date, but with filming underway, it seems the aim is to have it out by the end of the year, probably following Season 13/Collection 10 of The Great British Baking Show.
---
By
for on May 5th, 2022