By
for on November 4th, 2014
Watch: New 'Paddington' Trailer Featuring the Voice of Ben Whishaw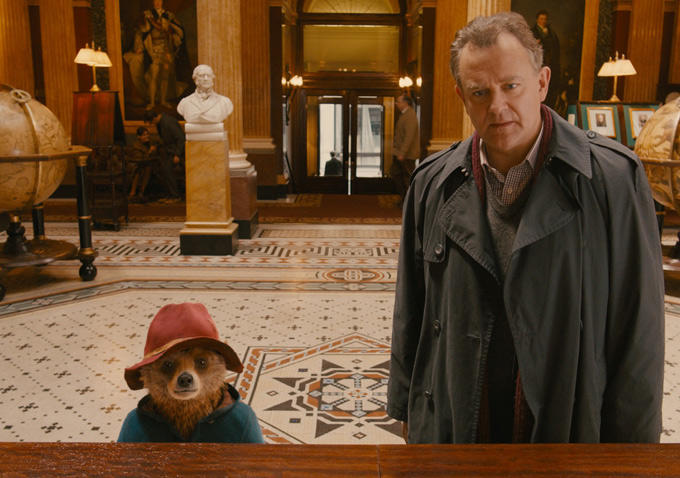 The story behind the first live action movie based on beloved British children's character Paddington Bear has been…well, a tiny bit dramatic. The initial excitement surrounding its teaser trailer gave way to a creepy internet meme based on the fact that live-action Paddington actually looked more than a bit like he might stalk you than cuddle. The film's original voice of Paddington, Oscar-winning actor Colin Firth, dropped out in the midst of production and had to be replaced.
But, apparently nothing can keep a good bear down for long. Paddington is back with an all-new trailer featuring the voice talents of its new lead voice actor, none other than the fantastic Ben Whishaw. (You probably know him as Q from the latest James Bond sequel Skyfall or as Shakespeare's King Richard II in The Hollow Crown.) 
For those that don't know, Paddington's story originally began as a book series by Michael Bond, the first of which was released in 1958. His story goes like this: A small bear is found by a family at Paddington Station in London. Named for the station in which he was discovered, he's a very polite bear from Darkest Peru who comes equipped with that amazing red hat and a dark blue duffle overcoat to which is attached the label "Please look after this bear, thank you." Paddington is adopted by a nice family named the Browns, and they feed him marmalade sandwiches and deal with his tendency to make messes everywhere.
Whishaw voices Paddington, and will be joined by an all-star cast of familiar British faces in many roles. (Paddington is a pretty iconic children's character in Britain, so it isn't that surprising that a bunch of big name actors wanted to be part of this.) Downton Abbey's Hugh Bonneville and Sally Hawkins play the nice couple who adopts Paddington, and they're joined by Nicole Kidman, Julie Walters, Jim Broadbent, Imelda Staunton, Michael Gambon, Peter Capaldi and more.
Watch the latest Paddington trailer for yourself below – do you think getting to hear Paddington speak makes the movie look more adorable, or more creepy? 
You can even watch a featurette on how the combination live-action/CGI film is being put together: 
Paddington opens on November 28 in the UK, but the US release date has been pushed back to January 16, so adjust your calendars accordingly. 
What do you think of the new Paddington voice? 
---
By
for on November 4th, 2014
More to Love from Telly Visions