By
for on July 30th, 2014
Watch: The First Trailer for 'The Hobbit' Trilogy's Epic Conclusion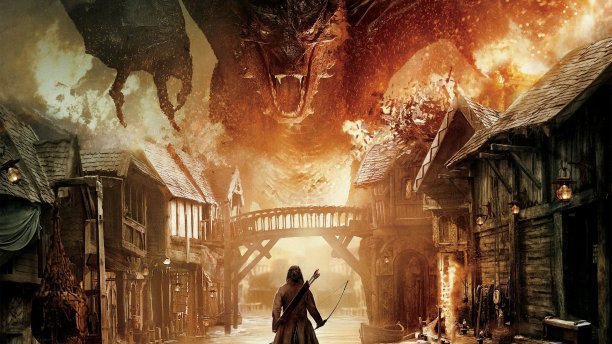 Hi guys! I'm home from Comic Con – exhausted, sore, seriously jetlagged and super happy. I had a great con. More on that later, but first I have to catch up on the apparently millions of things I did not read or watch over the last week. Bear with me!
One of the (many, many) fantastic bonuses to come out of San Diego Comic Con International is a positive explosion of new trailers for things. Having a captive audience, so to speak, the biggest studios and networks in the world want to make as big of a splash with as many properties as possible.
Thus, it's no surprise that Warner Brothers rolled out the red carpet for the final appearance of The Hobbit – and likely the final Comic Con for fanboy god Peter Jackson for a very long time (if ever). The director has filmed six Tolkien-based movies over the past fourteen years, and unless he somehow manages to wrest the rights to The Silmarillion away from the author's estate (unlikely), we're approaching a true end of an era.
The studio hosted a star-studded panel on Saturday morning in the convention center's Hall H, featuring stars Cate Blanchett, Benedict Cumberbatch, Lee Pace, Orlando Bloom, Elijah Wood, Evangeline Lilly and more, and dropped the first trailer for the trilogy's highly anticipated final installment, subtitled The Battle of the Five Armies.
Spoiler alert: If you are at all in any way a fan of Jackson's vision of Middle Earth, get your tissues ready now. Just trust me. 
Personally I'm still kind of miffed that they changed the film's name from the much more appropriate There and Back Again to Battle of the Five Armies, but this trailer is so good I'm almost willing to let it go. Almost.
The bit where Pippin's song from Return of the King plays over the middle section? Tears.
Things I am intensely excited about include: Smaug burning Laketown! Thranduil fighting! Thorin in his crown! "Will you follow me, one last time?", Martin Freeman's stupidly expressive face! Bard being awesome! The quick flash of the forbidding Eye of Sauron! Just…everything!
The Hobbit: The Battle of the Five Armies hits theaters this December. Will you be in line on opening weekend?
---
By
for on July 30th, 2014