By
for on March 11th, 2018
'Victoria' Season 3 Will Focus On Victoria's Pregnancies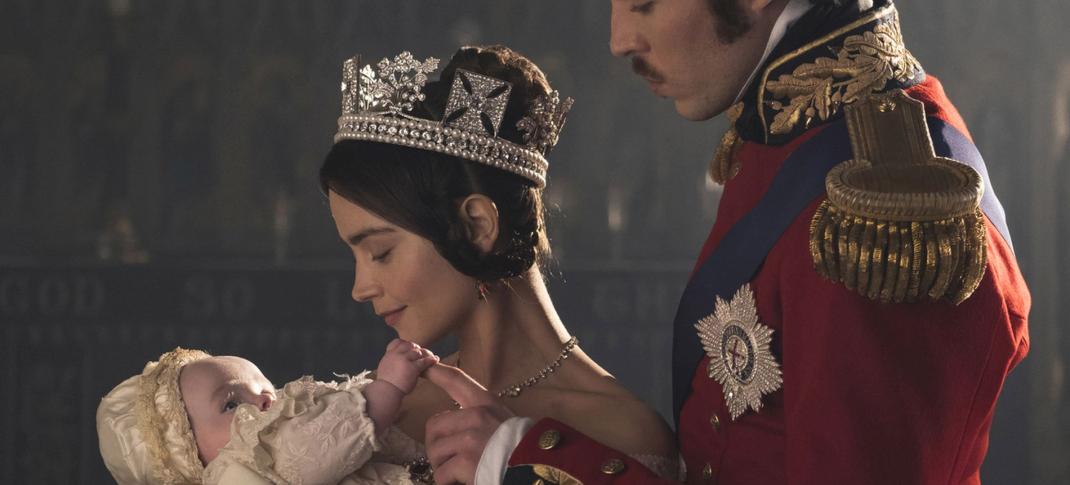 Writer Daisy Goodwin teases that Victoria Season 3 will lean into the pregnancy drama between Queen Victoria and husband Albert in the next year.
The good news for fans of Victoria is that Season 3 has been officially greenlit for another run in 2019, despite the ratings for Season 2 crashing down to earth last fall. (It did not help that absent Poldark to beat up on every week, Victoria found itself airing directly against J.K. Rowling's highly anticipated TV adaptation of The Cormoran Strike Mysteries.) The announcement included the promise that both leads, Jenna Coleman and Tom Hughes, would be returning as Victoria and Albert respectively. 
Not that everyone else is leaving. Barring another Eva Myles situation where the actress left to lead another series, necessitating writing the Mrs. Jenkins character out between seasons, fans should expect most of the rest of the cast to stay put. ITV most likely made sure to include Coleman and Hughes' staying on so that there would be no "recasting" confusion since The Crown over on Netflix is recasting every two seasons as the timeline progresses, and they are not.
But with the timeline rather shaken up, the question is exactly what the show plans to do going forward. Will the series continue to stay in a nebulous area of "the 1840s" without actually confirming where or when? Or will it move the timeline forward, and start mixing up events from the 1850s? With Albert's death looming large at the end of 1861, how many more seasons will the show try and get out of the Coleman and Hughes pairing before it's willing to really push forward? And how exactly will they gloss over skipping the births of Victoria's next two children, which should have happened at some point last season, but never seemed to?
Those pregnancies are actually at the heart of what Goodwin is promising next season, which the press release states will pick up post-Robert Peel's resignation in 1848. 
Series three will start in 1848 which was a hugely dramatic and eventful time for both the royal family and Europe, with revolutions on the continent and uncertainty around the monarchy. Viewers can expect more drama than ever before in the third series.
This puts the show in a bit of a conundrum since, at this point, Victoria has veered wildly from the historical accuracy of her growing family. At the end of the regular Season 2 finale, which included plot points pulled from events from all the way in 1848, Victoria was shown to still have only two children: Vicky and Albert Jr. This would be historically accurate if Season 2 had been disciplined enough to stick to events that happened in 1842 and were planning on Season 3 focusing on 1843-1844.
But now we're picking back up in 1848, probably not far off from Peel's resignation. Obviously, the show didn't want to overwhelm the viewer with pregnancies in their second season. (As it was, they held the birth of Vicky in November 1840 to the end of Season 1 and Albert Jr. one year later in November 1841 to the beginning of Season 2.) But by now Victoria has three more children, with a sixth on the way:
Princess Alice, born in April of 1843
Prince Alfred, born in August of 1844
Princess Helena, born in May of 1846
Princess Louise, born in March of 1848
By the twisting of the timeline events to include the Irish Famine and to have Robert Peele be a one-season-and-done Prime Minister, Season 2 ended with Victoria's personal and political life badly out of sync. To solve this, Victoria's baby catch-up happened mostly off-screen. At Christmas, she and Albert turned up out of the blue with five of their nine kids (Vicky, Albert Jr., Alice, Alfred, and Helena), and she was sporting a baby bump which will be Princess Louise.
Goodwin is aware of the problem of suddenly introducing this mess of children without any build up, and has plans to focus on Victoria's exhaustion over having them all over a shortened time span. (On PBS, she had three and a half kids in the span of a week.)
She has six children in eight years – which is a lot – and there are some gaps, so I wonder whether there may have been some withholding [of sex] on both sides; that's certainly something I'm going to explore in series three. There's also a suggestion in a letter Albert writes to her… basically they thought that every time she was pregnant she went a bit mad, so there will be a bit of that. There's s a suggestion that she's not in her right mind, hereditary insanity and all of that. She's in this terrible double bind. She loves Albert and she loves going to bed with Albert. But every time he goes near her she gets pregnant. Obviously that suits him more than it suits her. When she's pregnant he takes over her work. He's the best maternity cover you can have – he's rather too good at it. She feels rather displaced, [wondering] 'who am I?' She doesn't like the discomfort about being pregnant.
Goodwin is correct that post-1848 Victoria and Albert's baby-having did slow down. Whether or not that was simply biology going into self-protection mode or a sex strike is up for historians to debate.
Prince Arthur was born in May 1850, the first child to have more than a two-year gap between him and the last sibling. Leopold was born in April 1853, a three-year gap. Their final child, Beatrice was born in April 1857, only four years before Albert passed away. Considering Goodwin wants to take all the time she can before that last event, we should expect these last births to probably take at least a couple of seasons, unlike their predecessors. 
Victoria Season 3 will return in ITV sometime in 2018, and most likely air on PBS in January of 2019. 
---
By
for on March 11th, 2018
More to Love from Telly Visions