By
for on May 13th, 2019
'Unforgotten' Season 3 Finale Recap: The Long Conclusion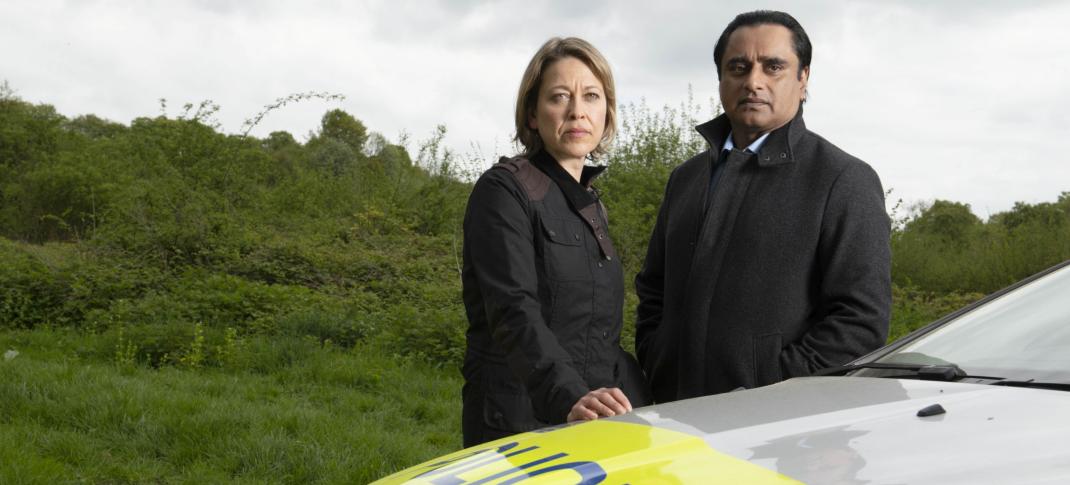 The truth comes out in the Hayley Reid case in Unforgotten's Season 3 finale, but it turns out her death was always the tip of a much larger iceberg.
D.Supt Andrews: "This can't end like the Walker case."
Last week's episode ended with the arrest of Tim Finch, and the discovery of a box in his cellar that held a scrunchie, a cross necklace and a pair of white knickers. As Khan points out, these are concerning, as one would assume they were trophies. Finch has a slightly bizarre explantion for them. He claims to have bought the first two at a flea market, which sounds reasonable. The knickers are included among them because he claims his girls used underwear to tie their hair back as little girls as part of a running family joke. It's such a weird excuse it almost holds water. Who in heaven's name would come up with it otherwise?
He might be telling the truth. The Reid family concurs these were not Hayley's things. She was an atheist, first off, and Jess says she was all about bright colored everything, including her underthings. Mum put the nail in it though, Hayley bobbed her hair only a week or three before the New Year. No scrunchie.
When the DNA test comes back confirming these were not Hayley's things, it seems like Finch is in the clear...except they did come back as a match. They match a victim from an entirely different unsolved case, a 14-year-old girl, Alison Baldwin, who went missing in 1997. Her body was found having been raped, strangled, and sans knickers, after a kidnapping while walking through a wooded area, not unlike where Hayley was believed to be murdered. Alison's mother positively identifies all three items as belonging to her daughter. 
There are now two dead teen girls, one of whom is tied to Finch via evidence and one who is related circumstantially. However, Finch needs to be nailed before they can come at him with both cases and see if he cracks. Efforts are redoubled on the floor. The team starts sifting through other missing girl cases going 25 years either side of 2000, in hopes of finding a third. (Because when there's two, there's almost certainly more.) They dig through archives, go back and interview Finch's first wife again, and trawl the new narrowed-down area where Hayley was most likely killed.
That last one turns up parts of an Audi; the car Finch drove, specifically a spare tire and jack, the things one would remove if tucking a girl into the spare tire circle under the car's floor mat. (This would explain the position of the body, way back in Episode 1.) They also turn up Finch's professional schedule book from 1997. It places him at a conference the night Alison went missing, staying at a hotel located frighteningly close to the location she disappeared. Khan claims they have the Audi too, and points out that Finch probably didn't clean the tire well meticulously enough that there won't be DNA evidence all these years later.
In response? Finch asks for a cup of tea. He confesses. However, he says to Stuart if she and her team conduct this investigation "with respect" and "without a circus"....he'll tell her where the others are buried too. Looks like Claire will have to stop defending dear old daddy to Emma now, eh? (Seriously, Carol's reaction was almost as telling as learning Emma's first husband was an abusive lying sack. We do tend to go with what we know in relationships.)
Shorn of any pretense he's innocent, Finch turns terrifying. (And Alex Jennings is riveting in this performance.) He dispassionately recounts his crimes, stating flatly he killed the girls to protect himself after raping them. He also notes he has vague feelings for his children and zero feelings for his friends. Everything he's done, including getting Chris Lowe back on his feet, and all the work for his patients, has been about performance. He admits that he's known he's a monster for a long time, musing how it's strange that one sibling responds to a tough childhood by becoming a serial killer, while his sister came out utterly normal. Finch isn't just creepy to the audience at home; he's getting to Stuart too, who has been barely holding it together since Alison turned up. She's now close to losing it in the face of Finch's casual, uncaring descriptions of how he did in Hayley, a fact he recognizes and enjoys at every step.
For their trouble, Finch leads them out to a rural area the next morning, where they find a body at his direction. He claims her name was Natasha, and she was a victim he buried six years ago, putting her death long after both Alison and Hayley's. Alison wasn't his first either, which suggests this list of victims is going to be long. Worse, Finch, knowing he holds all the cards plays these guys like a fiddle for each scrap of information. Stuart turns around and walks away, unable to face any of it. She's going to need a serious amount of time off to recover, as Khan steps up to face the long and winding list of victims, with DC Lingley taking over the role of junior partner.
As for those who remain, the Reid family moves on. Hollis struggles to pull himself back together after his horrific realization of last week, coupled with the shock of Finch being charged. Amy, wife number two, has rolled out. But Mel is still there, even after all these years, and the way he's behaved. She's there to talk him off the ledge and gently suggest, considering how things have turned out, that James just let Ells be for a while. As for Lowe, Jamila does a bit of research to confirm if his story of false charges is what it seems. He's pretty put out she didn't just take his word for it, but she's not one to take happiness or trust on faith anymore and to be fair, I don't think she's wrong to have done the leg work. After all, like Stuart, she too found he was telling the truth, and he's welcome back home. 
Peter Carr's funeral brings everyone back together, and with it the news Chris is planning and wedding and Jamila is expecting to boot. Ells has cleaned up, sober now, with Mel taking care of him. Emma and Carol have at least made up, even if Claire isn't anywhere to be seen. And, after a break, Stuart seems to have pulled herself together too. With Unforgotten Season 4 already greenlit, she'll need to be ready for the next case.
---
By
for on May 13th, 2019
More to Love from Telly Visions