By
for on May 6th, 2019
'Unforgotten' Season 3, Episode 5 Recap: Gaining & Losing Suspects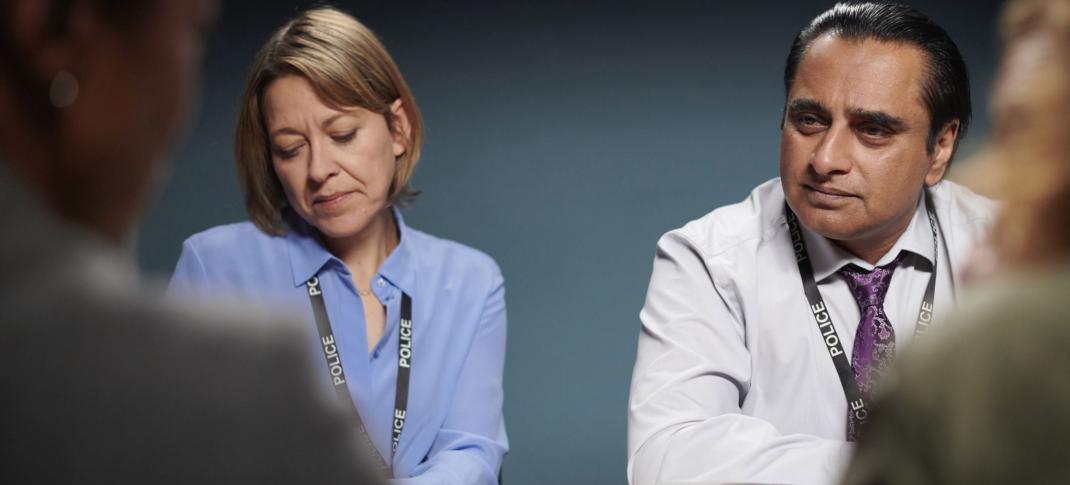 Unforgotten might have found their final suspect in the Hayley Reid case, but not before losing one first.
Hollis: I've messed up his whole life, for absolutely no reason at all.
Unforgotten, like most mysteries, has a formula to it. That's not necessarily a bad thing - most whodunits, from Agatha Christie's Poirot to P.D. James' Dalgleish, have their standard methods. With Unforgotten, there are always four main suspects, each of whom falls into a stereotype: The One With Anger Issues, The One With The Shameful Past, The Petty Criminal, and The One With An Emotional Unstable Family Member. The episodes also follow a pattern. The first installment ends with the reveal of the suspect's name, the second with tracing the victim to the suspects in question, etc. In both Seasons 1 and 2, the fifth installment, which on PBS were the first halves of Episode 3, new cold case victims turned up.
In this case, Stuart has a great date with Bradley end with the discovery of Carr's attack. At first, it looks like Carr will be fine, but it sets off a massive coronary, and he dies. In terms of a twist on the Episode 5 body, this is brilliant.
Stuart, meanwhile, spent her day re-interviewing Hollis, Finch, and Lowe back to back. Hollis is more than happy to use Carr's hospitalized status as a defense in answering questions about his own choice to lie, but he really goes through the roof when Khan and Stuart bring Eliot up as a potential suspect to the point that his lawyer puts a stop to questioning. Finch, who is right behind him in the inquiry line, reveals what Carr hinted at knowing in last week's episode. Eliot wasn't just a potential suspect, he's the first one who can be placed out of the house after midnight, as Carr saw him climb in a window at 2 a.m.
So much for Finch holding the line for a friend. Lowe comes in next and freely admits not only to his manic episode that evening, but to the prior arrest over child trafficking websites, though he clarifies it was his company credit card being traced back to monthly payments. Payments, Lowe says, he did not make. Lowe says his card spoofed, and eventually, the charges dropped, and his record wiped. But by then it was all too late, he'd wound up on the streets, sans medication, where he spent the next decade.
Just as Stuart and Khan decide to buckle down and look into Lowe's history to see if he's telling the truth, word of Carr's death arrives, and the bottom just drops out beneath Stuart. Sandra The Evil Blogger is arrested from her council estate flat and brought in for questioning, where she insists she was just trying to jumpstart her career in journalism.
As for the Reid case, Hollis manages to track down Ells, where we discover he doesn't know what happened. Ells hit "something" and when he got out of the car, whatever it was had gone. When Ells points out there's no way to have moved the body to London and buried it because they put him on a plane for a school trip directly following the New Year's holiday, it causes both to break down crying, and Hollis to finally return to Stuart and Khan, this time, sans lawyer. He admits he's believed for 18 years his son was guilty of Hayley Reid's death, as a hit and run, where the body wound up in the river and washed away. This belief has convinced Ells he must have done it too, leading to the years of drug addiction. Finally, both can find peace. 
In other family news, Finch is confronted by his older daughter, Emma, over their mother's charges of abuse. Finch's response is to turn nasty and abusive towards Emma for not immediately siding with him, which doesn't say much for his defense. It drives her to track down her mother to confirm her suspicions. Lowe's defense of his past comes off stronger to Jamila, coming clean about his prior arrests so she can absorb that she's agreed to marry a man who was, at one time, presumed in the eyes of the law to be a pedophile. He volunteers to move out, to give her time and space to process and decide what to do next.
As the episode wraps up, and with one more installment to go, who didn't do it is falling into place. Hayley's drug dealer gets brought in, and places her very near the rental house at 11:30 that night. Peter Carr's location stealing silver from the church puts him on the other side of town, and probably not on a path that would have crossed hers, so he is innocent. Ells' location of the car accident puts him in the clear as well, since it was near the bar, and by then Hayley was well away. Hollis' belief his kid did it all these years is proof enough he wasn't the murderer. With Lowe's story checking out upon further inquiries, he's looking less and less like a suspect, but he was at least out of the house and manically walking in her vicinity, so he can't be entirely ruled out. 
But the most likely suspect: Finch, who it turns out also was popped for speeding on the 3rd of January, 2000. As Stuart and Khan note, if you're driving around with a body in your boot, you might be inclined to drive a little faster than usual...especially if you're heading home from your vacation spot in Midland...the day after you left with your family to come back. Will Finch prove to be the murderer? Or will it turn out that he covered up for Lowe all these years? The Unforgotten finale is next week.
---
By
for on May 6th, 2019
More to Love from Telly Visions