By
for on April 22nd, 2019
'Unforgotten' Season 3, Episode 3 Recap: The United Front Falls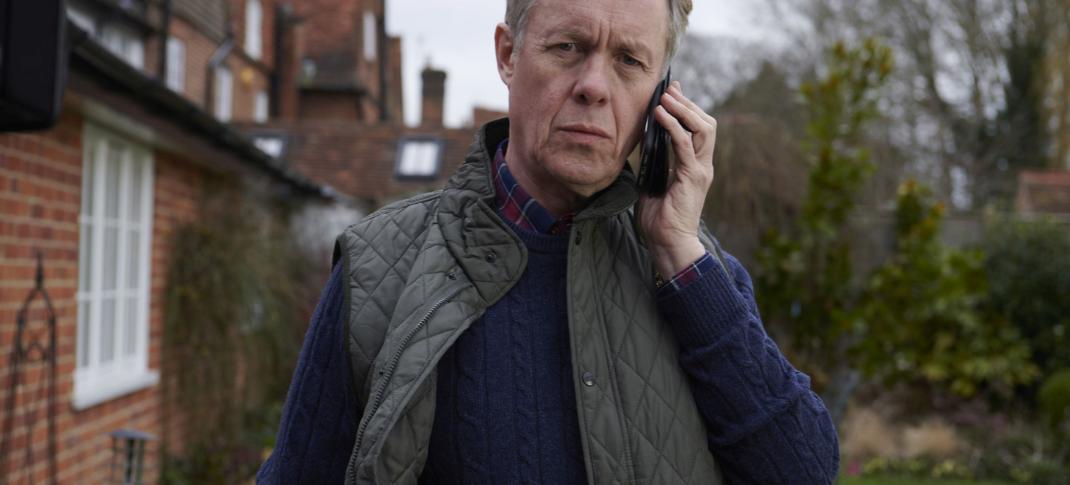 Unforgotten reaches the investigative stage where Stuart and Khan begin diving into the lives of the suspects.
Mark: You know what we used to call blokes like Pete? Filth: Failed In London Tried Hong Kong. Bit of a wild west out there, wasn't it mate? Attracted a very distinct sort of person. I see you, buddy.
With Unforgotten airing as initially intended, episode 3 is where Khan and Stuart start poking around in the lives of the suspects. Unlike the first two seasons, though, there's less a sense of impending dread. None of the main suspects present as people who worked hard to pull themselves out of desperate circumstances or bad life choices. There's no Elizabeth Wilton, there's no Sara Mahmoud. Instead, there's Peter Carr, a con man willing to rook the elderly for money and stealing from his employers. There's Dr. Finch, riding on his reputation as an outstanding member of the community while secretly abusing his patients. Along with them, there's James Hollis, who blames himself for his son's gender queer status, and Chris Lowe, who can barely function in society.
In old clues from the case, the original junior detective, Bradley, tosses in a church burglary that happened on New Year's Eve, which he thought might be connected, considering its location between Hayley's work and the party she was heading for. There's a reminder the weather was horrific, and a car was seen driving erratically near Hayley's last known location. And of course, with the body found in London, poor Adrian Mullery is going to be rounded up for questioning again. Except he's not. When one of the team tries to ask him for a short chat, Mullery responds in full self-righteous mode, enraged at how the case was handled initially, at the lead detective flubbing it so poorly, and how Hayley was failed so badly.
Hollis, now lawyered up, submits to questioning first, insisting the four men were there for golf, and the wives and children all came up on NYE. After dinner, all the kids went to bed, and the parents watched movies until the fireworks, and then retired themselves. Interestingly, his testimony mentions that Chris, our van-living, no-bank-accounting-having artist, was married at the time to a wife, Laura, had a little girl, Maya, and apparently lived very well in London. (As Chris explains later to Jamila, he had undiagnosed bipolar disorder, which ultimately triggered his life's collapse.) Considering the breeziness of the questions, the lawyer feels like overkill, until Hollis is presented with Hayley's photo and immediately flashes back to an image of blood.
Moreover, as soon as Hollis gets back to his home office, he's on the horn to both Finch and Peter. From the outside, it sounds like "Hey, funny thing about that case you've probably seen in the papers," but between the lines, he's obviously feeding them the "no one left the house that night" party line. The call to Pete also winds up costing Hollis £3,000 to bail his friend out of the check he stole, and not a moment too soon. The boss, Mark, is at Pete's house, ready to fire him, until Peter hands the money back, claiming to have "screwed up paperwork." Peter is saved for the moment, but his boss isn't fooled. Neither is his wife, who once again is clearly looking to make for the door.
Finch is the next one Stuart and Khan hit for questioning, who smoothly backs up Hollis' claims. He does reveal that the unmarried Peter was living in Hong Kong and flew back for the occasion. He also drops an interesting tidbit: All three marriages cracked within a year of this get-together. But the united front insisting everyone stayed in and had a lovely night is working. Stuart decides to have Khan visit Peter while she takes Chris to finish this off because it looks like a dead end.
Chris sticks to the script as best he can, but his near meltdown when Stuart asks about his marriage collapsing catches her interest, especially when she discovers he was once a powerful CEO who owned a £5 million house in Notting Hill at the time of the incident. However, Peter does not stick to Hollis' script, perhaps too thick to have realized that's what it was. Instead, he claims he saw Hayley at the house and talked to her. He also pretends to know nothing about the case, insisting that as he was in Hong Kong, he never heard about it. He even acts as if he hasn't seen it in the news recently.
But if that weren't enough to bring Stuart back around, the ex-wife, Mel Hollis, calls. James clearly didn't consider she might be questioned or bother to fill her in on the party line, and her version of events turns everything on its head. There was not just alcohol at the house, but cocaine as well. Peter left right after the dinner to attempt to get laid at the local pub. Chris, drugged up and drunk, was triggered into a manic attack and ran out of the house in complete freakout hysterics. James and Tim went after him, leaving the three wives to bemoan their collapsing marriages until 3 a.m. Eventually, Chris found his way back around 11:30 p.m. The other three all returned home after him, drunk as skunks, just before or just after midnight. Hilariously, after all four men lied through their teeth all episode, Mel exonerates them, since she places all home on or around midnight, and Hayley was seen alive at 12:10 a.m.
Except, Hayley wasn't last seen at 12:10 a.m. That was the original lead detective being careless. Turns out the last time anyone saw her was 11 p.m., right when all four men are unaccounted for. Oops.
---
By
for on April 22nd, 2019
More to Love from Telly Visions