By
for on April 30th, 2018
"Unforgotten' Season 2, Episode 1 Recap: The Case of David Walker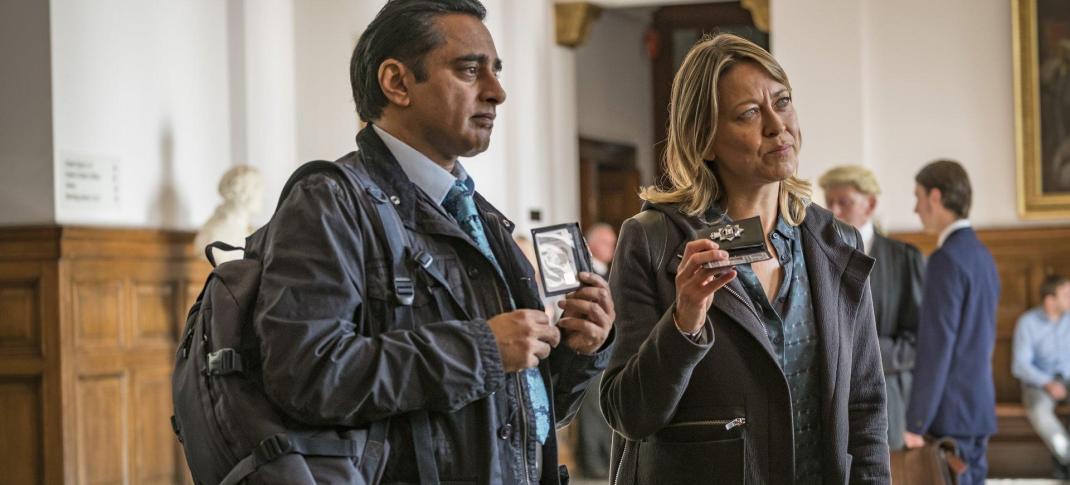 Mystery series Unforgotten rolls directly into a second, far soggier, cold case mystery, with an all-new set of suspects.
DI Khan: Maybe we should be concentrating on the suitcase.
Unforgotten Season 1 wrapped up with a less than satisfactory ending, even though the performances of the stellar cast did everything they could to hold it together. With Season 3 already in production for ITV later this year, PBS is doubling up the episodes to push through both seasons back to back. Like Season 1, Season 2 arrives with a stellar cast of familiar faces strewn across four seemingly unrelated families who will all turn out to be connected to the body in question. 
Last season's body was buried in a cellar, only brought to light after a full gutting of the building turned it up 40 years later. This season's body was stuffed inside a suitcase, hidden in the bottom of a river until the county decided to dredge it. So for this round, DCI Cassie Stuart and DI Sunny Khan start their workday on the edge of a river, with a neatly packed body and Khan considering if it's worth trying online dating. The last dredging of this river was 1994 so our body could be from anywhere as far back as 25 years ago, or even longer if the dredge they did back then missed it. 
The first clue that it might be is the watch (which also helpfully identifies the body as male without anyone having to unfold it), from a watchmaker that went out of business in the early 1990s. Unlike the first season, in which narrowing down the window of time was a major factor, the show starts out assuming this body is from the first half of the 90s, and never really wavers. They also have the weapon that killed him, which was still in the body, and appears to have been a kitchen knife, as well as his pager, which once again dates the body to a time before the mobile revolution. Between the watch and the pager, the victim is identified and turns out to be one David Ewan Walker, who left behind a wife and son when he disappeared in February of 1990.
The pager turns up with information, in binary, which means that the alphanumeric message he last received gets to be a fun code to decipher and turns out to be the last address texted to him. Though it's now an advertising agency, the owner of the building is happy to discuss when it was knocked up into flats for prostitutes. Other suspects turn up via the old case files, which hold photocopies of his desk diary.
Let's run down our suspects:
DI Tessa Nixon (Lorraine Ashbourne, Jane Eyre): The former Tessa Walker, and the widow of David, she is a policewoman herself. (Interestingly she didn't join the force until after her husband died.) Her son, Jason (Will Brown, Call the Midwife) was five when his father died and clearly has emotional issues stemming from his father's disappearance. The family lives in the Cotswolds, and Tessa, along with her second husband Paul (Douglas Hodge, Red Sparrow) are pressuring their son to settle down and get married. Tessa is kind of great and immediately pegs herself as the prime suspect, noting dryly that 63% of murders are committed by the spouses. She's also not one for tears, taking all the news about her husband's life with an admirable stoicism.
Colin Osborne (Mark Bonnar, Shetland): A barrister living in Brighton, he's listed as one of the last appointments David had before disappearing. Colin and his husband Simon (Charlie Condou, Coronation Street) are struggling to adopt a 10-year-old girl. Unfortunately, the birthmother's husband Tyler Da Silva (Josef Altin, Game of Thrones) has Colin over a barrel, having witnessed him key a homophobe's car in a fit of uncontrolled rage. Colin agrees to pay him for his silence, just as the police link him to the murder. He lies badly when confronted by the photo of Walker, and flashes back to memories of coked-up parties.
Marion Kelsey (Rosie Cavaliero, Lark Rise to Candleford): An overworked London based nurse in a children's ward, with what seems to be a very happy family, including two sons and a husband, Tony (Nigel Lindsay, Victoria). Her parents are in their 80s, and her older sister Elsie (Holly Aird, Waking the Dead) holds her far more successful lifestyle over Marion's head. Marion herself may not be fully mentally okay, breaking boundaries with patients, lashing out paranoidly to those around her, and freaking out about her fertility. It's not yet clear how she's tied in. 
Sara Mahmoud (Badira Timini, DCI Banks): A highly talented Muslim schoolteacher and the head of Sixth Form in Salisbury, currently in the middle of interviewing for the headmistress position she desperately believes she can do, despite her lack of qualifications. Her husband Hassan (Adeel Akhtar, The Night Manager) a successful accountant, is supportive if befuddled by her passion. She's the one who turns out to be the former prostitute, though she lies and insists she never knew Walker and wasn't in the country when the murder happened.
David, it turns out was into the entertainment business, ran clubs and was best mates with a restaurant owner named James Gregory. He's not part of the suspect list, but he provides the biggest clue to date: that David was a drug addict and a drunk, all stemming from being sexually abused as a child by a primary school teacher who he had been considering confronting just before he died.
This case got a whole lot more interesting. We'll have to see how Marion links into this mystery, and where this is all heading next week when Unforgotten Season 2 continues.
---
By
for on April 30th, 2018
More to Love from Telly Visions