By
for on April 9th, 2018
'Unforgotten' Season 1, Episode 1 Recap: The Case of Jimmy Sullivan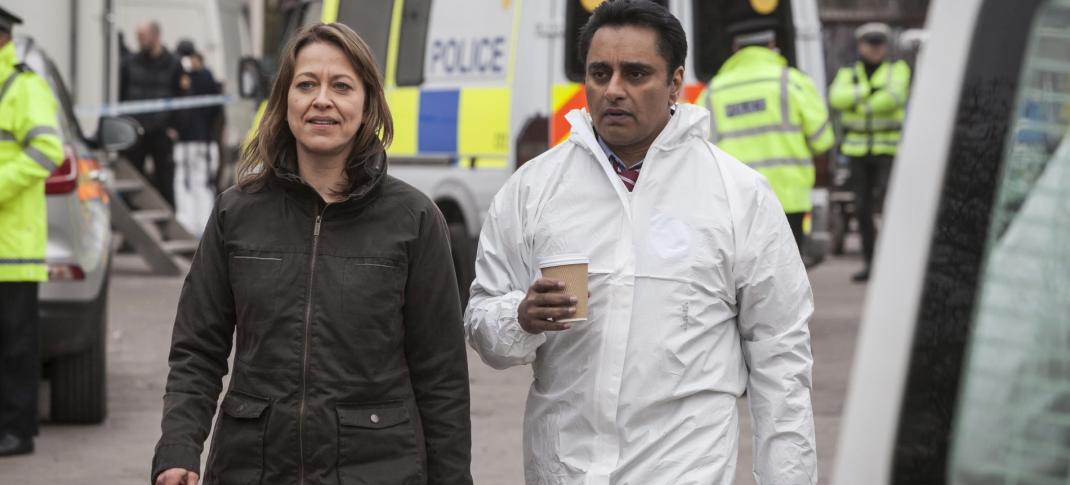 PBS' newest series, Unforgotten, starts out with the slow drudge of police work.
Sir Philip Cross: I've had a very bad day. Don't make it worse.
The newest series from ITV to come over to PBS, Unforgotten's first season was originally 6 episodes. PBS is running seasons 1 and 2 as a five-episode series, smashing together the forty-five-minute installments into an hour and twenty minutes each. Considering the slowness with the which the plot moves, this was a good choice.
The series opens with the remains of a skeleton unearthed during the demolition of a building that's been standing since 1896, and our leads, DCI Cassie Stuart (Nicola Walker, Last Tango In Halifax) and DI Sunny Khan (Sanjeev Bhaskar, The Kumars at No. 42) starting their day on site to check out the (very old) body and declare the archeological dig a potential murder scene. The next forty-five minutes are spent on the tedium of police forensics work, with Stuart and Khan doggedly chasing down leads that seem to go nowhere, and then going nowhere and asking if they can't look for the possible needle that might have been stuck in a haystack a few decades back.
It's impressive really, watching them narrow the window of possibility from all the way back to the 1890s to pinpointing the murder as having occurred in 1976 when the building was a hostel. Impressive enough that it seems odd that Cassie's father appears to be so discouraging of her job. (He seems to think she's going to be told not to waste time or resources on this, but there no superiors that have turned up so far, concerned about this use of government funds.) Finally, a diary is found in a bag in an unlikely location, revealing the victim's name: James (Jimmy) Niall Sullivan.
Sullivan's diary also reveals a small list of names and telephone numbers, four of which tie back to the characters whose stories have been slowly interwoven in between all the forensic detecting. The latter half of the episode is spent tying the names in the diary to the people we know today. Our suspects, and what we've learned about them are as follows:
Eric Slater (Tom Courtenay, Last Orders): The accountant at the hostel where Jimmy lived on and off. Eric is now wheelchair bound and trying to insist he and his wife (Gemma Jones, Sense and Sensibility) can continue to live at home, even as her Alzheimers continues to worsen, causing her to run away, and their son to start arguing that they should be in a home. Though the police have not contacted him by episode's end, he has seen the case in the paper and instantly recalls seeing Jimmy "in flagrante" with some young woman.
Elizabeth Wilton (Ruth Sheen, Doc Martin): A resident of the hostel, she was a skinhead known as Beth Law during this period, who the police uncover was at the hostel because she was thrown out of her lodgings with her boyfriend for racist behavior. She was later tried for a hate crime, with a suspended sentence. Said now ex-boyfriend wound up in jail for murder later, and died there. In the present, she's married to a black man (Brian Bovell, Love Actually). They lost their son when he was fifteen, and have spent their lives building youth programs and making it their business to help underprivileged young men get into college. But she still has the "SKINHEAD" tattoos on her fingers under all those rings she wears. When confronted by the police, she lies about ever knowing or remembering Jimmy, though the memories we see are mostly of her boyfriend menacing the kid.
Vicar Robert Greaves (Bernard Hill, Wolf Hall): Known as Father Rob back then, he was the visiting religious figure at the hostel. He remembers Jimmy too, and flashes back to him the moment he's told the police want to talk to him about a "historical case." The irony is, he should be worried about the police for other reasons. A raging narcissist, a manipulative bastard, and really bad at singing along to One Direction's "Story of my Life," he's been skimming money from the church. He spends most of the first installment lying, stealing, and pawning his fed-up wife's jewels (Hannah Gordon, Midsomer Murders) to pay it back before he's sunk.
Sir Philip Cross (Trevor Eve, Waking The Dead): The man once known as Frankie C, we don't know how he was attached to the hostel yet, but we do know at the time he was a driver for one of London's most notorious crime families, and probably did some pretty terrible things. We know this because the moment the cops show up poking around and asking about the name "Frankie" he threatens to lawyer up. He's got quite a bit to protect, having just been appointed to the business council in Parliment, complete with a peerage title he's not risking for anyone, not even his son's business prospects. (The irony being that his son is the one who's impressed by his father's rise. Cross' daughter thinks her father a fool because as she's learned, you never really "make the leap.")
There's still one character mentioned in Jimmy's world who the cops have not tracked down, and who (as far as we know) has not turned up on the series yet: "JoJo," who gave the diary to Jimmy in the first place. But the episode closes with Father Rob calling "JoJo" from a pay phone not far from his house, telling her he'll try again to reach her first thing in the morning. 
Whoever she is, we'll find out next week, along with more details of the past. Unforgotten continues Sundays at 9 p.m. on Masterpiece.
---
By
for on April 9th, 2018
More to Love from Telly Visions