By
for on September 12th, 2022
Undercover Brits: 'Under the Banner of Heaven'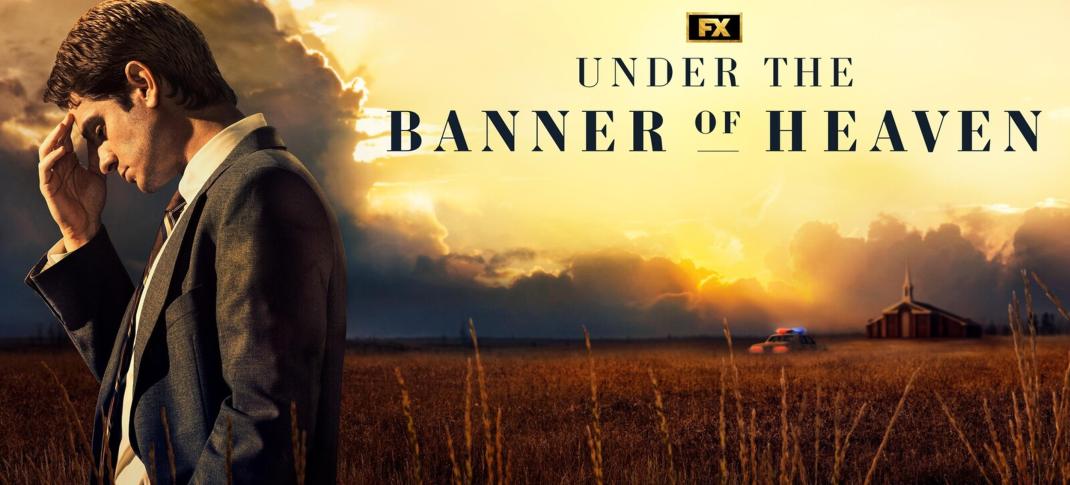 In this installment of Undercover Brits, we're looking at a uniquely American story that FX turned into a miniseries earlier this year. Based on Jon Krakauer's book, Under the Banner of Heaven, we are presented with the juxtaposition of two histories: the origin and evolution of the Church of Jesus Christ of Latter-day Saints (LDS Church) and a 1984 real-life double murder committed in Utah by men who subscribed to a fundamentalist version of Mormonism. In addition to a tense mystery and an examination of a good man's faith, we also found that UTBOH contains a fair number of actors from the UK and Ireland.
Andrew Garfield
The immensely talented Mr. Garfield, Emmy nominated for this performance, plays the story's main protagonist, Detective Jeb Pyre. A loving husband, son, and father, Jeb has a strong and unquestioning faith that is mightily tested when he investigates the gruesome murder of an LDS mother and her young daughter. (Pyre was invented by showrunner Dustin Lance Black, out of respect for the actual detective on the case, who didn't wish to be identified.)
Andrew was born to a British mother and an American father in Los Angeles, California. At age three, he and his family moved to Epsom, Surrey. He acted in youth theater productions and took A-level theater studies in high school. Long before his roles as Spider-Man or musical theater composer/playwright Jonathan Larson, Andrew was a graduate of the Royal Central School of Speech and Drama in London, auditioning for British TV and films. In the Red Riding TV movie trilogy, he played Eddie Dunford; a journalist determined to expose a coverup surrounding the police investigation into a spate of child abductions.
Daisy Edgar-Jones
Daisy portrays Brenda Lafferty, the young wife, and mother who was murdered in her home by mysterious bearded men. We see all of Brenda's scenes in flashbacks, as told by her husband, Allen, and other family members. Most of them find this modern woman from Idaho far too outspoken and ambitious for their conservative LDS sensibilities. When she asks church leaders to grant her to leave her marriage, they task her instead with saving the family from the evil that has infiltrated the Lafferty men.
Daisy was born and raised in North London to a Northern Irish mother and a Scottish father- both work in the British entertainment business. Daisy's role as Marianne in the 2020 hit romance miniseries, Normal People focused a bright spotlight on her talents. But at the beginning of her career, Edgar-Jones became a series regular on ITV's relationship dramedy, Cold Feet, in which she played Karen and David Marsden's studious daughter Olivia from 2016-2020.
Billy Howle
The youngest Lafferty brother, Allen, is portrayed by Billy Howle. He's a young man struggling with his faith and the guilt of his inability to stand up to his prominent (and often cruel) LDS patriarch and older brothers. As Jeb questions him about the murders of his wife and baby daughter, Allen uses the founding of the Church and its revisions to explain the fanatical turn his older brothers have taken and how they violently conflicted with Brenda's views.
Billy Howle was born in Stoke-on-Trent, England, to a family of educators. Despite his parents' academic backgrounds, Billy's career aspirations always leaned towards the arts. In his youth, he had a job in a local theater and was involved in community performances, including dance. Billy graduated from the Bristol Old Vic Theatre School in 2013 and soon earned leading roles on UK TV shows such as Glue and the BBC miniseries Witness for the Prosecution. Film parts soon followed, including 2017's On Chesil Beach, in which Howle played Edward Mayhew, a young man entering an ill-fated marriage.
Denise Gough
Gough portrays Dianna, the wife of the eldest Lafferty brother, Ron. Not raised in the LDS community, Dianna is a convert to her husband's religion. She forms a special bond with Brenda, who was brought up in a more progressive LDS home. The two women are scorned by the more submissive Lafferty women and become targets of the brothers' "righteous" rage.
Born in County Clare, Ireland, Denise is one of eleven children. She had no aspirations to perform growing up but ran away to London with a boyfriend at the age of 15. After a few years in the capital city, she took a weekend acting class and won a place in a London drama school. Following her graduation in 2004, Gough made her TV debut on the long-running medical show, Casualty. Her list of TV, theater, and film roles is extensive and includes The Fall, Angels in America, and Colette. In the 2017 Sky/Showtime series Guerrilla, Denise plays Fallon; an Irish woman pulled into a brutal investigation when the political movement she supported turns radical.
We should also mention Chloe Pirrie (Walk Invisible: The Bronte Sisters and The Queen's Gambit), who plays Matilda, a Scottish woman who met and married Dan Lafferty when he was overseas on his mission. She's the lone British actor who uses her own accent in the series.
Acting is a communal endeavor that draws performers from across the globe. Once again, we've demonstrated you don't have to look far to find a Brit immersed in an American character with a pretty darn good accent.
---
By
for on September 12th, 2022