By
for on April 1st, 2022
18 British Series and Films to Stream in April 2022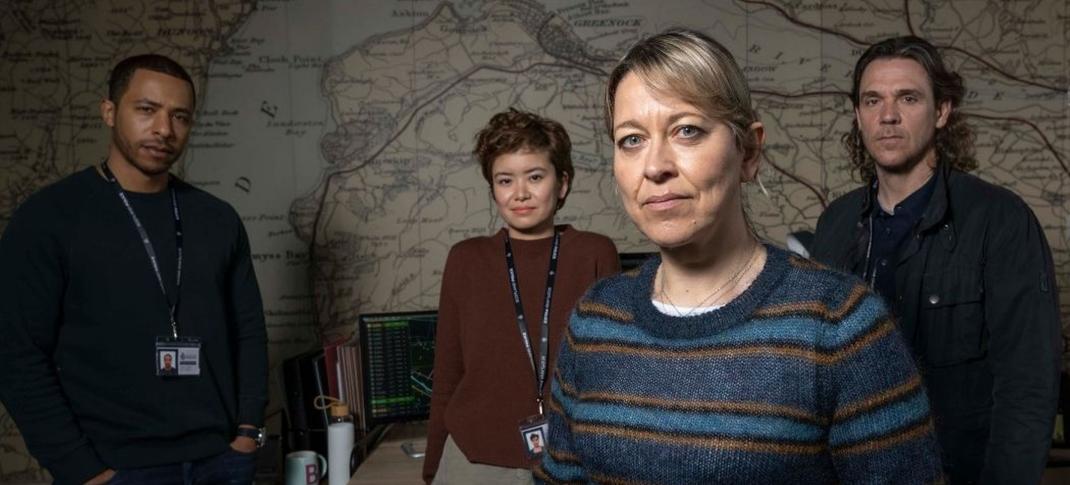 March has given way to the beginning of April. And while  April showers should bring May flowers, they'll also bring a flood of new British TV shows and movies to a streaming service near you. That's not an April Fool's joke. This month is super stacked with a dozen-and-a-half titles, not counting ongoing weekly releases like Sanditon and Call the Midwife. Pack your favorite device when heading outdoors because there will be a lot for viewers to get through if they have any hope of keeping up. 
So, what's coming to the U.S. in British TV this April? Let's run down the biggest titles arriving this month.
PBS Passport
Luna & Sophie (SOKO Potsdam) Season 1-2
Luna & Sophie is Walter's Choice's newest foreign language offering. The German-language case-of-the-week detective series, known in its home country as SOKO Potsdam, features Caroline Erikson as Luna Kunath and Katrin Jaehne as Sophie Pohlmann. A pair of BFFs from childhood, this odd couple detective team are determined to clean up the streets of the native Potsdam together. The series has run four seasons in Germany; the first two started streaming just in time for April 1.
Annika Season 1
Annika marks Nicola Walker's return to detective series after her exit from Unforgotten last year. The series, expected to air on linear PBS later this year, is based on the BBC Radio 4 drama Annika Stranded, which also stars Walker as the titular character with the same writing team. The TV series version moves the action from Oslo to Glasgow, but Annika remains constant. All six episodes are available starting Sunday, April 17
Acorn TV
Harry Wild
Acorn TV's newest original series is the Irish-set Harry Wild. The new series stars Jane Seymour as Harriet Wild, a retired English professor turned amateur sleuth, inspired by her son Charlie's detective career, and Rohan Nedd as Fergus, her student-aged partner in crime-solving.
The series runs eight episodes, but the streaming service will premiere them in batches of two over four weeks, starting Monday, April 4.
Hidden Assets
Acorn TV's other original arriving this month is the detective series Hidden Assets. The series stars Angeline Ball as DS Emer Berry, who learns a series of terrorist bombings in Brussels are tied to a wealthy Irish family in her hometown of Dublin. The series co-stars Wouter Hendrickx as Belgian PC Christian De Jong, with who she teams up to solve the case. The six-part series airs weekly, starting Monday, April 18
Amazon Studios/Prime Video
A Very British Scandal
A Very British Scandal is the second installment in the anthology series that began with A Very English Scandal. The new season stars Claire Foy and Paul Bettany as the Duke and Duchess of Argyll in a series that dramatizes their 1960s era tabloid covered divorce proceedings, the first such case to feature publicized revenge porn photos.
All three episodes arrive Friday, April 22.
AMC+/Sundance Now
Ten Percent
The U.K remake of the hit French comedy Call My Agent, Ten Percent stars Jack Davenport, Lydia Leonard, Maggie Steed, and Prasanna Puwanarajah as the four celebrity agents trying to hold the company together after the owner unexpectedly passes away.
Clients will include guest star appearances from Dominic West, Helena Bonham Carter, Himesh Patel, and Phoebe Dynevor, all playing themselves. The first two episodes premiere Friday, April 29, with one a week to follow.
Apple TV+
Slow Horses
Gary Oldman stars in Slow Horses, adapted from Mick Herron's Slough House series of novels. The show centers on the administrative purgatory for MI5 agents known as "Slough House," where agents who have failed in their careers are sent in hopes of driving them to retire. Though that may sound like the setup for a comedy, it's not, as the group accidentally stumbles into a case that only they can solve.
The six-part series premieres with two episodes Friday, April 1, and once a week thereafter.
BritBox
Why Didn't They Ask Evans?
BritBox's big original premiere for the month is Hugh Laurie's adaptation of Agatha Christie's Why Didn't They Ask Evans?, starring Lucy Boyton and Will Poulter in one of the writer's non-Poirot/Marple mysteries. The three-part series is the first in a planned run of Christie's original limited series adaptations to go with the streaming service's already vast library of older Christie adaptations. All three episodes arrive Tuesday, April 12.
Easter from Kings 2022 
BritBox remains the streaming service for ex-pats looking for the yearly BBC exclusive holiday musical TV specials. As it does at Christmas, the streamer will have the exclusive on the only North American legal Livestream of the Easter celebrations held at the Chapel of King's College in Cambridge. Easter from Kings 2022 features the traditional music and readings for those who celebrate. Streams Saturday, April 16. 
Discovery+
The Repair Shop Season 5
We're only a few weeks away from Discovery Communications' takeover of Warner Media. However, for now, the two company's streaming services remain separate, with means The Repair Shop Season 5's arrival on Discovery+ gets its own line item. Netflix never got beyond having the 15-episode BBC 2 seasons, so (like 30-installment Season 4), these will all be brand new restorations for fans of the gentle GBBO-meets-Antiques Roadshow reality series. All 40 episodes arrive Saturday, April 9.
HBO/HBO Max
The Great Pottery Throw Down Season 5 
If you were wondering why Discovery+ is suddenly into reality shows, look no further than HBO Max's sleep hit The Great Pottery Throw Down. One of the two legit Great British Baking Show spinoffs from Love Productions, the ceramic showdown to find Britain's next star potter, will bring back last year's judging team of Keith Brymer Jones and Richard Miller and adds Ellie Taylor to join Siobhán McSweeney as hosts. All ten episodes debut Thursday, April 14.
Gentleman Jack Season 2
The long-awaited second season of Gentleman Jack returns to HBO (and HBO Max). Suranne Jones stars as the real-life 19th-century English landholder Anne Lister, whose intricately recounted diaries are not only one of the few documents detailing the Regency era  LGBTQ+ experience but also form the basis for the series. The eight-episode series airs weekly starting Monday, April 25, with simultaneous debuts on HBO and HBO Max at 9 p.m. ET.
Hulu
Under the Banner of Heaven
Technically, Under the Banner of Heaven is an American-set TV series focused on the real-life Mormon true crime case of two fundamentalist LDS members killing Barbara Lafferty and her 15-month-old child. But with a cast of Andrew Garfield, Daisy Edgar-Jones, Sam Worthington, Denise Gough, Adelaide Clemens, Chloe Pirrie, and Billy Howle, it might as well be a British series. The first two episodes arrive Thursday, April 28, with one a week to follow.
Netflix
The Last Bus 
After having very few British series, Netflix roars back with no less than six titles this month. The first, arriving on April 1, is called The Last Bus. The 10-episode British sci-fi series stars Robert Sheehan as an evil billionaire tech wizard; a group of students must fight him to save humanity from his ruthless "environmental clean up" drones that are an army for him to take over the world. 
Jimmy Savile: A British Horror Story
Most British TV viewers have heard about the charges against television personality and long-time BBC host Jimmy Savile. Jimmy Savile: A British Horror Story explores the story in-depth, starting with the assault accusations that bubbled under the surface, especially towards the end of his life, and then delving into the full extent of the cover-up, and failures by the BBC, the NHS, Crown prosecutors, and the government. The documentary premieres Wednesday, April 6.
Hard Cell
Catherine Tate is back with a new Netflix-produced comedy series, Hard Cell, that sees her reunite with the team that formed her 2004 hit The Catherine Tate Show. Tate plays a slew of characters in this story of an events planner-turned-women's prison governor Laura Willis, and her experiences with the women under her care and life behind bars. All episodes premiere Tuesday, April 12.
Anatomy of a Scandal
Though it has no relation to Amazon's A Very English/British Scandal series, Anatomy of a Scandal is also the first in an anthology series where each season will explore lawsuits and cases of sexual consent and privilege set in London. The first season, starring Michelle Dockery and Sienna Miller, will cover the events in the Sarah Vaughan novel from which the series takes its name. All episodes arrive Friday, April 15.
Heartstopper
And finally, there's an LGBTQ+ young-love coming of age series, Heartstopper. Based on the graphic novels of the same name by Alice Oseman, the YA series stars Kit Connor and Joe Locke as nerdy, openly gay Charlie and rugby jock Nick. The pair of unlikely BFFs at an all-boys grammar school discover their odd-couple friendship is developing into romance and first love. All episodes arrive Friday, April 22.
---
By
for on April 1st, 2022
More to Love from Telly Visions