By
for on October 25th, 2020
'The Trouble with Maggie Cole' Recap: Season 1, Episode 2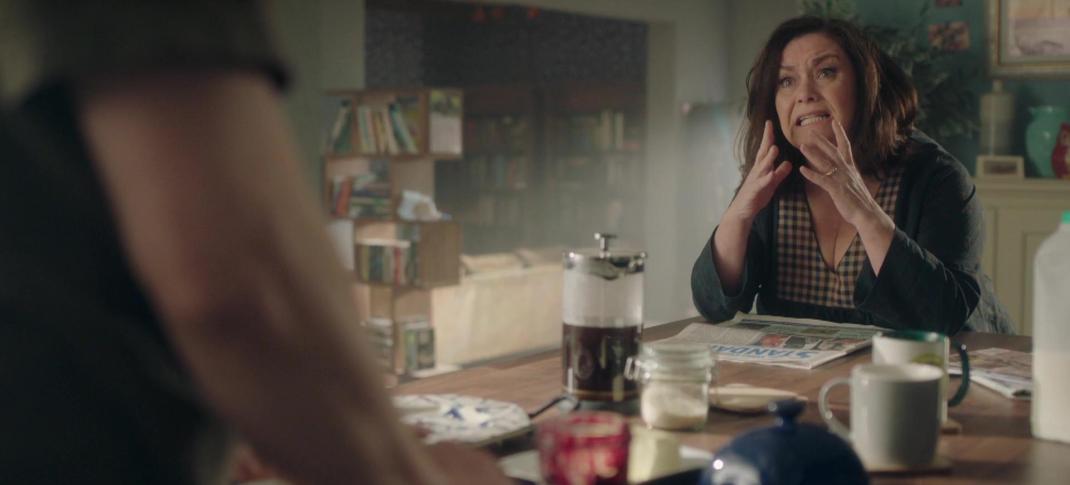 Welcome to the second episode of The Trouble with Maggie Cole. Before we jump in, let's review how Mrs. Cole found herself in such a mess last week.
A flattered Maggie was plied with copious amounts of alcohol by an unscrupulous interviewer. She made a huge to-do across the village over her little local radio piece that most people would never have been aware of otherwise. Now everyone in town has heard the unsubstantiated rumors she spilled over the airwaves. For more detail on the whole debacle, check out the episode one recap here. 
In Episode 2, we pick up the next morning. After a sleepless night, Maggie feels the best course is to proceed as normal by going to work, etc. Her husband Peter convinces her to take things slow and not confront every wrong she has to make right immediately.
However, news of the scandal-filled interview has spread like wildfire around the town and beyond. Maggie's infamous ramblings were posted on-line and are trending thanks to a massive number of retweets. Even worse, she's an unflattering meme. The folks who were gossiped about are faring no better. Rubberneckers abound as do snide comments, laughter, and silent expressions of pity.
Next morning, Radiogate is front-page news with the "Outed 6" on the cover. Aside from the rumors Maggie herself provided, the papers have gotten some unreliable info about her as well.
From here, let's look at how each of Maggie's accidental victims is coping with all the unwelcome attention.
Neil and Kelly Roberts: In her interview, Maggie insinuated the couple won the lottery because they recently purchased a flashy car. While this is false, the only thing we know is that the couple "took advantage of an opportunity" which landed them with £70,000 that they had originally agreed on spending inconspicuously.
But the misfortune of their fortune being speculated upon starts to look like a way out to Neil (Joe Layton). He somehow mocks up a fake lottery ticket suitable for framing. Kelly (Kerry Howard) points out that it doesn't look quite right, but hubby isn't concerned with details. He's just happy Maggie Cole has provided them with an alternative (i.e. legitimate) excuse for their newfound wealth.
Brian Daniels: Maggie wondered aloud if the landlord of The Conqueror pub was a London mobster in witness protection. Now the townsfolk are gawking around his establishment. While his barmaid Sydney (Hollie Edwin) urges him to sue Maggie, Brian (Lee Boardman) just wants to get on with business and forget it.
Fair enough, but when he leaves Sydney in charge of the pub to go to some vague event with the brewery suppliers, it seems perhaps his employee's faith in him is misplaced. Especially after her devious boyfriend Liam (Laurie Kyanston) goes through Brian's belongings and finds (dun-dun-dun) a gun.
Roxanna and Alex: Teaching assistant Roxanna (Emily Reid) was labeled the village floozy by Maggie which has affected not only how she's regarded by teachers and parents at the primary school, but it's clearly impacted her relationship with boyfriend Alex Myer(Arthur McBain) as well. He's yet to return her calls since the rumor was introduced.
It might be embarrassing to be known as the beau of the easy girl in town, but is that why Alex has ghosted Roxanna? We learn that he packed in a good job elsewhere when his mum needed Alex's help back in Thurlbury. He tells her big city life wasn't for him and he needed to get out. Was he just being a good son or was there another reason for his departure?
Dr. Carol Tomlin – The rumor hounding GP and neighbor Carol (Chetna Pandya) is that her husband has secretly taken up with another man and Maggie is intent on addressing this transgression first. When Carol won't entertain an apology at her doorstep, Maggie claims she's suffering from trench foot and makes an appointment at the surgery.
After forcing Maggie to wait most of the day, Carol finally calls her into the office and proclaims her trench foot free. Then she gives Maggie five minutes to plead her case. Despite listing all her excuses upfront, Maggie says she really just wants to make things right for any rift she may have caused. Carol offers to tell her the truth, because she deserves it… and not in a good way.
The man/boy Alan was seen with is his son from a current marriage. Carol isn't legally Alan's wife. She is the other woman in a bigamous relationship and it suits her just fine. Now he's chosen to leave his wife for her and Carol is obviously not happy about it. Maggie promises not to tell a soul and Carol is pleased with her revenge because she knows it will drive the town busybody crazy.
Next Carol takes matters into her own hands by visiting Alan's wife. The women decide that his home is with his family. Carol breaks the news telling him she refuses to play the victim or the sole devoted wife. An incredulous Alan packs his bags and leaves.
Jill Whedon- After the inital shock of being deemed not sharp enough for the headmistress job, former best friend Jill (Julie Hesomdhalgh) seems to almost relish her status as one of Maggie's betrayed, taking on the task of rallying the rest of the "Outed 6" . She gives Roxanna a pep talk that includes the adage "What goes around comes around." Then when she notices Marcus Ormansby (Patrick Robinson) on the street, she makes him aware of the dubious club of which they are both members. Emboldened by her chat with the handsome author, the self-admitted lonely singleton invites Marcus to talk to her students about writing, an invitation which he accepts.
Back at school, Peter works up the courage to tell Jill it's breaking Maggie's heart that she won't talk to her. Jill makes an appearance at the Cole house, but she's clearly in the mood for humiliation rather than reconciliation.  She asks Maggie to hand over the notebook with all her ideas for the Thurlbury anniversary celebration. When Maggie counters that she's the local historian, Jill bluntly reminds her that she just runs a gift shop.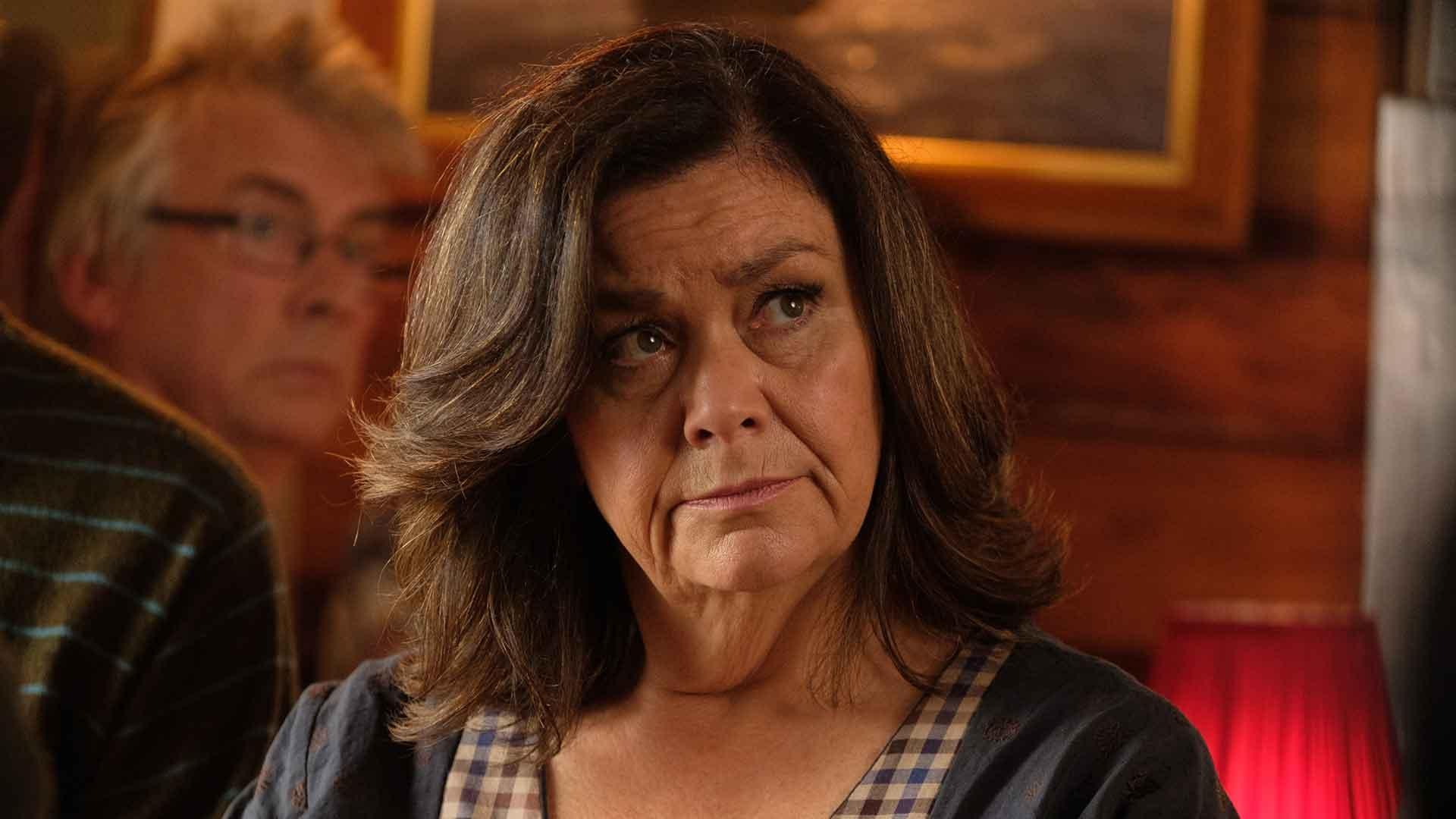 All this leads to the last big scene of the episode. Tired of the hostility she feels she doesn't deserve (really?), Maggie refuses to hide away.  She and the family walk to the pub and as they enter the whole place goes quiet. Next Carol shows up and walks straight to the Coles' table. Loud enough for everyone to hear, she admits that Maggie was right about her husband and now he's out of her life. She admonishes Maggie for discussing her life in public, but if she hadn't, the truth may never have come out. As far as Carol's concerned that's the end of it. They shake hands and she leaves. Considering Maggie knows the truth, she's surprised at this admission but is obviously relieved. One down, five to go.
But is Peter wrong in his estimation that Carol was the most daunting of the "Outed 6" to appease? Because back at Jill's place, we see her on her computer with the post that suggests Peter should resign as headmaster clearly displayed. Could Jill be ConcernedParent86 and is she looking for some revenge "best-served cold"? After all Maggie's diss about her intelligence suggests a lack of respect for Jill rather than a statement about any bad deeds or character flaw.
So how do we feel so far? Does Maggie really accept responsibility for the hurt her words caused? Or does she consider herself a duped victim as well?  Is it likely that everyone, except maybe Jill, actually has a darker secret than the one Mrs. Cole incorrectly surmised?  And what about that still unexplained opening sequence with the car accident? It appears a little more is being revealed each week so I'm intrigued. Are you? Please share your thoughts and predictions in the comments.
---
By
for on October 25th, 2020
More to Love from Telly Visions