By
for on October 18th, 2020
'The Trouble with Maggie Cole' Recap: Season 1 Episode 1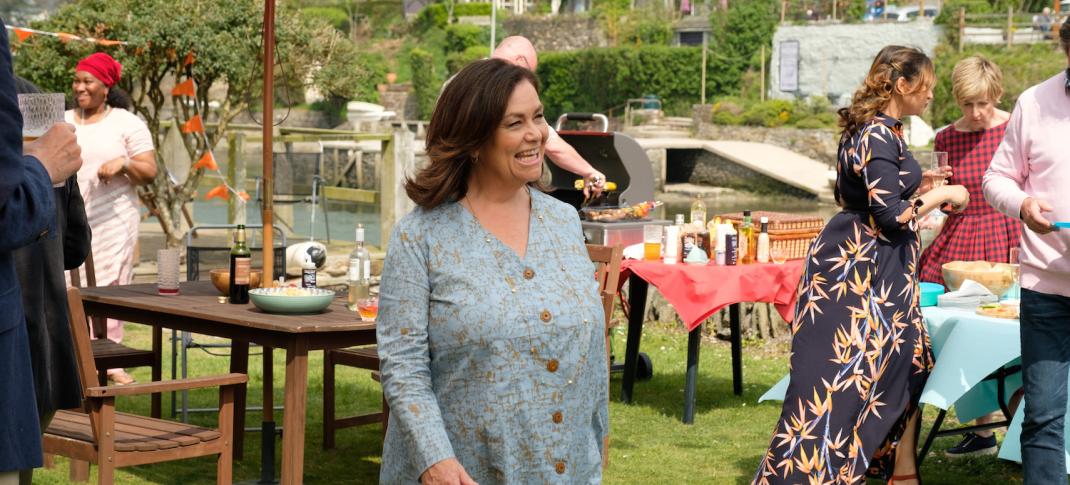 It's Sunday night and that can only mean one thing. A new British series has arrived on PBS and this time it's The Trouble with Maggie Cole. For the next six weeks, we'll be getting to know the residents of Thurlbury, a fictional, picturesque coastal village. Starring Dawn French in the titular role, she and a talented ensemble cast play out a distinctly cautionary tale about the pitfalls of spreading rumors with intrigue and a bit of humor.
The debut episode spends a fair amount of time introducing us to the townsfolk of Thurlbury which, we learn early on, is about to celebrate its 500th anniversary. We begin, of course, with Maggie Cole (French), the curator of the Thurlbury Historic Keep. Her husband Peter (Mark Heap) is the headmaster of the town's primary school and is counting down the days to his retirement.
Maggie calls him bursting with news that she's been asked to do a local radio interview concerning the Thurlbury anniversary celebration. During the course of this conversation, we are shown that Maggie is quite the busybody – guessing the identity of the "dead bird boy" in Peter's office and assigning her husband the task of pestering their son and daughter-in-law about having a baby when they come over for dinner that night.
Next, we meet primary school teacher Jill Wheadon, (Julie Hesmondhalgh) who's brought her class to the keep for a field trip. As Maggie's best friend, she's willing to go along with her request to suggest a float at the anniversary celebration planning meeting.  All so as not to have Maggie look like a total control freak (which of course, she is).
After the scenic car tour of the area set to the synth-pop stylings of A-ha's "Take on Me", Maggie arrives at the local pub to meet Jez (John Macmillan) for the radio interview. Not thrilled about his assignment, Jez turns on the charm and insists on buying Mrs. Cole a drink. The interviewer's eyes glaze over as she rambles on about the history of the area. But when he realizes the G&Ts have loosened her inhibitions, Jez encourages her to prove his listeners wrong about the dullness of her little village by telling tales about her friends and neighbors. So sloshed is she afterward, Maggie must get her hubby to pick her up from the pub.
Another string of brief introductions follows as Maggie pops into the local shop where she gets bossy with owner Emil Dubiki then intentionally "bumps into" best-selling writer Marcus Ormansby. The author, who first looks blankly at Maggie, can't get away fast enough as she follows him through the shop, fawning and bragging in turns.
Other Thurlbury residents who will soon become relevant are Emil's daughter Roxanne, the Myer brothers, Alex and Liam, and the Roberts family, whose purchase of an expensive sports car has their neighbors looking askance at them.
That evening at the Coles, we meet their son Jamie (Phil Dunster) and his wife Becka (Gwyneth Keyworth). Maggie pours on the false modesty about the interview. Jamie diverts the conversation to Becka's bespoke jewelry business (that Maggie refers to as "trinkets"). And eventually, poor Peter is kicked into action, blurting out the blunt baby question. The couple won't be moved to commit though Becka assures Maggie she will be the third to know, if and when, they decide to start a family.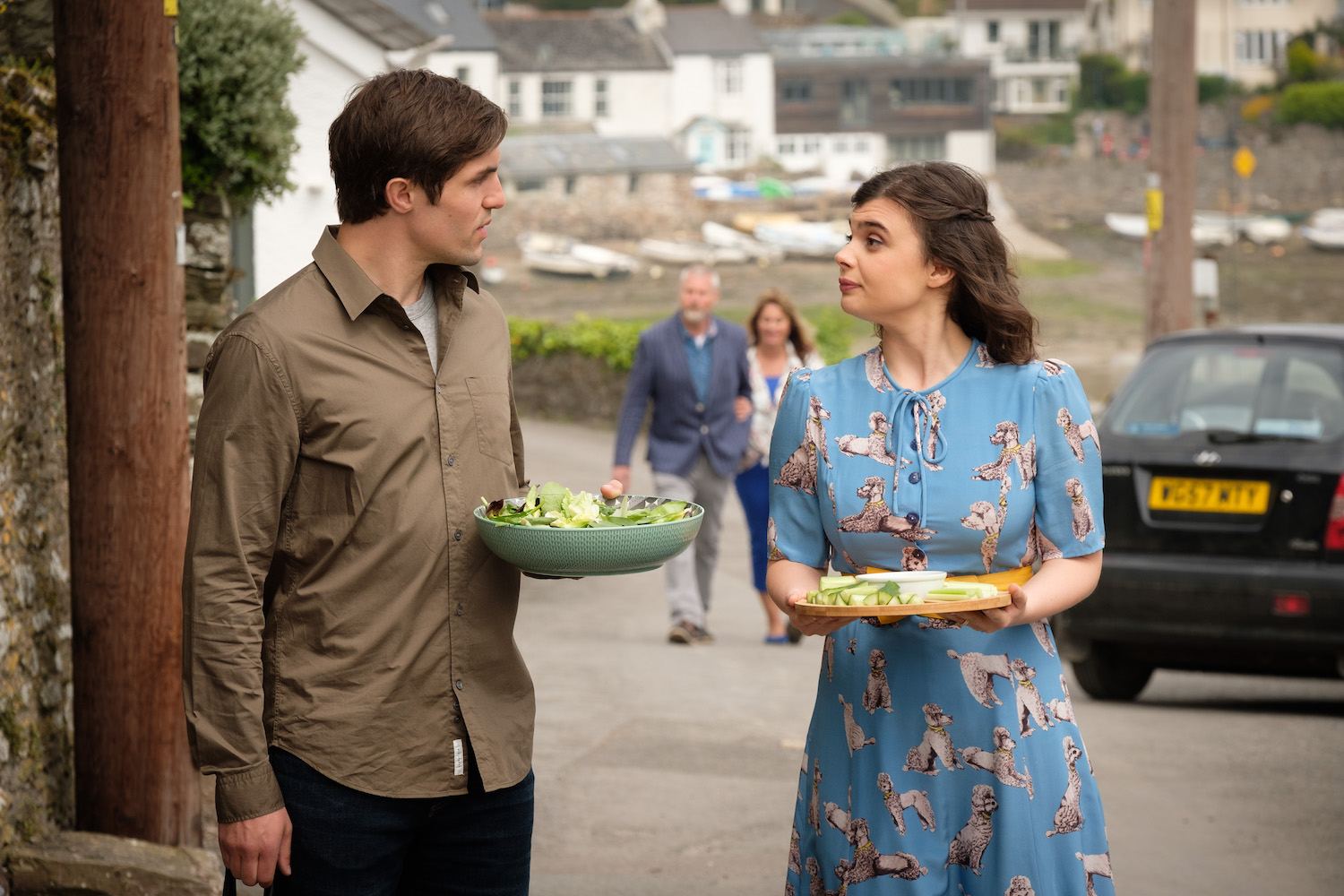 It comes as no surprise that Maggie is a curtain twitcher as well. Before going to bed that evening, she notices her neighbor (and local GP) Carol saying goodbye to her husband as he gets in a taxi.  He apparently leaves every weekend and Maggie feels bad for her.
The next day, Peter calls Maggie confused about an invitation he's received. So obsessed is she about her radio interview broadcast, she's organized a barbeque at their house so as many people as possible will hear it. Peter cautions his wife that the piece may not be very long, and he doesn't want her to be disappointed.
It's the day of the broadcast party and people all across Thurlbury are listening to the radio at work and home. The mood is festive, except for maybe the tension between Maggie and Karen (Vicki Pepperdine), the school secretary who obviously sees herself as Peter's work wife. As she chats with guests, Maggie realizes that Jez the reporter never got ahold of any of the notable residents she referred him to.
Then the moment of truth arrives and the interview commences with Jez calling Maggie an amateur historian. Maggie is already realizing how the interview is being edited from unrelated conversations. And then the you-know-what-hits-the-fan.
Maggie spreads unfounded gossip about everyone from her neighbor Carol's unfaithful husband to the loose reputation of lovely teacher's assistant, Roxanne. Marcus borrows the characters from his novels from the locals; Brian, the pub landlord, is likely a London gangster in witness protection; and the Roberts family must have won the lottery to afford that flash new motor. But the unkindest thing Maggie utters has to do with her BFF Jill - that she's not really smart enough to be headmistress when Peter retires.
At this point, Jamie unplugs the radio. Maggie starts to apologize, but Peter stops her. He ends the party, knowing no good will come of talking about this while everyone is in shock. After cleaning up from the barbeque, Maggie claims she is fine. She calls it a storm in a teacup.
Meanwhile, all over Thurlbury, the repercussions of Maggie's drunken assertions are making themselves felt. Anger, hurt, and fear all replace the high spirits of only a few hours ago.
And obviously, Maggie is not okay - she's confused and mortified,  as she should be. Peter comforts her, saying she hasn't done anything that can't be fixed. He tells her they will talk to every person, one by one. They won't make excuses; they'll make things right. And at this point, you can't help but feel that if Peter sees the good in Maggie after all this, you have to believe that somehow she is redeemable.
So Maggie's careless gossip has caused damage and her oversized ego has taken a hit as well. Surely upcoming episodes will involve her trying to make amends. What do you think so far? Did the set-up grab you? Or did Maggie's behavior turn you off? Also, there was no mention of the rainy day car accident we see in the opening montage, so one could assume that will resurface later. We're interested in hearing your thoughts on this new series in the comments!
---
By
for on October 18th, 2020
More to Love from Telly Visions