By
for on November 15th, 2020
'The Trouble with Maggie Cole' Recap: Season 1, Episode 5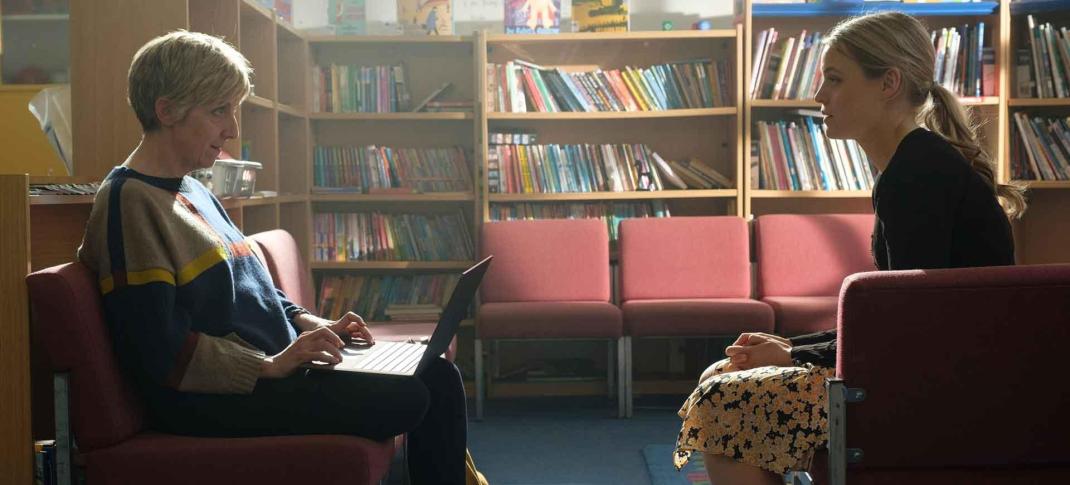 This week's installment of The Trouble with Maggie Cole turned up the drama several notches as more secrets were revealed. But before digging into the specifics, let's remind ourselves of how we got here.
In Episode 4, Maggie finally got the chance to made amends with Roxanna. Alex's predicament continued to worsen when the money he was intending to use to pay off his gambling debts mysteriously disappeared. Maggie was very publicly blindsided when she discovered that her son had a secret of his own that she knew nothing about. For more details, feel free to peruse the recap. 
After the humiliating leak of a family secret, Maggie spent a sleepless night on the sofa. In the morning, Peter wants to talk it over, but she's feeling angry that her family kept something this important from her for so long. She needs time to process before she's ready to forgive that betrayal.
So the story that Peter had feared would come out about his son made a huge splash in Thurlbury. At university, Jamie seriously injured a boxing opponent during a sparring match. The thing is, the guy had an undiagnosed blood clot on his brain, a ticking time bomb that just happened to go off when Jamie delivered a routine punch. The young man recovered after a two-week coma but was never the same. Because of this unfortunate accident,  Jamie carried around a weight of responsibility that Peter said almost destroyed him. He never even told Becka, let alone his mother.
Maggie feels the need to get away from the house to think so she sets out to get a room at Brian's B&B. Once there, she attempts to apologize to the pub landlord, but ever-protective barmaid, Sydney insists on schooling Maggie how Brian gave her a job when she was having a hard time at home. She calls him the nicest, kindest most honorable man she's ever known, which out of embarrassment (but more likely out of guilt), he yells at her to stop before walking out. 
Both women go after him so Brian closes the pub and reveals the story of why he is actually in hiding. He was from a military family and enlisted when he was 18. He was fortunate to never see any real combat in his career. But around the age of 40, he was notified that he was being shipped off to Afghanistan. Before he could be deployed, Brian went AWOL.  He would be court-martialed and possibly sent to prison if found out. Syd and Maggie try their best to convince him that he's not a coward and Brian accepts Maggie's apology. He looks rather relieved to have the secret off his chest. We also learn that the gun in his dresser drawer is his heroic grandfather's service revolver from WWII.
In the meantime, we find Alex's nan agitated about something she says has been stolen from under her bed. The plot thickens as we realize the bag of money Alex hid away was actually his grandmother's stash of cash, most likely her life's savings. He looks very ashamed indeed when the confused old lady mistakes him for his father and tells his mother that he can't be trusted. After their visit, Alex gets another threatening phone call from his debt collectors and, just to prove a point, they're parked only a few yards away from the care home.
When Karen hears that Peter will be Maggie-less that evening, all systems are a go in her plan to seduce her boss. Poor Peter is so clueless.
And to make matters worse, just as Karen starts snogging the headmaster, Jill walks by the office and sees the whole disturbing display. Now we find out how unhinged Peter's love-sick secretary truly is. Karen admits that she's the one who gave the story about Jamie to the paper and posted the calls for Peter's resignation on the school website. It was her way of demonstrating how badly Maggie's gossipy interview has impacted him. Badly shaken, Peter kicks her out of the office, but a weirdly calm Karen says she'll see him on Monday.
Meanwhile, with no vacancies at Brian's, Maggie has to seek out alternative accommodation which ends up coming from an unlikely source. Becka happens upon her mother-in-law outside the pub and decides to take her back to her place. This means Jamie will need to bunk with his dad for the night so that the Cole women can have a heart-to-heart. Becka insists that Maggie drink because obviously she herself can't. After a bottle of wine and an episode of Coronation Street, Maggie realizes she is jealous that Peter was the one to share their son's secret and that she was prevented from comforting and protecting Jamie. Becka assures her she can still tell her baby boy that everything will be all right because she's the only one who matters apparently. They both acknowledge their very human envy and share a rare hug.
And in the tensest of plotlines, Alex shows up at the Roberts' house for his "date" with Roxanna wherein he immediately starts pumping Josh for information on the location of the "lottery money." The boy is engrossed in a video game so he's no help. Later they put in a Doctor Who DVD to entertain Josh so Roxanna can grill her beau on his recent behavior. He promises he will tell her everything once Josh has gone to bed.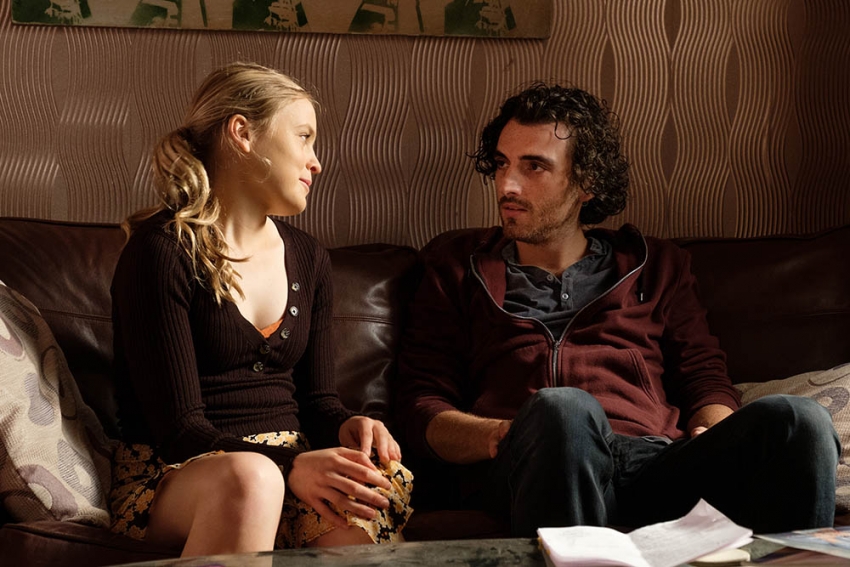 Next Alex feigns a trip to the loo so he can frantically tear the place apart. An alarmed Roxanna asks what he's doing so he tries to explain about Neil and Kelly not winning the lottery and instead finding his nan's money that he hid away in the keep.  He's in serious trouble and needs it back because he's running out of time. Roxanna calls Kelly in her hotel room to tell her that Alex is ranting about their jackpot that he claims is his. Panicked about her son's safety, Kelly tells Alex the truth- that they burned the money. Upon hearing this very distressing piece of information, Alex leaves the house and speeds off in his car like a madman.
Well, we've been left with quite a cliffhanger here. Will Jill tell Maggie what she saw in Peter's office? What can Alex do to keep his family safe now that his money has gone up in smoke? Did you suspect Karen was the leak causing the Coles all this upheaval? We can only assume all will be revealed at the Thurlbury anniversary celebration that we've been seeing snippets of it all season. With only one more episode to go, are you invested in the ending?  Let's discuss it all in the comments!
---
By
for on November 15th, 2020
More to Love from Telly Visions