By
for on August 18th, 2022
The Trailer for 'Emily' Introduces Us To a Brooding Bronte Sister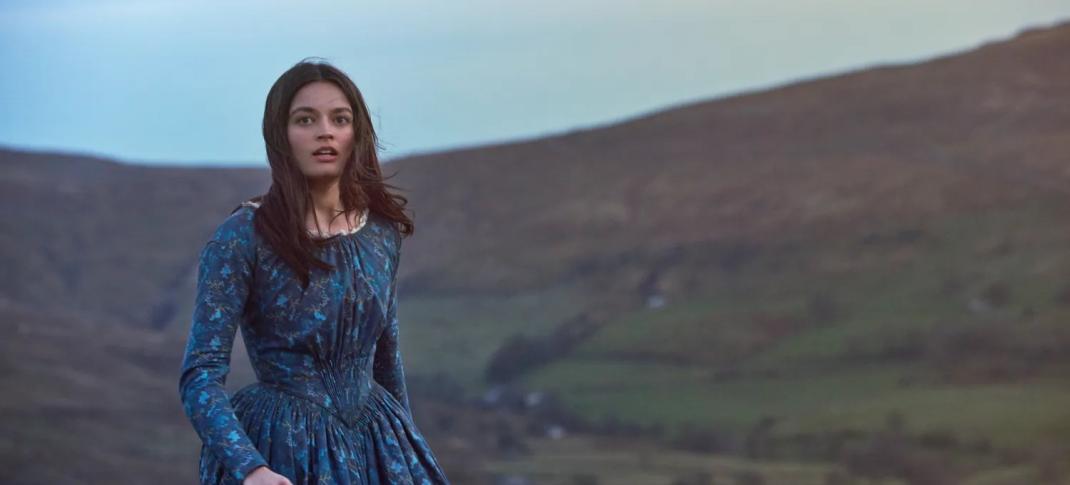 The Bronte sisters are some of the most famous women in literature, who each managed to write some of the most successful and controversial fiction of the mid-nineteenth century. That they did it all while writing under assumed names and facing bleak personal and family prospects is just one of the reasons they (and their respective works) are so remarkable. But we know still comparatively little about who they really were as people, let alone what inspired their writings. 
Sister of Charlotte and Anne, Emily Bronte is best known writing the heartbreaking Gothic romance Wuthering Heights and the sad fact of her very early death. She passed away in 1848 when she was just 30 years old, which means that it's very easy for us, over two hundred years after she died, to project our own ideas of who she was onto the scant facts of history she left behind. The upcoming biopic Emily fully leans into this idea, crafting an image of the author that bears little resemblance to historical fact, but that certainly appears as though it will tell a good story.
Rather than a straight historical account, this film clearly takes its inspiration from the more modern sensibilities of recent hits like Dickinson and director Autumn De Wilde's Emma. The trailer, which describes the writer as a "rebel," a "misfit" and a "genius" in block hot pink lettering, makes it clear that the film will take some liberties with the known facts of the author's life, engaging in some fairly out-there speculation about the relationships that may have inspired her to write her great work.  
But while Emily's closeness with her sisters is well documented, as is her hero-worship of her brother Branwell, her anxiety over his dissolute lifestyle, and her devastation over his death, we know relatively little about her perspective as an artist or where she came up with the idea for Wuthering Heights. Emily theorizes that the answer is forbidden love, speculating that an affair took place between the reclusive author and William Weightman, an assistant curate who worked for her father, Patrick Bronte, in Haworth. 
There are many reasons this romance is unlikely to have ever taken place. The real Emily Bronte was described by multiple contemporaries as incredibly reclusive and there's no historical evidence that she ever had a romance or really any sort of serious relationship with anyone outside of her family. It's true that Weightman did play a significant role in the life of the Brontes and many assume that the youngest sister Anne may have developed an attachment to him, given that she used him asthe inspiration for the character of Reverend Weston in Agnes Grey. But, Emily, almost universally, seems to stand alone. 
That said, if you don't mind the middle Bronte child getting a bit of the Shakespeare in Love treatment, the trailer actually looks pretty good—moody, atmospheric, and full of the gorgeous Yorkshire countryside that's so central to the novel. Watch for yourselves below.
Sex Education star Emma Mackey plays the titular Emily, alongside an ensemble cast that includes Oliver Jackson-Cohen (The Haunting of Hill House), Alexandra Dowling (The Musketeers), Amelia Gething (The Spanish Princess), Gemma Jones (Gentleman Jack), Fionn Whitehead (Dunkirk), and Adrian Dunbar (Line of Duty).
Emily is written and directed by Golden Globe-winning actress Frances O'Connor (The Missing) in her feature directorial debut. The film will premiere at this year's Toronto International Film Festival, before arriving in British theaters this October. Emily doesn't have a U.S. release date as yet, but it will be distributed by Bleeker Street, 
---
By
for on August 18th, 2022
More to Love from Telly Visions