By
for on October 29th, 2022
'Emily' Works as a Brontë Biopic, but Its Construction is Flawed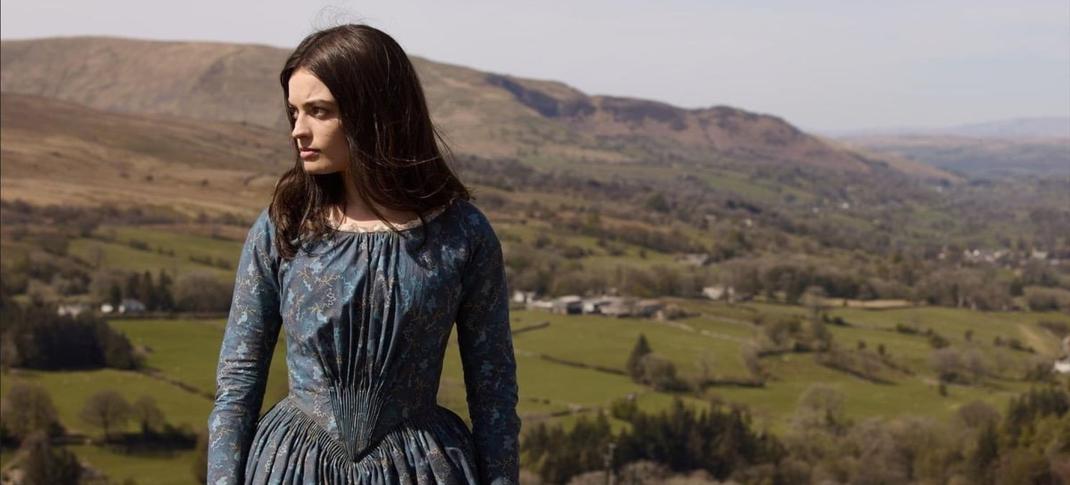 The artist biopic, specifically the ones about writers, is one of the stalest forms of cinema. Its narrative tension usually relies on contemporaries of the famous author insisting their book will never fly, paying off with the inevitable, flimsily satisfying reveal that, yes, they did publish the book that would go on to wow generations henceforth, but not without the author suffering a great deal. Much can be unpacked by how raw, human stories rich with empathy and pain can be utterly flattened and hollowed out by uninspired story design, but thankfully actor Frances O'Connor's directing debut Emily takes inspiration from a different, fresher subsect of biopic cinema. 
O'Connor's film is about the famed middle-child Brontë, who died before turning 30 but whose sole novel Wuthering Heights forged a path for her sisters and female writers everywhere to pen confronting, bracing literature, and feels more influenced by the intensely stylized, artistically-liberated films about real people that seek to capture intensity of feeling rather than cold, hard facts.
Spencer comes to mind watching Emily, as does this year's Corsage, but Emily feels most influenced by the films of female directors who unpacked the psychology and legacy of female writers, or the women in their immediate circle; Josephine Decker's Shirley, Haifaa Al-Mansour's Mary Shelley, even Jane Campion's Bright Star. In terms of its effectiveness, Emily lands somewhere in the middle of this spectrum: it works, but its construction is flawed.
Sex Education's Emma Mackey tackles her most challenging lead role with great enthusiasm, playing Emily's alienation amongst her family and contemporary society with a steadily rising, unstable venom as she trusts the wrong people and descends into a hurricane of heartbreak and alienation. The Brontës lived at a time when getting caught in a rainshower could kill you, and the heavy burden of grief hangs over almost every character – undoubtedly a catalyst for the barbed relationship between the sisters.
The eldest, Charlotte, finds fault with each of Emily's outsider status and childish fancies, an unconventional but welcome embellishment of how they likely felt about each other. The complicated sisterly dynamic is the most engaging thread in O'Connor's script, even if the youngest, Anne, disappears when Emily's story becomes more turbulent. As Anne is the least renowned of the three authors (in no small part due to Charlotte's suppression of her novel posthumously), her omission from the bulk of Emily's drama feels like a misstep.
Emily isn't critically wounded by its unbalanced look at the sisters (after all, the film is named after only one of them). Still, it's a curious choice considering the fuzziness of the film's historical accuracy. O'Connor's film frames the writing of Wuthering Heights as influenced by a secret relationship between Emily and an assistant pastor to her father, William Weightman, who Oliver Jackson-Cohen imbues with a sturdy but entrancing presence (even if we know by this point that, for women, his characters are always bad news). Academic rumors have a romantic fixation on Weightman belonging to Anne, not Emily.
There's nothing wrong with warping history to tell a dramatic story; it's, in fact, encouraged and somewhat in fashion at the moment. But the point Emily reaches by riffing on the real Brontë history is rather uninteresting; the only believable way Emily could write something as daring and tragic as Wuthering Heights is if she had an emotional journey that mirrored its plotting. And while you sort of respect Emily for its writer protagonist not getting around to any writing until the last 15 minutes, the conclusion still renders the whole exercise a little cyclical and redundant.
In its technical aspects, Emily has a similar boldness that nevertheless feels not thoroughly thought through. The shaky, natural camerawork is well done, but the insistence on natural lighting and a murky color palette makes most scenes look distractingly dim. Abel Korzeniowski's score, a mix of sonorous choirs and weeping strings, is particularly strong, at least when it isn't overemphasizing everything the characters are feeling. And Sam Sneade's editing makes the snatches of Emily's life we see feel impressionistic, but it hasn't done enough to tighten the film's baggy structure and hefty 130-minute runtime.
There are sequences where everything comes together, a thwarted picnic on the moors, or a deeply affecting parlor game-turned-seance when Emily's life is imbued with the deep sensory texture O'Connor wants to convey. Jacked-up, heightened sounds surround Emily with an overwhelming audible danger, which transforms into something profound when we hear those tiny but mighty scratches of her pen. But despite its best efforts to unravel and reconstruct the scant details we know about the elusive Brontë, Emily can't avoid feeling slight itself.
Emily has already opened in the Unite Kingdom and will open in limited release in the U.S. in 2023.
---
By
for on October 29th, 2022
More to Love from Telly Visions