By
for on January 23rd, 2023
Bronte Biopic 'Emily' Will Be Released In U.S. Theaters This February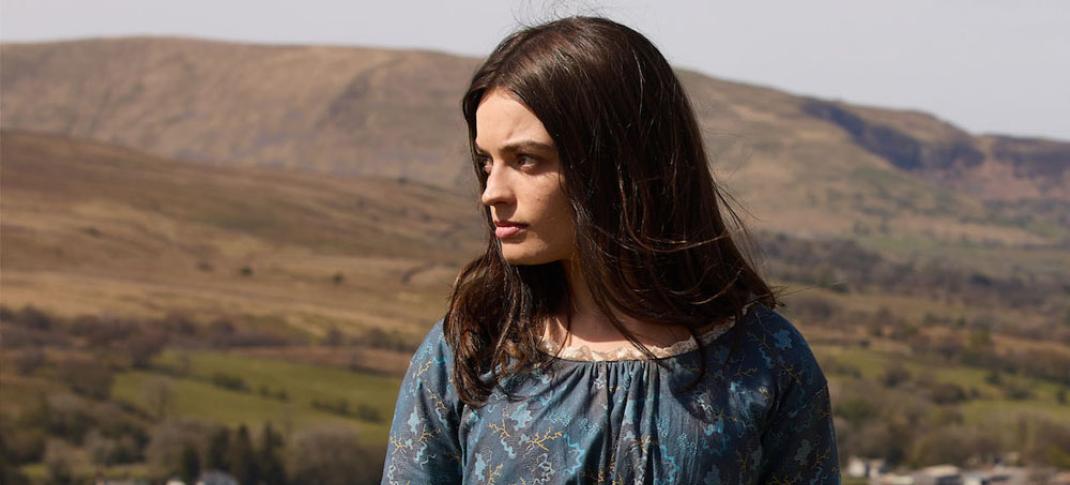 The Bronte sisters are rightly remembered as trailblazers in the world of literature, a trio of female authors who each penned novels that would go on to be considered wildly controversial and unimpeachable classics by turns, and they basically did it all in whatever the late eighteenth-century version of "backward and wearing heels' might be. (Translation: Writing under assumed names while facing a myriad of complicated family problems and rather bleak personal prospects.) Yet we still know relatively little about what these women were like as people or what their inspiration or writing process entailed.
Sister of Charlotte and Anne, middle sibling Emily is best known for writing the heartbreaking Gothic romance Wuthering Heights and for the fact that she died quite young. She passed away at just thirty years of age in 1848, which means that it is easy for modern audiences to project our own ideas of who she was on the scant historical record she left behind.
And, like many popular period pieces in recent years, the upcoming biopic Emily fully leans into this trend, crafting an origin story for both author and her most famous novel that doesn't exactly bear a lot of resemblance to real life. But it certainly looks as though it'll be fun to watch -- and it's finally coming to theaters in America next month.
While Emily's closeness with her sisters is well documented, as is her hero-worship of her brother Branwell, her anxiety over his dissolute lifestyle, and her devastation over his death, we know relatively little about her perspective as an artist or where she came up with the idea for Wuthering Heights in the first place. Emily theorizes that the answer is forbidden love, and makes the case that an affair took place between the author and William Weightman, an assistant curate who worked for her father.
In reality, there are many reasons this romance is unlikely to have ever taken place, including the fact that Emily was described by multiple contemporaries as incredibly reclusive and the evidence that indicates it was actually youngest sister Anne who may have developed an attachment to Weightman. But if the trailer is anything to go by, it doesn't look like anything so unnecessary as historical fact will be getting in the way of a good broody and tortured romance. 
(Sue me, I'm a sucker for all this Gothic melodrama!)
The film's synopsis reads as follows. 
Haunted by the death of her mother, Emily struggles within the confines of her family life and yearns for artistic and personal freedom, and so begins a journey to channel her creative potential into one of the greatest novels of all time."
Sex Education star Emma Mackey plays the titular Emily, alongside an ensemble cast that includes Oliver Jackson-Cohen (The Haunting of Hill House), Alexandra Dowling (The Musketeers), Amelia Gething (The Spanish Princess), Gemma Jones (Gentleman Jack), Fionn Whitehead (Dunkirk), and Adrian Dunbar (Line of Duty).
Emily was released in the U.K. last fall to mixed reviews (including from our own movie reviewer, Rory Doherty!). But American audiences will get to judge for themselves very soon, as the film is slated to premiere in select U.S. theaters beginning February 17. 
---
By
for on January 23rd, 2023
More to Love from Telly Visions