By
for on November 28th, 2014
British Actors You Should Know: Eddie Redmayne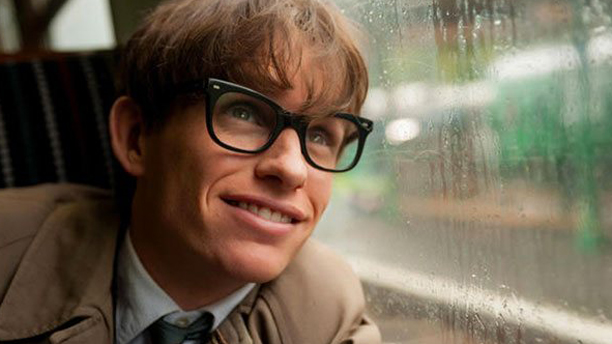 The major film festivals have taken place and now Hollywood is releasing the trailers for its 2015 Oscar contenders. If you pay attention to that sort of thing, you may well have heard the buzz around our latest featured actor –
Eddie Redmayne
.
He's receiving accolades for his performance as Stephen Hawking in The Theory of Everything. The film follows the life of the world famous scientist from his days as a student at Oxford through his devastating ALS diagnosis and out the other side to the triumph of his career and his determination to outlive the dire predictions of his doctors. He does all this with the love and full support of his fiancé, and later, wife, Jane (Felicity Jones) by his side.
(Curious about The Theory of Everything? Watch the trailer.)
Long before this breakout lead role, however, young Mr. Redmayne had been getting noticed for his acting skills on both sides of the pond. He's won the Olivier and the Tony for his supporting role in the play Red as well as other theatre and film award nominations. So if you're not familiar with this talented performer, here are just a few examples of Eddie's past television and film work which you can view, in most cases, tonight if the mood strikes you.
My Week with Marilyn. Based on the true story of Marilyn Monroe's (Michelle Williams) visit to England to film The Prince and the Showgirl, My Week with Marilyn features Redmayne as Colin Cooper, an aspiring film maker who talks his way into a job helping director Laurence Olivier (Kenneth Branagh)with various duties on the set.
His main tasks include making arrangements for Monroe's stay and getting her from place to place. Surrounded by her acting coach and other hangers on, Oliver soon tires of Marilyn's less than professional behavior and constant delays. Only Colin's new friendship seems to be able to get Marilyn through the difficult production. 
The Pillars of the Earth. Pillars of the Earth is a mini-series based on Ken Follet's very long historical fiction novel of the same name. The story centers around the formidable process of building a cathedral against the turbulent backdrop of 12th century England. Redmayne plays Jack Jackson, a talented stonemason whose passion for building a beautiful cathedral is surpassed only by his forbidden love for the Lady Aliena (Haley Atwell). 
This mini-series is only available through the Netflix DVD option or to purchase through Amazon Instant Video at this time.
Les Miserables. Considering the dialogue of the entire film is sung rather than spoken, the star-studded cast of 2012's Les Miserables included more than a few unexpected casting choices. Eddie Redmayne was one of those surprises when he got the nod to play Marius, the student revolutionary who must choose between his newfound love Cosette (Amanda Seyfried) and his comrades at the barricades. Apparently when he attended Eton College Redmayne was trained as a chorister; however, his Les Mis role required months of special vocal training to prepare for moving live performances like this one. 
[This video is no longer available.]
Les Miserables can be streamed on Amazon Instant Video.
Birdsong. Some of you may have seen the two-part series Birdsong when it aired on PBS in 2012. This WWI drama finds Redmayne in the trenches as Lieutenant Stephen Wraysford, a man still grieving over the end of an affair with his true love, a married woman named Isabelle (Clemence Poesy).  In times of war, the future is uncertain and circumstances are extraordinary so if you like your romances full of tragic events and tinged with a ray of hope, then Redmayne's silent heartbreak may be for you. 
Tess of D'Urbervilles. In this adaptation of the Thomas Hardy classic Tess of the D'Urbervilles, Eddie portrays Angel Clare, an aspiring farmer and son of a parson. When he meets new milkmaid Tess (Gemma Arterton), they are immediately smitten with one another. Unfortunately our heroine hides a shaming secret that will eventually have to come out (as secrets inevitably do) and change both of their lives forever. 
[This video is no longer available.]
This mini-series can be streamed on Hulu Plus and Amazon Prime.
Hick. And finally, there comes a time when every British actor worth his salt must take on the challenge of an American accent, preferably Southern-ish. Hick is the film where Eddie Redmayne did just that. The total opposite of his usual sensitive characters, this drunken violent drifter (coincidentally named Eddie) crosses paths with a thirteen year old runaway called Luli (Chloe Grace Moretz). Surely nothing good comes of this situation. 
[This video is no longer available.]
Stream Hick on Netflix and judge Redmayne's accent and intense performance for yourself.
So who's got The Theory of Everything on your must-see movie list? What's your favorite Eddie Redmayne performance? And if I've neglected to include a notable role, please let us know in the comments!
---
By
for on November 28th, 2014
More to Love from Telly Visions