By
for on November 7th, 2013
Stop What You Are Doing and Watch: Epic Three-Minute Trailer for 'The Hobbit The Desolation of Smaug'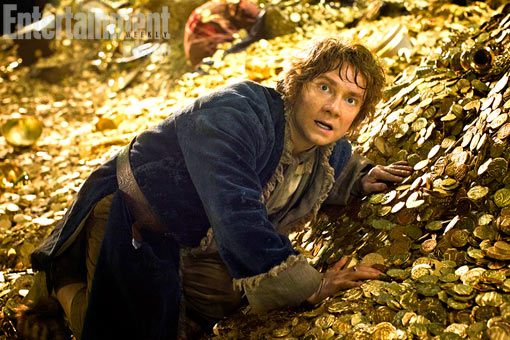 The highly anticipated second installment in The Hobbit trilogy, subtitled The Desolation of Smaug, is due to hit theaters this December and excitement levels are rising among fans everywhere.
Director Peter Jackson hosted a worldwide Hobbit fan event that spanned several countries this week – it included in-person events in New York, London, Los Angeles and Wellington, New Zeland, all hooked together by a live-stream that was broadcast to cinemas and computers around the world. The event featured a Q&A with many of the film's stars, including Richard Armitage, Orlando Bloom, Evangeline Lilly, Andy Serkis, Lee Pace, Luke Evans and Jackson himself.
But, despite how lovely it is to hear the actors share behind-the-scenes stories, the most exciting thing revealed during the fan event was a brand new, extended sneak peek trailer.
Which you should stop what you are doing and watch right now. Seriously. It's that good. 
This trailer is over three minutes long and is, quite frankly, insanely awesome. It's the trailer they should use for every bit of promotion between now and the film's December release. Tense and exciting – complete with dramatic voiceovers, gratuitous action shots, gorgeous scenery, new characters and a dragon with a very familiar voice – it's pretty much guaranteed to dial your excitement for this film up to eleven.
The new trailer finds our hobbits (and the world at large) in grave danger, and there are giant spiders, angry orcs, and of course, that aforementioned dragon to deal with. This clip focuses on the idea of the "King Under the Mountain," a title that dwarf Thorin Oakinshield (Armitage) has claimed for himself, but which may have another contender or two. And there's also a lot of Legolas, for you Lord of the Rings enthusiasts, as well as a good look at Evans' Bard the Bowman, who didn't appear in An Unexpected Journey last year. (Oh, and keep an eye out for a blink-and-you'll-miss-it nod to Sauron, as well.)
In short: If you are in any way a Tolkien fan at all, you will absolutely love this.  It's by far the best clip they've put together for this film to date. Watch for yourselves below. 
Editorial note: I have loved Tolkien and The Hobbit and The Lord of the Rings since I was a teenager (nerd alert!) so there was no way I wasn't going to go see this film, but this trailer has made me start drawing aggressive symbols around December 13 on my calendar. It looks so good.
If you can't get enough of The Desolation of Smaug, you can actually watch the Hobbit Fan Event's  full livestream on YouTube: 
What say you? Looking forward to seeing Smaug in theaters?
---
By
for on November 7th, 2013