By
for on May 18th, 2023
Sophie Turner's Upcoming Jewel Thief Drama 'Joan' Lands at The CW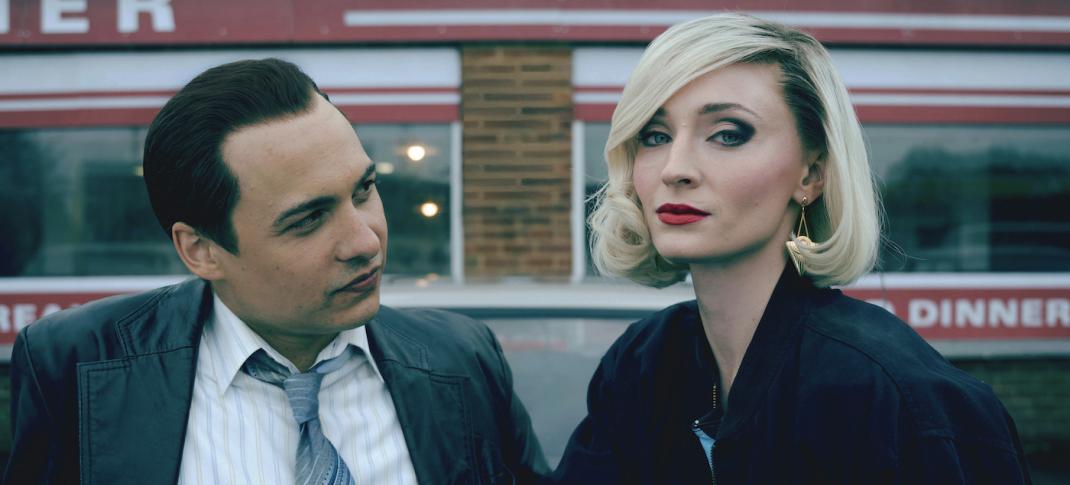 The CW isn't often the first network that comes to mind when you think of programming of particular interest to Anglophiles, but that may be changing quicker than many of us expected. The network is under new management, who appear eager to save money and reach a broader swath of viewers than its recent teen-focused slate of shows. As part of this shift, The CW is busily greenlighting new unscripted programming and signing on to acquire and/or co-produce multiple foreign productions from both Canada and the U.K. 
One of the network's first new pick-up announcements is the ITV true crime drama, Joan. The CW is boarding the project as a co-producer, with plans to air the six-part series in 2024. Based on the real-life story of the notorious 1980s British jewel thief, Joan stars Game of Thrones alum Sophie Turner as Joan Hannington, whose exploits ultimately earned her the nickname of "The Godmother" in the London underworld during the 1980s.
The series will see Turner play Hannington from her early days as a young mother in her twenties trapped in a disastrous marriage to a violent criminal. When he disappears, she decides to do whatever it takes to make a better life for herself and her six-year-old daughter, using her talent for impersonation and performance to adopt new identies and ultimately transforming herself into a criminal mastermind and professional diamond thief.
Much of the series' story will be based on Hannington's own memoir about her many exploits, titled I Am What I Am: The True Story of Britain's Most Notorious Jewel Thief. 
The series description reads as follows:
Sophie Turner ("Game of Thrones," X-Men: Dark Phoenix, "The Staircase") stars as notorious jewel thief Joan Hannington in this exhilarating yet emotional story set against the vibrant backdrop of the 1980s — an era known for its bold fashion trends, iconic music and cultural shifts. The series opens with Joan, a fiery and uncompromising woman in her twenties who is deeply scarred and vulnerable. She is a devoted mother to her six-year-old daughter, Kelly, but is trapped in a disastrous marriage with a violent criminal named Gary. When Gary goes on the run, Joan seizes the opportunity to create a new life for herself and her daughter. Adopting new identities and making new acquaintances along the way, Joan becomes a masterful jewel thief. She embarks on a thrilling, high-stakes journey that challenges her every limit, driven by her desire to care for her daughter and create a secure home for them both. Through her sharp intelligence, charm and talent for impersonation and performance, we follow the twists and turns in Joan's life, the ups and downs, the heartache and the joy that makes this story so compelling to follow.
Turner stars alongside Frank Dillane (Fear the Walking Dead) as Boisie, a London antique dealer. Kirsty J. Curtis (Match Not Found) plays Nancy, Joan's older sister and salon worker while Gershwyn Eustache Jr. (I May Destroy You) portrays Albie, an old acquaintance of Boisie's who's made a new life in Spain with his wife Val, played by Laura Aikman (The Split).
"I'm so excited to be bringing Joan Hannington's fascinating life story to screen in Joan," Turner said in a statement when the series was first announced last year. "She is one of the most notorious figures in the criminal underworld of London, earning her the nickname "The Godmother." A woman who goes between her thriving and daring career as a jewel thief, all whilst trying to get her daughter back from social services, we see a mother in despair swept up in the exhilarating world of crime." 
Joan is written by Anna Symon (The Essex Serpent) and directed by BAFTA award-winner Richard Laxton (Rain Dogs). The series is from Snowed-In Productions and executive produced by Ruth Kenley-Letts, Jenny Van Der Lande, Neil Blair and Richard Laxton. Paul Frift serves as producer. 
Production on the series is currently underway in the U.K. and it is slated to arrive on The CW in 2024. 
---
By
for on May 18th, 2023
More to Love from Telly Visions