By
for on September 20th, 2023
'Slow Horses' Season 3 Sets A Holiday Release Date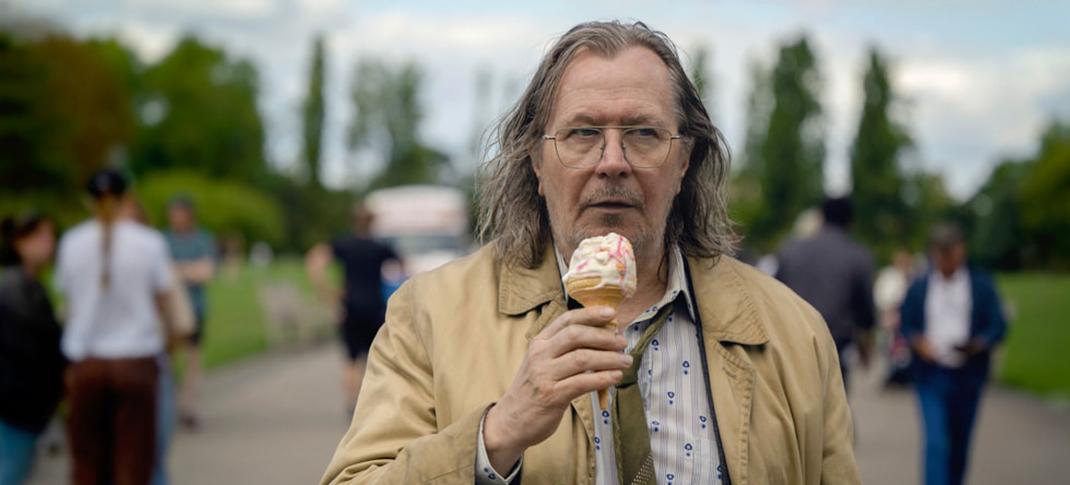 After a long silence, Apple TV+ finally discloses when its comedic spy drama Slow Horses will return to streaming. Based on the Mick Herron series of spy novels Slough House, the British espionage series will return to the same spot in the calendar it occupied in 2022, with an early December premiere and a run of six episodes through the holiday season. The series, led by Gary Oldman (Tinker Tailor Soldier Spy), finished filming Season 3 almost a year ago in March 2023 and went directly into filming the already-greenlit Season 4. However, the long gap suggests fans will wait another year for episodes in 2024.
Unlike most British spy series, which involve either suave James Bond types or tough John Luther cops, Slow Horses (a pun on the "Slough House" name) was notable from the first for being about a misfit band of incompetents. This is where MI-5 puts the spies it cannot fire for one reason or another but who have failed in the field so severely they cannot be entrusted to do anything of import. Supposedly condemned to spend their lives paper-pushing, they're so bored that they catch the details that regular spies are too busy to notice.
Throughout the first two seasons, the Slow Horses have foiled an inside plot in MI-5 that attempted to pin their betrayals on their team and outed Russian sleeper agents within the agency. They also lost one of their own in Season 2, as Min Harper (Dustin Demri-Burns) was murdered halfway through Season 2.
Here's the Season 3 synopsis:
The series is a darkly humorous espionage drama that follows a dysfunctional team of British intelligence agents who serve in a dumping ground department of MI5 known un-affectionately as Slough House.

In Season 3, adapted from Real Tigers, the third novel in the Mick Herron series, a romantic liaison in Istanbul threatens to expose a buried MI5 secret in London. When Jackson Lamb and his team of misfits are dragged into the fight, they find themselves caught in a conspiracy that threatens the future not just of Slough House but of MI5 itself. 
Oldman returns once more as Jackson Lamb, the brilliant but misanthropic leader of the spies, who end up in Slough House due to their career-ending mistakes. The ensemble cast also includes Kristin Scott Thomas (Gosford Park), Jack Lowden (The Gold), Saskia Reeves (Roadkill), Rosalind Eleazar (The Personal History of David Copperfield), Christopher Chung (Waterloo Road), Freddie Fox (Mrs. Harris Goes To Paris), Chris Reilly (Game of Thrones), Samuel West (All Creatures Great & Small), Sophie Okonedo (The Wheel of Time), Aimee-Ffion Edwards (Wolf Hall), Kadiff Kirwan (My Policeman), and Jonathan Pryce (The Crown).
Ṣọpẹ Dìrísù (Gangs of London) joins the season three cast as Sean Donovan, the former head of security at the British embassy in Istanbul, along with Katherine Waterston (The End We Start From), who plays Alison Dunn, an MI5 agent who uncovers a dark secret at the heart of the agency. Director Saul Metzstein (Ripper Street) helmed all six episodes, which were written by Will Smith (who wrote all six episodes of Season 1) with assistance from Morwenna Banks, Jonny Stockwood, and Mark Denton.
Apple TV+ also announced it would be adding Hugo Weaving (Patrick Melrose), Joanna Scanlan (The Larkins), Ruth Bradley (Ted Lasso), Tom Brooke (Bodyguard), and James Callis (Star Trek: Picard) to the Slow Horses cast at some point. As of now, it seems they will be reserved for Season 4. Adam Randall (I See You) directed all six episodes, which promises to "open with a bombing that detonates personal secrets, rocking the already unstable foundations of Slough House." Take that as you will for how Season 3 will turn out.
Slow Horses Season 3 will premiere with two episodes on Wednesday, November 29, followed by one a week through Wednesday, December 27, 2023, on Apple TV+. Season 4 will premiere in 2024.
---
By
for on September 20th, 2023
More to Love from Telly Visions