By
for on November 30th, 2022
Everything To Remember Ahead of 'Slow Horses' Season 2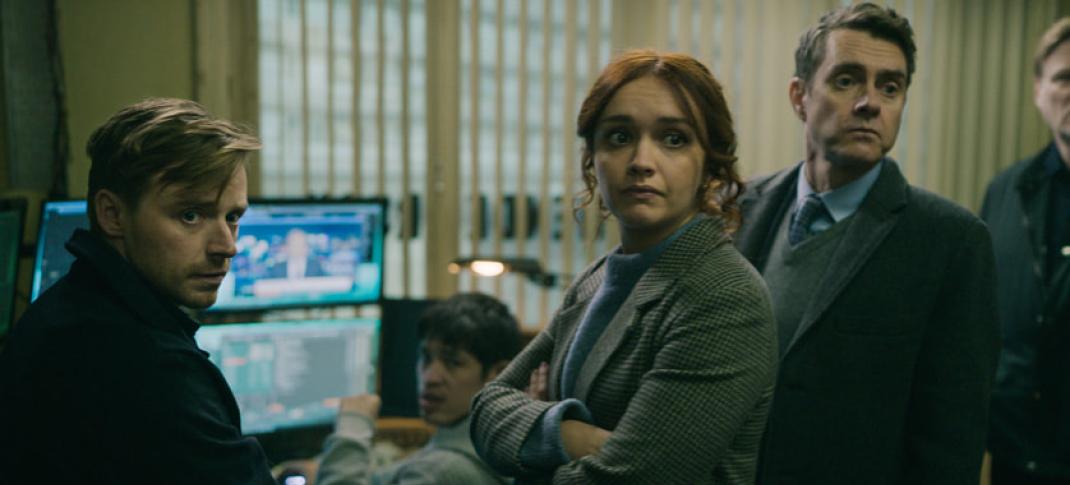 It feels like the main appeal of British cop and spy shows – MI-5, Line of Duty – is to hear all the monikers and nicknames agencies use for their missions. On this front, Slow Horses is a complete success, adding "dogs" (the heavy men of MI5's gruff internal investigations unit) to our expanding lexicon of words we say in broad English accents to pretend we're involved in backstreet espionage. Slow Horses, the British series focusing on MI5's most useless failures, clearly anticipated our hunger for more, as Season 2 is rolling out eight months after its premiere in April. To refresh your memory here's everything that's happened so far.
The show kicks off with a complex, dangerous mission unfolding at Stansted Airport, which ends up a costly and public failure, despite the best efforts of agent River Cartwright (Jack Lowden). Although it's played for real, we find out later it was a training exercise – but the scale of MI5's embarrassment still ends River up at Slough House, a London office for incompetent screw-ups. The spy work is demeaning, and the boss is… even more so.
Enter Jackson Lamb (Gary Oldman), a belligerent, day-drinking codger with poor hygiene and an endless string of insults for his staff. It seems like an odd role for the recent Academy Award winner to commit to, but it's likely down to Slow Horses' robustly written characters allowing a lot of room for charismatic performances. The cast is game; the dialogue is sharp – all in all, a good laugh.
The only capable agent at Slough House (there's a clunky reason why it's called this, and thankfully an exhaustive technical glossary has been written for the show) is Sid Baker (Olivia Cooke). We meet her lifting a disgraced journalist Hobden's USB drive for his links to far-right figures (River has the less glamorous job of rooting through his garbage). However, it all gets overshadowed by a domestic terrorist group called the Sons of Albion, who kidnaps a British-Pakistani student and threatens to behead him the following day. Most of Season 1's drama takes place over 48 hours, and it's refreshing to see such a tight, impactful series that delivers a well-paced story without skimping on character.
With such a high-profile, high-stakes plot to foil, you may wonder where Slough House comes into this kidnapping narrative. After Sid gets hospitalized with a gunshot to the head as they staked Hobden's house, Slough House agents Louisa (Rosalind Eleazar) and Min (Dustin Demri-Burns) stumble back into the office to drink and canoodle but get attacked by an armed dog; Lamb confronts MI5 deputy and all-time rival Diana Taverner (Kristin Scott Thomas) over his team and HQ being targeted.
The Sons of Albion kidnapping is a false flag operation to curry favor with the kidnapped student Hassan's uncle, a Pakistani general. MI5 have an agent on the inside – but when he's decapitated by the more zealous members of the Sons of Albion, Taverner tries to pin all evidence of the agency's involvement on Slough House. They don't take this too well.
Jackson and River round up the rest of their team – Jackson's secretary Catherine (Saskia Reeves) and the resident socially inept tech-wizard Roddy (Christopher Chung) – to evade capture. They don't make it in time to protect the sad sack of the team, Struan (Paul Higgins), who gets pushed by Taverner into implicating his team. If there's a weak link in the show's ensemble, it's Struan; it's one thing for no one to like him or want to spend time with him (even though he doesn't seem as offensively awkward and boring as the show suggests!), it's another to offer him no redemption or spine by the end of his story.
Everyone else is permitted introspection and shades of change, but Struan deserves to demonstrate some strength and winning qualities rather than just being a source of pity. His betrayal of Slough House is forgotten, as the team scrambles to deliver a photo of Taverner with the agent on the inside of Sons of Albion, thus cementing her involvement and absolving Slough House.
The resentful, dismissive attitude MI5 have towards Slough House gets brilliantly dramatized by a couple of episodes where our hapless spies are on the run from the dogs, having to duck and weave their way out of danger and plotting to clear their name. Scott Thomas and Oldman are perfectly pitched as rivals; Jackson's obstinance takes on a victorious energy every time he annoys or tricks her agents, and it's brilliant fun watching Taverner's steely front get chipped away by Slough House's spy work. It helps keep the tension up against the backdrop of Hassan's kidnapping – a tense storyline that's undone a little by some broad, overwritten characterization of the far-right group, something that gets worse as they run for the border over the last three episodes. The political commentary is a lot less effective than the mechanics of the nifty, entertaining spy thriller.
Slough House catch up to Hassan in time to stop MI5 from killing the last remaining terrorist, which will force the agency to explain its actions rather than sweep them under the rug. The agents aren't fully vindicated, however, and have to return to their boring jobs – with a few remaining questions in the balance. What really happened to Catherine's husband, who we see Jackson killing in cahoots with River's former agent grandfather (Jonathan Pryce)? Why was Sid sent to spy on River by Taverner? Maybe she can explain herself once she recovers in future seasons. (The writers really shot themselves in the foot by having Olivia Cooke in a coma for half their season in the year she blew up with House of the Dragon.)
With the promise of Russian sleeper agents in Season 2, Slow Horses better keep up its proud, spiteful characters along with the neatly executed spy plots. Despite certain writing details feeling rough around the edges, it's a world that will reward future visits.
All episodes of Slow Horses Season 1 are streaming on Apple TV+. Season 2 will premiere Friday, December 2, 2022, with two episodes, one a week to follow through the beginning of January. Season 3 is already greenlit.
---
By
for on November 30th, 2022
More to Love from Telly Visions