By
for on October 29th, 2013
A Sequel to 'The Best Exotic Marigold Hotel' is Actually Happening; Filming to Begin in 2014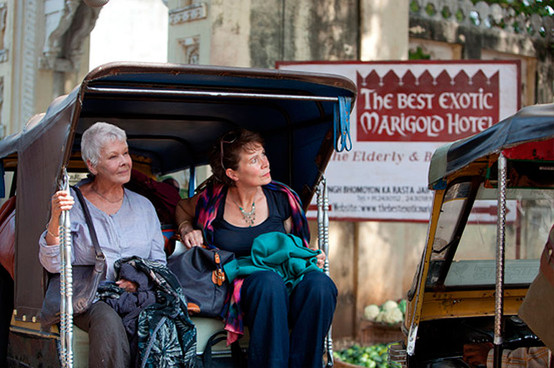 The Best Exotic Marigold Hotel, a heartwarming British film about a group of retirees who are duped into spending their golden years in an over-hyped Indian  retirement hotel, features an all-star cast that basically reads like an wishlist of British acting royalty, including Dame Judi Dench, Dame Maggie Smith, Bill Nighy, Tom Wilkinson, Dev Patel, Celia Imrie and more. It also grossed more than $130 million dollars at the box office worldwide.
Thus, you can probably guess why rumors of a Marigold Hotel sequel have been swirling around the internet for well over  a year. Yet, despite the strong likelihood of a sequel happening – and the obvious excitement with which such a film would doubtless be greeted – no concrete details managed to emerge.
Until now. 
According to the Radio Times, Downton Abbey star Penelope Wilton has confirmed that production on the long-rumored sequel is finally about to get under way.
"We had a wonderful time shooting this film the first time," Wilson told the RT, "I am thrilled we will be going back in January to do another one. As far as I know everybody will be returning."
Details of the new film are being kept secret for the moment, but Ol Parker, who wrote the first film is returning to pen the sequel and the original production team is also on board.
The first film was based on Deborah Moggach's 2004 novel These Foolish Things, and though the author has written several other books (including – personal note – one about the 17th-century tulip craze in Amsterdam that's quite good), none of them are a Marigold Hotel sequel, so we can't look there for inspiration about what the second installment might entail. But that's okay. Just knowing that this film is actually, officially going to happen is good news enough for right now.
Did you see the first film? What did you think of it? Would you watch a sequel?
---
By
for on October 29th, 2013
More to Love from Telly Visions