By
for on October 31st, 2014
Saying Goodbye to 'Miranda': A Look Back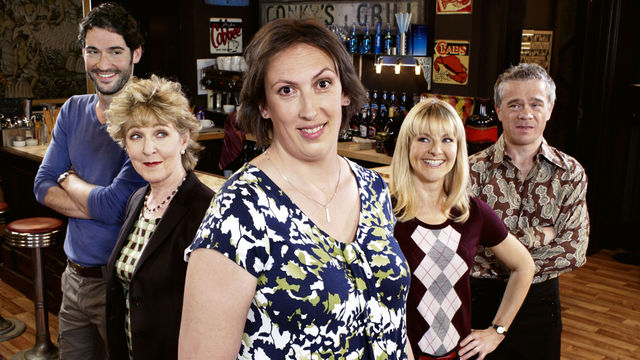 It's official.
Miranda Hart
has announced that after a three series run, her what- I –call successful sitcom
Miranda
will be coming to a close. The comedienne
revealed her plans on BBC Radio 2
with this statement. "So I'm doing two Christmas specials, but they are going to be the finale of the show, full stop." 
It's hard to believe that this sitcom debuted in the UK five years ago since it seems only yesterday I found my first Miranda episodes on YouTube. I've been a fan ever since. Here was a woman who could make fun of herself on so many levels including her size, her social awkwardness, and her upper middle class upbringing. I immediately identified with her humor - so much so that I bought the entire series on DVD even though it was only available on Region 2 which means I had to invest in a "multi-region" DVD player. I've even had Miranda viewing parties with my friends. Éclairs and wine were served. I think Ms. Hart would approve.
From the moment she invited us into the joke shop she bought with her sizeable inheritance, we knew that Miranda was a woman who marched to a different drummer. Her kooky sense of fun made us want to join right in.
Miranda's supporting cast of memorable characters deserves their fair share of the kudos too of course. Let's face it, without Miranda's overbearing mother, Penny (Patricia Hodge); Stevie (Sarah Hadland), Miranda's childhood friend and store manager; Tilly (Sally Phillips), Miranda's boarding school chum and friendly nemesis; and the lovely Gary (Tom Ellis), Miranda's on-again, off-again boyfriend, our heroine would just be a rather tall woman who loves to gallop and falls down a lot.
There will be so many things to miss when Miranda and company say their goodbyes at Christmas. Let's revisit a few of the elements that make this sitcom so enjoyable.
The catchphrases and recurring bits. No episode of Miranda would be complete without mum Penny's ubiquitous but always droll "What fun!" or Tilly's request to "Bear with…" when checking her text messages. Miranda alternatively refers to herself and others as Rude! Naughty! and Cheeky! She has a penchant for the way words sound. Some of her favorites are moist, clutch, plinth and thrust. Miranda also has a horrible habit of "lying to impress." 
Miranda's aside glances and remarks to the audience. While some don't approve of actors breaking the fourth wall, Hart is the queen of this theatrical device and I believe she uses it to good effect. After saying or doing something embarrassing, it's as if she wants to check with us to see if we heard or saw it too. The viewers are her confidants when everyone else in her life is giving her a hard time. It's an endearing trait and she's most likely to turn to the audience for some encouragement whenever a handsome man is nearby. 
Singing and dancing with abandon. Whether it's Stevie's favorite inspirational Heather Small lyric ("What have you done today to make you feel proud?") or Miranda singing every verse of The Greatest Love of All at a job interview, music plays an integral part in this sitcom. Miranda still sings into her hairbrush and Gary has been known to play air guitar. What I probably appreciate most is the nostalgic end credits that inform viewers who they have been watching accompanied by the cast dancing to or miming some iconic song. Even when trying to escape domineering friends and family members, Miranda still finds an opportunity to make sweet music. 
Penny and Miranda's complicated relationship. It's not an uncommon theme, conflict between mother and daughter, but Penny and Miranda take their discord to extreme heights. Penny lacks all traces of maternal affection and Miranda can't help but disappoint a mother whose main objective in life is to keep up appearances. Their biggest disagreements are based around Penny's disapproval of her daughter's career choice and her desperate mission to marry Miranda off to a satisfactory suitor. 
Gary and Miranda. And the final and biggest reason I'll miss Miranda is quite personal. I admit it; I am a Gary and Miranda shipper! While their friendship is their bedrock, these two have a sweet and refreshingly believable chemistry between them. Gary accepts and participates in quite a lot of Miranda's goofy shenanigans and Miranda knows Gary to be the one who makes her heart beat faster.
I assume the two-part finale will finally settle the whole Gary or Mike (Bohdan Poraj) question. Yes, in series three Miranda has two blokes vying for her affection. We were left with a doozy of a cliffhanger in the last episode with both men down on bended knee. But whom will she choose? 
I'm not sure when the UK Christmas episodes will make it to our shores. Currently you can watch the complete series on Hulu and Acorn TV so if you feel like a little refresher or you're trying Miranda for the first time, please relish each silly episode and take it in the spirit it's intended. I guarantee you'll laugh or perhaps guffaw (good word, guffaw) , if you let it, Miranda will fill your heart with a pure and simple happiness. 
---
By
for on October 31st, 2014
More to Love from Telly Visions