By
for on January 31st, 2013
Ripper Street Renewed for Series 2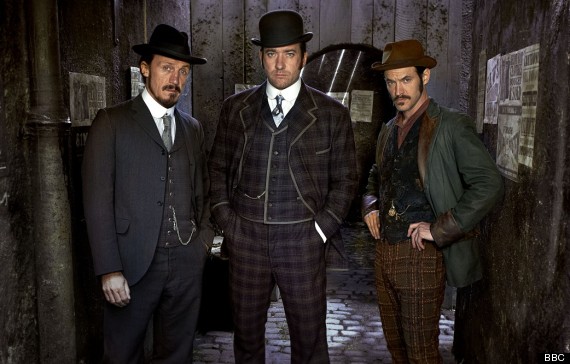 The gentlemen in H Division will apparently be sleuthing out violent killers a bit longer – a second series of period crime drama Ripper Street has been confirmed by the BBC/BBC America co-production team. The series stars Matthew Macfadyen, Jerome Flynn and Adam Rothenberg as detectives in Victorian London's East End, solving crimes in the wake of the grisly Jake the Ripper murders.
Production on the eight-episode second series is slated to begin sometime this Spring, and new episodes will premiere sometime in 2014. Given the fact that the American airing of Ripper Street is only about three weeks behind the UK, it seems safe to assume we can expect a similar set up next year. (Not perfect, but easily manageable. And, hey, it could be worse.)
Creator and writer Richard Warlow says: "I am enormously grateful to have been given the opportunity to return to 'H' Division once more and will be working tirelessly to ensure that those who have joined us each week will find ever more compelling crime-fighting thrills down on Ripper Street the second time around. The series will move forward into the 1890s; the death rattle of a century coming to a close, the labor pains of a modern world on the rise. It is this sense of climax and calamity that, week by week, our heroes will confront with conviction and heroism."
There are still something like six episodes to go in this season of Ripper Street here in the US, and, thus far, my opinions on it are mixed. I think it's a very well-made show – the sets and atmosphere are ridiculously on point – and I'm extremely fond of Mr. Macfadyen in anything he chooses to do, but I have to admit some elements toe the line of too disturbing for me (and this is coming from someone who considers The Walking Dead appointment viewing). Perhaps that's really a back-handed compliment, in the sense that this is an accurate portrayal of the grim nature (and rampant misogyny) of this time period, but, unfortunately that also makes the show a bit difficult to watch at points.
Surprisingly, it's the writing that's probably going to keep me around – all the characters are artfully complicated and, even though it's basically a procedural in fancy dress, the show is surprisingly clever. If we could dial the gratuitous violence (particularly against women) back a bit though, that'd be lovely.
Are any of you watching Ripper Street? Would be curious to know if anyone else feels similarly conflicted about it. (I think I like it more than not in the end, or for the moment, at least.)
---
By
for on January 31st, 2013
More to Love from Telly Visions