By
for on September 28th, 2023
In Memoriam: Michael Gambon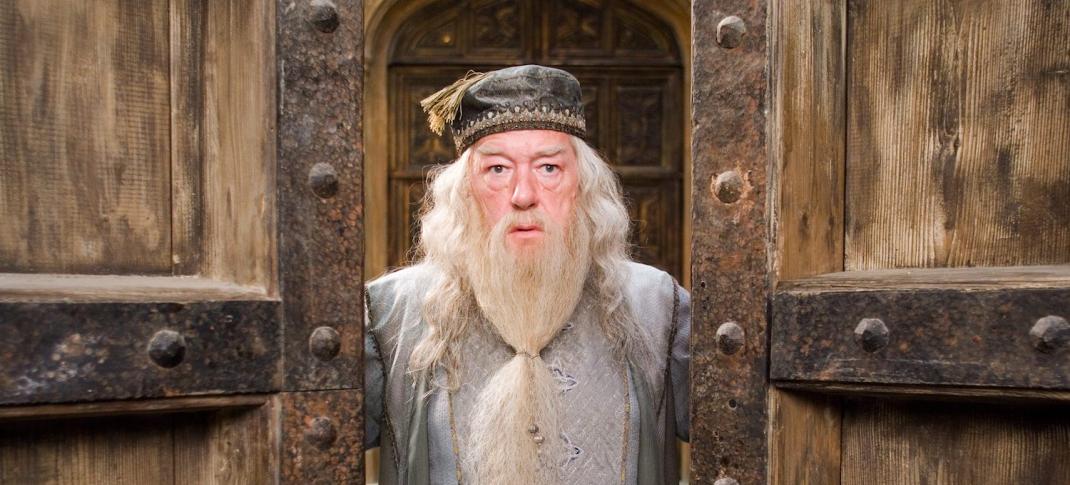 Michael Gambon, born into a working-class family in Cabra, a suburb of Dublin, did not seem destined for an acting career. He left school at 15 to become an apprentice with an engineering company. His first contact with the theater was when his father, a communist sympathizer, told him to help with set-building at the left-wing, working-class Unity Theater of Dublin. As Gambon told The Irish Times, he ended up with a walk-on role, drinking tea onstage and feeling very comfortable there.
This is nice. This is easy, acting. Just standing there with a spear all day. Anyone can do that.
A year or so after completing his apprenticeship, the family moved to London, where rebuilding London was in full spate, but Gambon had been bitten by the theater bug. At the age of 24, he wrote to Micheál Mac Liammóir, the Irish theatre impresario who ran Dublin's Gate Theatre, pitching an impressive (and completely imaginary!) repertoire of acting jobs. Mac Liammóir hired him, and he made his official debut in a minor role in William Shakespeare's Othello.
He then auditioned for the new National Theatre Company in London created by Sir Laurence Olivier. This is where we begin our list of extensive credits to check out as we celebrate some of Gambon's best roles.
'British Legends': Auditioning for Sir Laurence Olivier
Gambon tells the story of how he auditioned for Sir Laurence Olivier, then Britain's most revered actor, and was offered a place in a scheme to fast-track promising young talent, along with Robert Stephens, Derek Jacobi, and Frank Finlay. After a few years, Olivier advised him to move away from the London theatre scene and gain experience in repertory theater.
He joined the Birmingham Repertory Company, where he played the title roles of Othello, Macbeth, and Coriolanus. He returned to London in 1974 and made a name for himself in both comic parts and in adventurous new material by Harold Pinter, Samuel Beckett, and Bertolt Brecht.
'The Cook, The Thief, His Wife and Her Lover'
Gambon's experience with comic and serious material really paid off in Peter Greenaway's gritty,  challenging film The Cook, The Thief, His Wife & Her Lover as Albert, a ferocious and obnoxious crime boss married to trophy wife Georgina (Helen Mirren). Her lover is Michael (Alan Howard), and the cook of the title is Richard (Richard Bohringer).
The action takes place in a gourmet restaurant, where greed and decadence are on full display, leading to scenes of sex, murder, torture, revenge, and cannibalism. The film may have been intended as a parable of Thatcher's Britain.
And now for something completely different ...
Andrew Davies' 1999 Wives & Daughters, based on Elizabeth Gaskell's final and unfinished novel, was a four-part BBC production. The ending, created by Davies, drags, but the first three episodes are wonderful. Gambon is Squire Hamley, an old-fashioned landowner who is frustrated by his eldest son's lifestyle. (He likes opera, and he's secretly married to a lowly French woman.) The Squire knows about the first but finds out about the second in the worst possible way after bullying Osborne (Tom Hollander) to marry an English heiress.
His younger and less flaky son Roger (Anthony Howell) is a scientist, and Gaskell may have based the character on the young Charles Darwin. Molly Gibson (Justine Waddell), daughter of the local doctor (Bill Paterson), befriends the Hamleys, but her recently acquired step-sister Cynthia (Keeley Hawes) and stepmother Clare (Francesca Annis) create problems for both families. Gambon is exceptional, and it's altogether a strong cast, and the clothes rock. (It's set in the early 1830s. Big sleeves!)
Robert Altman's roaming camera and unscripted dialogue work surprisingly well in Gosford Park, an exploration of upper class decay in 1932 which then turns into a murder mystery with Stephen Fry as an incompetent detective. But the real joy of the movie is the exploration of the guests who attend Lord and Lady McCordle's country weekend (Gambon and Kristin Scott Thomas respectively) and the secrets of the servants downstairs.
This scene shows the breakdown of both the hosts' marriage and the class status quo when maid Elsie's comment reveals that she and Sir William McCordle are having an affair. To create even more awkward moments, the guests are a mix of old aristocracy like Constance Trentham (Maggie Smith warming up for Downton Abbey), new money, and artsy types, such as Hollywood film maker Morris Weissman (Bob Balaban) and Ivor Novello (Jeremy Northam).
Sadly Layer Cake has nothing to do with baking in a tent. It's a gritty and sinister film directed by Matthew Vaughn, based on the book by J. J. Connolly about the English drug trade. Mob boss Jimmy Price (Kenneth Cranham) invites one of his dealers, XXXX (Daniel Craig, whose character is never named), to a civilized lunch. XXXX wants to get out of the cocaine business, but Jimmy has a few bits of business for him to tidy up first — rescue the daughter of an associate, a drug addict who's been kidnapped; and buy a large amount of ecstasy from a low-life criminal, the Duke (Jamie Foreman).
XXXX makes the mistake of arranging a liaison with the Duke's girlfriend, Tammy (Sienna Miller), and is caught and sent to talk with Eddie Temple (Gambon), a wealthy crime lord. In this scene, Eddie explains the complex strata of the criminal enterprise to XXXX, its Facts of Life,  and how everything and everyone has their place in the hierarchy, hence the cake analogy. Ben Whishaw, Sally Hawkins, and Tom Hardy also appear in the movie.
This sunny and perceptive BBC miniseries of Jane Austen's Emma, stars Romola Garai in the title role, and Gambon as her querulous hypochondriac of a father. In Gambon's hands, however, Mr. Woodhouse is not just a figure of fun, but someone who is terrified of life and all its dangers. (Eat wedding cake? Do you even know what's in that? Did the cook wash her hands?)
It's one of Emma's tasks to prevent him from being overwhelmed by his fears and try to coax him out of his shell, but she's as trapped in the elegant surroundings of their house as much as he is. The screenplay is by Sandy Bates, it's directed by Jim O'Hanlon, and the cast of Emma also includes Jonny Lee Miller (Mr. Knightley), Robert Bathurst (Mr. Weston), Jodhi May (Mrs. Weston), and Tamsin Grieg (Miss Bates).
Dumbledore (Gabon) and Lord Voldemort (Ralph Fiennes) fight in the Battle of the Department of Mysteries,  the first major battle of the Second Wizarding War in this clip from Harry Potter and the Order of the Phoenix. Hogwarts and all of Wizardry are in danger since the Ministry refuses to acknowledge Voldemort's return and keeps it a secret from the whole wizarding world.  
Gabon took over the role of Dumbledore beginning with Season 3, Harry Potter and the Prisoner of Azkaban, after Richard Harris's death, attracting a whole new and younger audience. Harry (Daniel Radcliffe), Ron (Rupert Grint), and Hermione (Emma Watson), as usual, star.
Singers Reginald Paget (Tom Courtenay), Wilfred Bond (Billy Connolly), Cecily Robson (Pauline Collins), and Maestro Cedric Livingstone (Gambon) are residents of Beecham House, a home for retired musicians. Beecham House is in financial trouble, and the residents have to make their upcoming fundraising concert a success, but at the moment, nearly everyone is obsessed with who the new resident will be. It's singer Jean Horton (Maggie Smith), and only Cedric is happy about it.
Once a close foursome, they fell out when Jean's career took off, and who knows what she — or they will sound like. Worse, Reginald and Jean were once married. But the show must go on, and Cedric persuades them to put differences aside and perform Bella figlia dell'amore, the Act III quartet from Verdi's Rigoletto (sung in real life by Sherrill Milnes, Huguette Tourangeau, Dame Joan Sutherland, and Luciano Pavarotti). It's a lovely reflection on aging and creativity (and it was filmed in a real home for retired musicians who acted as extras).
One of Gambon's finest performances was with his old friend Ian McKellen on the set of The Hobbit. Gambon's name appeared on the day's call sheet in the role of "Gandalf's dummy," and he was dressed and made up to appear as a prone wizard. McKellen says at one point that they're often mistaken for each other, and the two of them are clearly having a lot of fun together.
In his long and illustrious career, Gambon has racked up three Oliviers, two Screen Actors Guild Awards, four BAFTAs, and was knighted in 1993. He claimed he kept his awards in the bathroom. He will be missed.
RIP Michael Gambon 1940-2023
---
By
for on September 28th, 2023
More to Love from Telly Visions