By
for on July 6th, 2023
In Memoriam: Julian Sands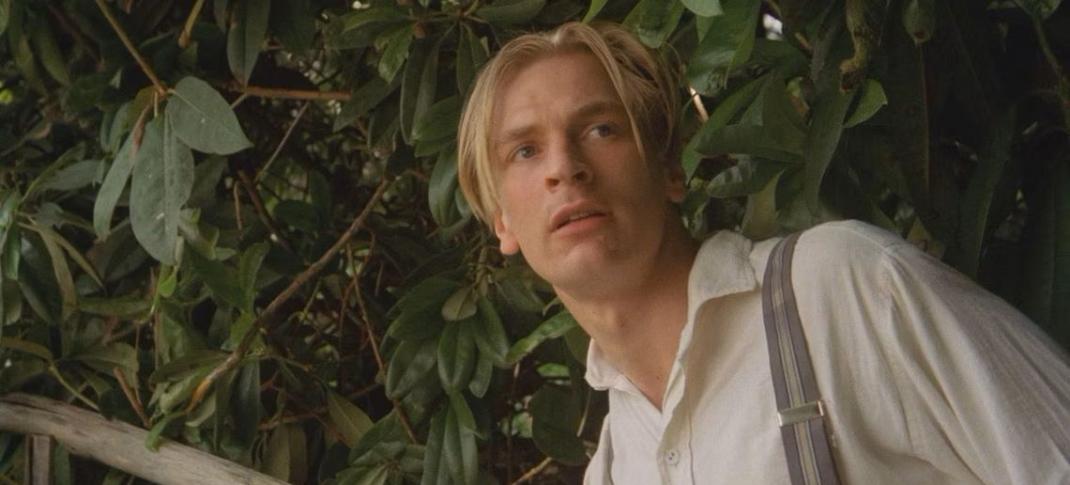 Actor Julian Sands' death was confirmed at the end of June, five months after he disappeared during bad weather in the Baldy Bowl area of the San Gabriel Mountains, CA, in January 2023. Passionate about mountaineering, he was fully aware of the dangers and exhilaration of a solo ascent. Asked in an interview a couple of years ago when he was happiest, his reply was:
"Close to a mountain summit on a glorious cold morning."
Now it seems impossible that he is gone, leaving an extraordinary legacy of work for an actor whose official biography so often began on a variant of "tall, gaunt, and particularly effective in horror and drama films." His roles ranged from horror, romance, sitcom to arthouse, and dozens of minor roles in TV series. A whole generation of women swooned at his breakout film role as George Emerson in A Room With A View, and he might have chosen a career in costume drama.
But he didn't, even though he was a contemporary of other middle-class RADA-trained actors with good hair who chose that route. He made some real stinkers, to be honest, but he also transcended roles in which you couldn't imagine you'd find anything to admire. His best friend, actor John Malkovich remembers him: "[H] e's a boy who grew up wild on the moors and – despite being someone who could be incredibly erudite and polished – had always kept that wild part of himself." Director Mike Figgins described him as "...impish, charismatic, and unafraid to shock."
Let's take a look at some of Sands' roles over the years.
Possibly a film that hasn't aged too well, Privates on Parade is a 1983 adaptation of the Peter Nichols play of the same name about a fictional gay military entertainment group, the Song and Dance Unit, in Southeast Asia in 1947. SDUSA members (oops) fall in and out of love while trying to dodge Malayan Communist bullets.
John Cleese stars as the Bible-bashing Major Giles Flack. Even though Sands appears for only a few seconds in this clip and barely moves, his languorous beauty steals the scene. His character is listed in the credits as "Sailor."
Winner of three Academy Awards, The Killing Fields is set in Cambodia during the 1975 Khmer Rouge revolution; Sydney Schanberg (Sam Waterston), a correspondent for the New York Times, and British journalist Jon Swain (Julian Sands) cover the invasion with the help of Dith Pran (Haing S. Ngor), a local journalist and translator.
When it becomes clear that foreign journalists should leave the country, Pran elects to stay, and the film chronicles Schanberg's efforts to bring him to the U.S. The surgeon in this clip, Dr. MacEntire, is played by a young Bill Paterson (Outlander).
And here it is –– The Kiss. Or should that be The Kiss? A Room With A View is adapted from E. M. Forster's novel of the same name.
I have a theory that there is something in the Italian landscape which inclines even the most stolid nature to romance.
Governess Charlotte Bartlette (Maggie Smith) is having a dreadful problem with her ward Lucy Honeychurch (Helena Bonham Carter), who's supposed to be getting a staid dose of culture on their trip to Italy. Instead, they've become entangled with the duo of George Emerson (Julian Sands) and his father (Denholm Elliott), who are not quite of the right class and make the indelicate suggestion that Miss Honeychurch might like to exchange rooms so she can better appreciate Florence.
This was the movie that positioned Merchant-Ivory as the leader of costume drama and provided a debut for both Bonham-Carter and Julian Graves (as her brother Freddy). Judi Dench appears as novelist Eleanor Lavish and Daniel Day-Lewis as Lucy's staid fiancé Cecil Vyse.
It's a dark and stormy night in 1816, and Ken Russell is directing, so a whole mess of wackiness will follow. Gothic (1986) tells the story behind Mary Wollstonecraft's 1818 novel Frankenstein; or, The Modern Prometheus.
Byron (Gabriel Byrne) invites his friends, the poet Shelley (Julian Sands), and his lover Mary (Natasha Richardson), to his lakeside villa for an evening of ghost stories, drinks, drugs, and sex. Mary's half-sister Claire (Miriam Cyr) shows up in pursuit of Byron, and the poet's personal physician Doctor Polidori (Timothy Spall), is on hand to join the fun.
Set in 1836, Impromptu is a film centered on writer George Sand (Judy Davis), notorious for cross-dressing and her wild lifestyle, is anxious to get rid of her current lover in Paris and pursue the delicate and fragile pianist Frederic Chopin (Hugh Grant). She invites herself and her friends, including another virtuoso pianist, Franz Liszt (Julian Sands) and his mistress Marie d'Agoult (Bernadette Peters), for an extended visit to the country home of the Duke (Anton Rodgers) and Duchess D'Antan (Emma Thompson).
The Duchess, a pretentious culture groupie, is thrilled until she realizes how her guests openly despise her and is appalled at their bad behavior. The movie launched Grant's career in the U.S. after Masterpiece Theater aired it in 1991. Directed by James Lapine and written by Sarah Kernochan, Impromptu also stars Mandy Potemkin as writer Alfred de Musset.
Here's the blurb for Warlock (1989):
The face of an angel, the charm of the devil, and the powers of a god.
In 17th century Boston, a warlock (Julian Sands) escapes death and magically leaps 300 years into the future, where he searches in Los Angeles for the three parts of the Devil's Bible that will unmake the world. Meanwhile, the witch hunter Giles Redferne (Richard E. Grant), who brought him to trial -- aided by one of the warlock's victims (Lori Singer) — is in hot pursuit to stop his heartless path of violence and foil his destructive plans.
(I have so many questions.)
This clip is one of the few that doesn't show Sands ripping bits off people, or worse, and the little boy he's talking to is Brandon Call (who later appeared in Baywatch). Other actors considered for the title role of Warlock were: Ian McKellen, Peter Greene, John Cleese, Sam Elliott, Jeremy Kemp, Lance Henriksen, William Hurt, James Maxwell,  James Caan, Willem Dafoe, Richard White, Brian Cox, Rupert Everett, Stephen Fry, and Patrick Stewart. Yes, there was a Warlock II also featuring Sands, but he turned down the role for the third and final in the series.
Sands stars as Doctor James Atherton in the famous horror film Arachnophobia, who leads an expedition to Venezuela to study spiders. The expedition's photographer is bitten by a spider and dies, and the same spider hitches a ride home with the corpse to a small Californian town. You can guess what happens to the luckless inhabitants.
Meanwhile, another doctor, Ross Jennings (Jeff Daniels), has moved to the town, and he's terrified of spiders. It takes two doctors — possibly three because the doctor who Jennings was to replace decided not to retire — and pest controller Delbert McClintock (John Goodman) to conquer the eight-legged brutes. Stephen Spielberg directed.
The Washington Post was unimpressed:
It's 'Jaws' without the chomp and 'Birds' without the beak, a return to the spoofy scares of the '50s drive-in movies ... about as threatening as 'Jaws' with Flipper in the title role.
The 2020 release, The Painted Bird, might be the most horrific of Sands' career. Based on Jerzy Kosinski's novel of the same name and directed and written by Václav Marhou, it tells the harrowing story of a boy's escape to safety in Eastern Europe at the end of World War II. He receives terrible abuse from ignorant, superstitious peasants and witnesses the cruelties of the occupying German and Russian troops.
Sands plays Garbos, one of his abusers.
It's an extraordinary performance, based on dark, cold emotions that no child should have to acknowledge. But unfortunately, in this life, they do. The movie's combination of stark beauty and sheer abhorrence, continuing for 169 long minutes, is a reminder that hurt can cause some hearts to close up, and other hearts to open. -Jeffrey M. Anderson, San Francisco Examiner
Netflix's Yeh Ballet (2020), directed and written by Sooni Taraporevala, tells the story of Asif (Achinta Bose) and Manish (Nishu Chauhan), two gifted but underprivileged Mumbai teenagers whose ambition is to be the best dancers in the world. Not only do they come from a poor fishing community, but they must contend with bigotry and disapproval from their families.
Eccentric ballet master Saul Aaron (Sands) may give them their chance. Rehana Munir, India Today, wrote: 
... the film's emphasis is not so much on mastering muscles and faculties as on overcoming social divisions. Explicit in its politics, we even hear of the impending disaster of Mumbai's coastal road for its fishing communities ... The story pivots around the volatile Asif and the soft-spoken Nishu, two young talents who emerge from the city's slums and are catapulted to an esteemed ballet school in the US, propelled by their Israeli-American teacher, Saul
Stream Now
Man in an Orange Shirt
Two love stories, sixty years apart, chart the challenges in gay lives in England.
Image
Sands' final collaboration with his friend John Malkovich is Seneca –– On the Creation of Earthquakes, which premiered at this year's Berlin Film Festival. The initial critical response was that it is flawed and makes little sense, and it's reported that at the premiere, audience members fainted and had to be taken away in ambulances.
You have to wonder what Sands' reaction would be; another stinker or another flawed masterpiece? Sadly, the world will never know.
RIP Julian Sands, 1958-2023.
---
By
for on July 6th, 2023
More to Love from Telly Visions