By
for on March 18th, 2016
The Return of 'Happy Valley'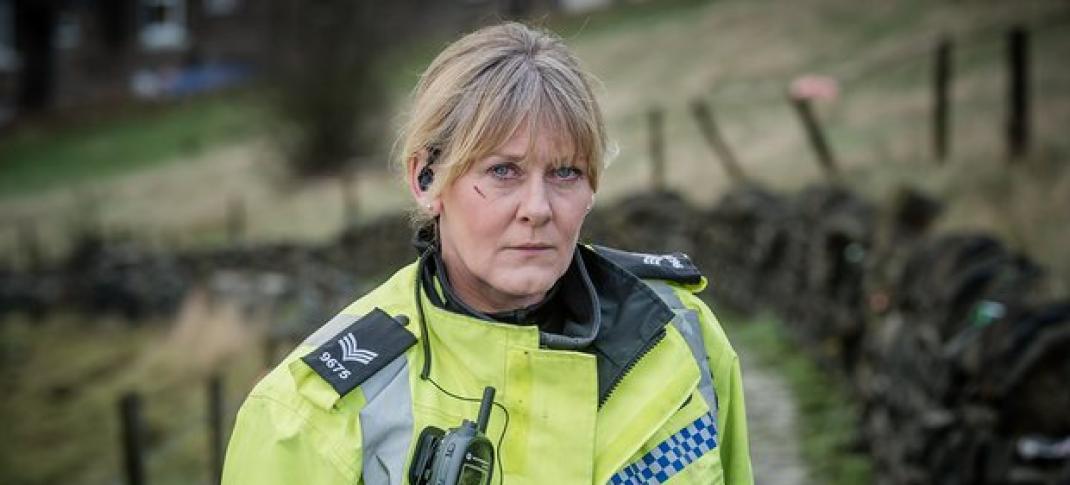 As you may have heard, the new series of Happy Valley has made its debut in the states via Netflix. If you've read the gushing praise about the series from UK viewers and reviewers alike on social media and elsewhere, you may have some concerns that this just sounds too good to be true. However I can say with reasonable confidence that I think you'll find it as gripping and flawless as series one. (Yes, I watched all six hours in a less than 24 hour period!)  
This time around human trafficking has taken a hold in the Calder Valley of West Yorkshire and with it a string of prostitutes have become the victims of a vicious serial killer. But never fear, Catherine Cawood still has a soft spot for at-risk young women and makes it her mission to protect them; perhaps because she couldn't save her daughter Becky ten years ago.
Sarah Lancashire returns as intrepid police sergeant Cawood, the heart and soul of her local Yorkshire nick and of her troubled but loving family. Still living with her is her sister and former drug addict Clare (Siobhan Finneran) and her challenging grandson Ryan (Rhys Connah).  Catherine's son Daniel (Karl Davies) also starts bunking at his mum's place after his wife unceremoniously kicks him out of the house.
As much as you might hope she'd never have to deal with him again, the bane of Catherine's existence and the root cause behind the suicide of her daughter, Tommy Lee Royce (James Norton), is still haunting her from behind bars.
And speaking of Tommy, his kidnapping victim from the last series, Ann Gallagher (Charlie Murphy) is back. Not surprisingly, her horrendous ordeal has led her to make big changes in her life; namely her decision to join Catherine on the police force.
Let's have a look now at a sampling of the new (yet familiar faces) you'll be encountering as you jump into this exciting new series:
JOHN WADSWORTH (Kevin Doyle). A good solid local police detective, Wadsworth is juggling an important serial murder case with a private life that is spiraling out of control. He's discovering that an affair with the seductive and – as it turns out - vindictive Vicky Fleming (Amelia Bullmore) has taken an unsettling turn that leads to very serious consequences.
Fresh off his role as Downton Abbey's Mr. Molesley, you may also recognize Kevin from his work in The Crimson Field, Scott & Bailey and the delightfully wacky musical police drama Blackpool.
ANDY SHEPHERD (Vincent Franklin). The Detective Superintendent in charge of the investigation into a string of prostitute murders in the valley, Shepherd is under pressure to find this killer who is terrorizing the area and bring him (or her) to justice. Despite all the stress, he's an empathetic boss who notices when his officers are off their game or dealing with personal demons.
Vincent is a busy working actor from the Yorkshire area. He has appeared in comedies like Twenty Twelve, The Thick of It and the wedding mockumentary, Confetti. You may also from recognize him from his role as Drawlight in BBC America's fantastical drama, Jonathan Strange & Mr. Norrell.
JODIE SHACKLETON (Katherine Kelly). A DI with whispers of nepotism swirling around her (her father is a high ranking police officer), Jodie must prove herself to be tough, professional and above reproach. She and Sgt. Cawood butt heads occasionally but they are both lady coppers working towards the same goal – to stop the string of killings on their patch.
Like Sarah Lancashire, Katherine Kelly got her start on the long-running British soap, Coronation Street. PBS viewers may recognize her from her role as Lady Mae in Mr. Selfridge. American audiences will also see her next month in the spy min-series The Night Manager alongside Tom Hiddleston and Hugh Laurie.
SEAN BALMFORTH (Matthew Lewis). A troubled ex-con, Sean was given a second chance by local millionaire Nevison Gallagher (George Costigan). However when his anger got the best of Sean, his boss had to let him go, leaving him in a dark place. Prone to binge drinking and lurking in unsavory neighborhoods, it's not a good CV to have when the police are desperately hunting a serial killer.
Yes, it's Harry Potter's endearingly timid yet admirably brave Neville Longbottom all grown up! Since his Hogwart's days, Lewis has taken on several notable British TV roles including a soldier in the war comedy Bluestone 42, a shady and violent young man in the lottery drama The Syndicate, and a police officer in the most recent series of Ripper Street.
FRANCES DRUMMOND (Shirley Henderson). A frequent visitor to Tommy Lee Royce in Gravesend Prison, Frances is clearly infatuated with this unhinged inmate. She hangs on his every word and gets as close as humanly possible without crawling on the table and climbing into his lap. Really creepy! But Royce has his own reasons for spending time with this woman who is obviously delusional and old enough to be his mother and it has nothing to do with love. This character is actually the only one who made me step out of the story and wonder what was going on with her over-the-top behavior. Eventually, however, all the pieces fall into place and you can better understand her depth of her obsession.
Shirley Henderson starred in the classic Danny Boyle film Trainspotting, played mischievous schoolgirl ghost Moaning Myrtle in the Harry Potter films and appeared as Robert Caryle's love interest in the quirky Scottish dramedy Hamish Macbeth. She also put in a memorable performance as Ursula Blake in the Doctor Who episode 'Love &Monsters'.
NEIL ACKROYD (Con O'Neill). Clare encounters Neil, a crush from her school days, as he steps out of a local corner shop where is has recently started working. He, like Clare, has had some substance abuse issues after the colossal breakdown of his marriage and career. The two settle nicely into a rather sweet relationship, but big sister Catherine has some doubts that he's right for her vulnerable sister.
Best known for his work on the stage, Con is a Tony nominated actor who has starred in productions opposite the likes of Jude Law and David Bradley. His TV credits include roles in series such as Criminal Justice, and the sitcom Uncle in which he played a transgender woman and club owner named Val.
If you're a Netflix subscriber and you appreciate gritty police and/or domestic drama, I highly recommend giving both series of Happy Valley a try. If you marvel at good acting and writing, this one is definitely for you. If, like me, you've already watched the series, please share your impressions of what is being touted as British drama of the year. 
---
By
for on March 18th, 2016