By
for on December 6th, 2017
'Poldark' Season 4 Promises Greater Risks For Ross Ahead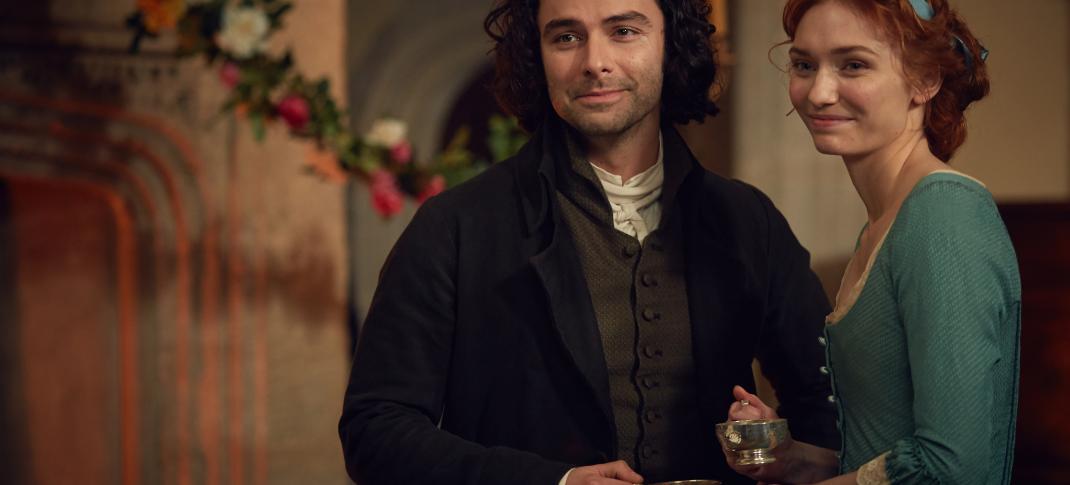 Images and spoilers from the filming of Poldark Season 4 suggest things may get better for Ross before they get worse.
Please be advised: Spoilers ahead for Poldark Season 4. If you want to remain in the dark, turn back while you still can!
Aunt Agatha: Mind that pin, I don't wish to be bled like a stuck pig.
Season 3 of Poldark ended on several bum notes. Aunt Agatha, the staple of tarot cards and tart tongue quotes, passed away at the end of episode 7, but not before revealing that Valentine's assumed paternity should not be. This was then followed by the continuing collapse of Ross and Demelza's marriage, as she hooked up with Hugh Armitage (Josh Whitehouse), the best-looking man to walk into Cornwall since Ross Poldark himself back in Season 1. Ross, meanwhile, was too busy deciding to go into politics to notice. 
So what's happening in Season 4? And where will the Poldarks head next? Ross' plan seems to be beating George Warleggan at his own game in Westminister. Will Demelza also find herself trapped in London? How will Enys and Caroline fare? What will happen between George and Elizabeth? Will Morwenna spend her days as miserable as Elizabeth does? And how long do we have to wait to find out?
Filming for the fourth season actually started before Poldark Season 3 aired over here in the States. Every season of Poldark has bounced around on the BBC schedule (Season 1 aired in March 2015, Season 2 aired in September 2016, and Season 3 in June 2017), causing its broadcast dates to shift here in the U.S. as well. But the BBC seems to have liked how it performed as a summer series, and watchers are functioning on the assumption that Season 4 will air there in June of 2018, which will probably lead to another October debut here on PBS. Season 4 has been confirmed to be eight episodes. 
Check out the official synopsis:
Ross risks everything he holds dear as he embarks on a political journey which takes him to the nation's capital. Demelza finds her loyalties torn, Elizabeth tries to strengthen her marriage, Morwenna (Ellise Chappell) continues to be oppressed by husband Reverend Ossie Whitworth (Christian Brassington), and Dwight and Caroline Enys (Gabriella Wilde) are tested as never before.
For those who follow along with the novels, Season 3 covered the main events of Book 5: The Black Moon, and most of Book 6: The Four Swans. Season 4 will cover the end of Book 6 and then delve into Book 7: The Angry Tide pushing the story into the 1800s. This will bring the series to the same point where the original 1970s miniseries ended. With talk of a Season 5 still to come (which will probably be the final season), that would take this series into uncharted territory and into the 1810s with Book 8, The Stranger from the Sea and maybe even Book 9, The Miller's Dance. (The full series is 12 novels long, with the final one, Bella Poldark, set in 1818.)
In the new cast for the upcoming series, the biggest change will be Geoffrey Charles, who will be aged up again. Thirteen-year-old Harry Marcus, who was so delightful this season will be switched out with Louis Davison, son of Doctor Who veteran Peter Davison. In terms of other casting additions, Rebecca Front (The Thick of It) will be arriving as Lady Whitworth, the "formidable mother" of Reverend Osborne, and poor Morwenna's mother-in-law, as well as Max Bennett (Will, Anna Karenina) who will play George's odious new friend, Monk Adderley.
As for the spoilers we've seen since filming started, let's start with the good news:
i can't wait #Poldark S4 #Poldark4 pic.twitter.com/6mImYY1R1F

— Graceb (@gracebampa) September 18, 2017
One of the earliest scenes filmed for Season 4 shows that Demelza and Ross have made up for now. And they're having fun on the beach! Also? Apple picking. How wholesome. But what does that mean for Armitage? Or is Demelza just taking a page from Ross and learning to compartmentalize?
Things may be brightening for Ross on the homefront, but in the world of governance, he and Warleggan are both competing to win. 
Posted photos of #Poldark S4 filming in Greenwich today. Credit for each photo listed below the pic #aidanturner https://t.co/y2ESDBM0s3 pic.twitter.com/bWw6aP4Hhb

— Aidan Turner News ☘️ (@ATurnerNews) October 15, 2017
That's George on the far left. And just out of frame, there's this shot, of Ross walking up to the crowd.
Thanks to @caj_heath IG for this pic of #AidanTurner filming #Poldark S4 in Greenwich today. pic.twitter.com/V7kUb1zTti

— Poldarked (@Poldarked) October 15, 2017
And then there's this image, which will get a lot of people hoping for the best.
#Poldark Season 4 filming and what is your guess on plot line? pic.twitter.com/vA7y389ckK

— Penelope Pureheart (@PenPure1) October 26, 2017
So does Morwenna get her Drake? Or is this a fantasy sequence? Those who've read ahead, don't spoil it for those who haven't.
But of all the spoilery images, this one's my personal favorite:
Retweeted Poldarked (@Poldarked):#HeidaReed on the set of #Poldark S4 by @ellisehere IG pic.twitter.com/fuewietMpT

— Sofandeseries (@Sofandeseries) October 18, 2017
What do we think Elizabeth is googling? Perhaps "How to give birth at seven months every time?"
Poldark Season 4 will likely arrive sometime in late 2018. Until then, we'll be watching for any major news.
---
By
for on December 6th, 2017