By
for on November 17th, 2016
New PBS Trailer Promises a New Era with 'Victoria'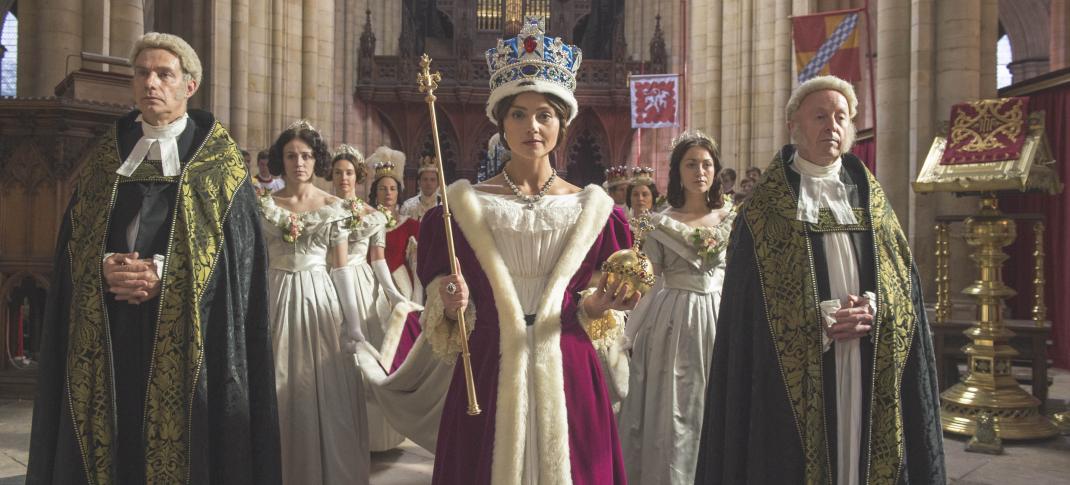 The wait it almost over, folks! Victoria, the latest big period drama hit in the UK, will finally begin in America in just about two months. It's two-hour premiere is officially set for January 15, 2017. And, honestly, I think a big, old-fashioned splashy costume drama is exactly what we all need right now. 
The eight-episode drama tells the story of the early years of the Victoria's reign, from her ascension in 1837 through her courtship and marriage to Prince Albert. Doctor Who alum Jenna Coleman stars as the young queen, opposite a strong ensemble cast that includes Tom Hughes, Rufus Sewell, Eve Myles and more. 
The new PBS trailer shows off all the things we love about splashy period shows like this - from the opulence of Buckingham Palace to the Queen's coronation to her meeting with the dashing Price Albert. Lord Melbourne, Victoria's  first Prime Minister (who really wasn't as dreamy in real life as Rufus Sewell is, but we'll go with it) is right there to remind Victoria of her own courage when she falters.
"A great responsibility lies before me and I assure you, I am ready," she says later. And maybe it's just because I've been watching a lot of The Crown lately, which is another drama about a female British monarch that I desperately want to see succeed, but I am 100% on Team Victoria, pretty much immediately. 
Watch the new Masterpiece trailer below: 

While Victoria's first season is only just now coming to America, the drama has already been renewed for a second season, with an additional Christmas special for 2017 thrown on top. Plus, there are already rumblings that we could see the series continue for some years into the future, if the ratings stay strong. The series averaged over 7 million viewers per episode on ITV, and is, thus far, the network's most successful drama of 2016. Given the fact that this show had tremendous expectations placed upon it to be the "next Downton Abbey", these numbers are especially good. (It also regualrly beat its timeslot competition on Sunday nights this past Fall - another little period drama you may have heard of, called Poldark.)
Are you looking forward to the premiere of Victoria in January? Tell us in the comments! 
---
By
for on November 17th, 2016
More to Love from Telly Visions