By
for on December 19th, 2019
'Ms. Fisher' Gets Mod, But What Matters Hasn't Changed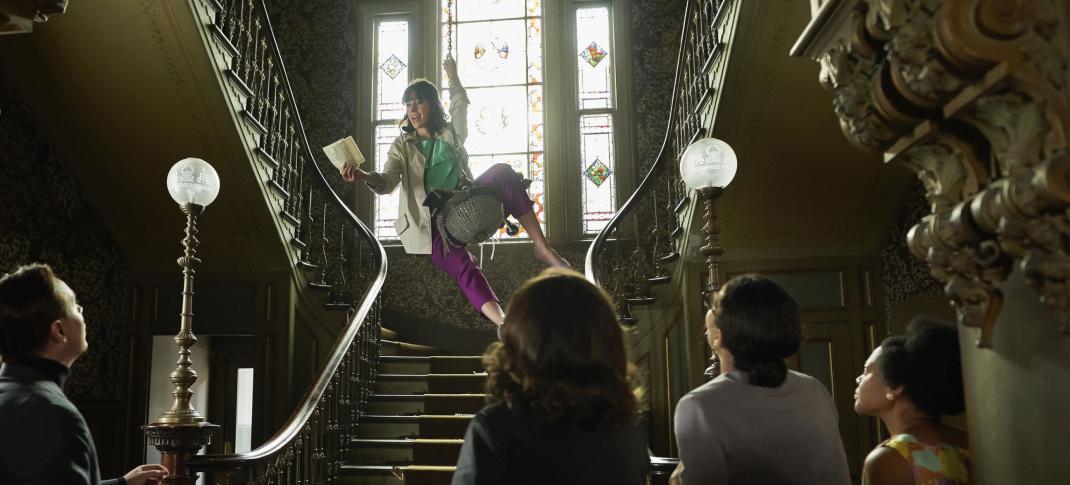 Miss Fisher's Murder Mysteries was a surprise hit of the decade when it traveled around the world from Australian TV to America in 2013. Since then, the 1920s-era series, which is based on author Kerry Greenwood's historical mystery novels, has gone on to become a cult hit as fans discovered it on PBS, Netflix, and Acorn TV.  But all good things must come to an end. Success brought lead actress Essie Davis acting opportunities in London and the U.S., and she could no longer commit to the long-term filming schedule of a TV series down under. 
Davis has agreed to do films, however; and with the help of a successful Kickstarter campaign, Miss Fisher & The Crypt of Tears will arrive in 2020. But that still left a hole on Australian TV where Miss Fisher used to reside. So series creators Deb Cox and Fiona Eagger worked with Greenwood to develop a spinoff show.
Enter Ms Fisher's MODern Murder Mysteries, a series for the next generation, where a new younger Fisher, a Ms Peregrine (Geraldine Hakewill), steps into the shoes her aunt left behind. Not that the show kills off The Hon. Phryne. Instead, it conveniently loses her in a jungle, meaning that if the show so wishedperhaps one day, Davis could return.
The first season of the new series arrived on Acorn TV back in April, after it ran in Australia from February-March. Four feature-length episodes comprise this first season, as Peregrine gets herself settled into the life her aunt left behind. The first installment, "Just Murdered," might feel like a bit of a shock to fans who are used to the slower 1920s-era setting and attitude of the original series. From the soundtrack to the fashions, there's not a 1960s-era trope the show isn't going to delight in, and that makes it loud and brass and a little bit much at first.
But that's part of the point.
The new Ms. Fisher is not what anyone expects, not the audience, nor the female friends Phryne left behind in her "Adventuress' Club." We are supposed to somewhat sympathize with Birdie Birnside (Catherine McClements), the president of the Adventuress' Club, who is not thrilled when her letter to Phryne's relations causes Peregrine to turn up. Peregrine comes off as a bit of a mess too, especially in comparison to the original classy, witty, elegant Hon. Phryne Fisher.
Peredrine can't hold a job; she is barely responsible enough to take care of a plant. When she finds out the late aunt she never knew existed was a detective, she gasps, giggles, and declares she might "give [detecting] a whirl" with a come-hither wiggle that makes everyone's eyebrows go sky-high. Of course, Birnside has no intention of letting Peregrine join the club, let alone sit in her aunt's esteemed "Adventuress Fisher" chair. This girl, much like her show, is a young bull in a china shop. This is a club for accomplished women, and all Peregrine accomplished this week was burning off an old lady's hair in the salon.
But this merely sets up Peregrine to have to work hard to prove herself to everyone.
Moreover, her knack for detecting feels all the more miraculous for the way she was introduced. This was her calling, and she just never knew it. All those jobs she could never hold were just training for becoming a detective. By the time she's solved the murder of the dead model that kicks off the series, everyone is rooting for her, even Birdie.
By the second episode, the show has found its way to a set up much like the original series. Det. James Steed (Joel Jackson) fills the spot once occupied by DI Jack Robinson from Miss Fisher as the investigator both bewildered and bewitched by the new PI in town. The times means there are no longer paid companions or butlers, but Adventuress' Club members like Violetta Fellini (Louisa Mignone) and Birdie's inventor brother Samuel (Toby Truslove) fill those spots around Peregrine nicely.
Furthermore, though the show updates the main character, the rest of the series stays true to what matters.
Miss Fisher's popularity was based on the series' feminist leanings, where Phryne was as much the rebellious modern woman of the flapper era as she was a keen detective. Her skills at solving murders were based in her feminine knowledge, in catching details overlooked by male detectives as they were Sherlockian brainpower. Peregrine's cases follow in the same format, where the kinds of stocking worn by a character, or details about makeup, are the keys to solving the crimes.
And of course, the show keeps the other part that matters, all those period details. Peregrine wanders about sporting the height of youth fashion of the time, somehow managing to solve murders just fine in a miniskirt. Her aunt also kept up with the trends of the day too. From the house, the car, and (of course) some of the inherited fashions, this show's designs are a worthy successor to the original show.
Ms Fisher's MODern Murder Mysteries Season 1 is streaming now on Acorn TV. 
---
By
for on December 19th, 2019
More to Love from Telly Visions