By
for on September 20th, 2017
Miss Fisher Kickstarter Fully Funds Movie In 48 Hours, But Why Did It Come To This?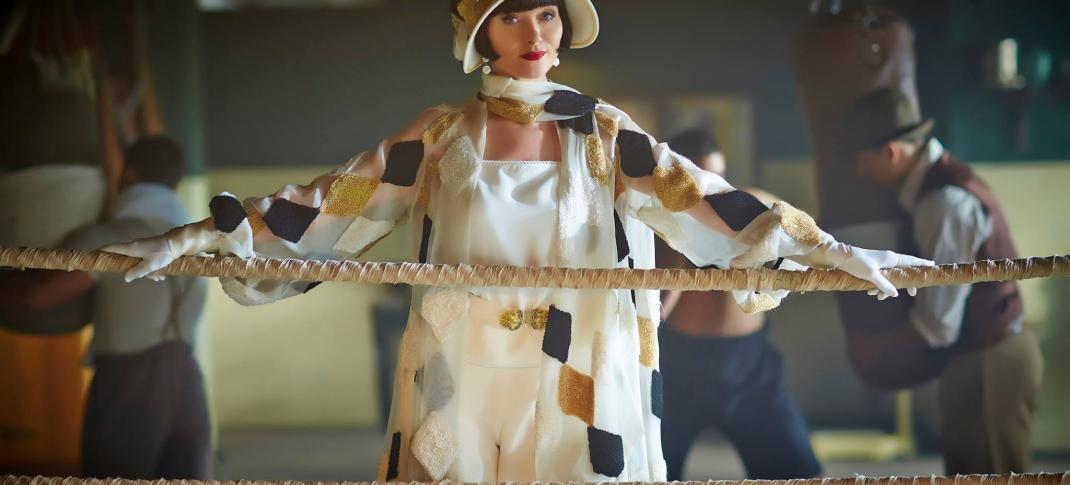 The Miss Fisher 's Murder Mysteries movie turned to Kickstarter after having trouble getting funding from Australia's ABC, and reached their financing goal in less than 48 hours. But why did it come to this in the first place?
Phryne Fisher: Considering your last employers were a drug baroness and a rapist, surely he'd find me a modest improvement.
Last month, we reported that Every Cloud Productions had everything in place for going ahead with a Miss Fisher movie, entitled Miss Fisher & The Crypt of Tears, to start filming in the late fall. All that was left was a matter of financing, which, considering how popular the TV show was, they were hoping to see come from Australia's ABC, who financed and aired the first three seasons. But apparently there was some sort of snag that was hit, either delays, refusals, or doubts that there was a sufficient fanbase to support the making of a film, let alone a trilogy of them. 
This being the Year of our Lord 2017, Every Cloud Productions did the sensible thing. They went to the fundraising site Kickstarter, and asked fans to help. Their goal: $250,000 (AUD), which they gave themselves a 30 day deadline to meet. This would help plug "gaps in funding" as well as "prove to investors" (aka ABC) that the fanbase was alive as well.
Let's hope the investors are duly impressed. The Kickstarter went live Friday morning. By Sunday it had reached its initital goal, and as of Tuesday has hit the stretch goal of $400,000 on the way to $500k. You can still donate for the next 25 days. The extra funding, creator Deb Cox promises, will go to more days of international filming and  "add new costumes to Miss Fisher's wardrobe". A worthy donation, if I ever heard one.
But while this is fantastic news, both for the all female production team, and for the fans of the series, that's not what I want to talk about today. Instead, I want to discuss how it came to this in the first place. As my editor so rightly asked last month: "Why don't they just make Miss Fisher Season 4?"
Phryne Fisher: This job is more like rounding up sheep than grooming young ladies. 
It's a good question. As we noted, not only was Every Cloud struggling with ABC to get this potential movie trilogy financed, but they were looking to do a Miss Fisher "pre-boot," casting themselves a "Young Miss Fisher" in the vein of the popular series Endeavour. It seems so much easier to just make another season, no?
I might have shrugged the question off and forgotten about it, except that someone else (my mother, if you must know) literally asked the same question last week. Except she wasn't talking about Miss Fisher. She was talking about Grantchester, another show that suddenly seems to be having trouble getting a renewal after three ridiculously popular seasons. The answer, in both cases, is the same. Let's call it "The Dan Stevens Problem."
I assume most people reading this blog are quite familiar with Downton Abbey, and Dan Stevens, who was originally cast as the middle class romantic hero Matthew Crawley to Lady Mary's upperclass heroine. A cultural sensation by the end of Season 2, Season 3 saw popularity on such a level that PBS began routinely beating broadcast network programming in the ratings, and saw sales of DVD that beat the last Masterpiece Theater-imported sensation, the original 1970s version of Poldark. 
But rumors swirled that Stevens was balking at returning. While everyone else in the cast was over the moon to have roles of a lifetime that would pay residuals for years to come, Stevens wanted off. Most assumed it was a ploy for more money -- no one actually quits an ensemble show at the heigh of popularity. But Stevens was serious. He was done. (Series creator Julian Fellowes was reportedly so angry he refused to just write him out, and instead killed him off in a car crash.)
Phryne Fisher: Actors, Jack. You need somebody who speaks their language, and I speak fluent thespian. 
It was the smartest career move he ever made. While the most successful actors coming out of Downton are still struggling to land TV shows, or are bouncing from miniseries to miniseries, Stevens is headlining the hit series Legion, 20th Century FOX's first foray into bringing their share of the Marvel-verse to the small screen, and starring in Disney's live action remake of Beauty and the Beast, which is not only the highest grossing film of 2017, but the 10th highest grossing film *of all time.*
It's a reminder to every star of a hit series that one should never put a career that's calling on hold for the safety of a show that might only run three more years. If you don't reach for the brass ring, you'll never know if you could have taken it. Both James Norton and Essie Davis are faced with this dilemma now. Their respective shows have each run three seasons. Both are getting offers to star in bigger and more high profile productions. Norton headlined BBC's War and Peace last year, and had a turn in Happy Valley. Davis had a high profile guest star run on the current "UK Career Bucket List Goal Show" of Game of Thrones, and was a regular cast member on STARZ's The White Princess.
But while Norton is facing ITV using newspaper articles calling him "too popular," and pressuring him into playing ball on Grantchester, lest they replace/recast his character, Davis is trying to figure out how to make this work for everyone. She's no longer in a position to go to Australia for six months to work a grueling TV filming schedule. She simply can't afford to be on the wrong side of the world for that long. But she wants to keep playing the character, and she wants her fans to be happy.
Hence the compromise of a movie (or series of movies) filmed some in Melbourne, but mostly in London and North Africa. Fans have rewarded her in turn by stepping up to finance it. Just this once, Phryne, everybody wins.
---
By
for on September 20th, 2017
More to Love from Telly Visions