By
for on November 21st, 2019
Missing 'The Durrells in Corfu'? Give These Shows a Try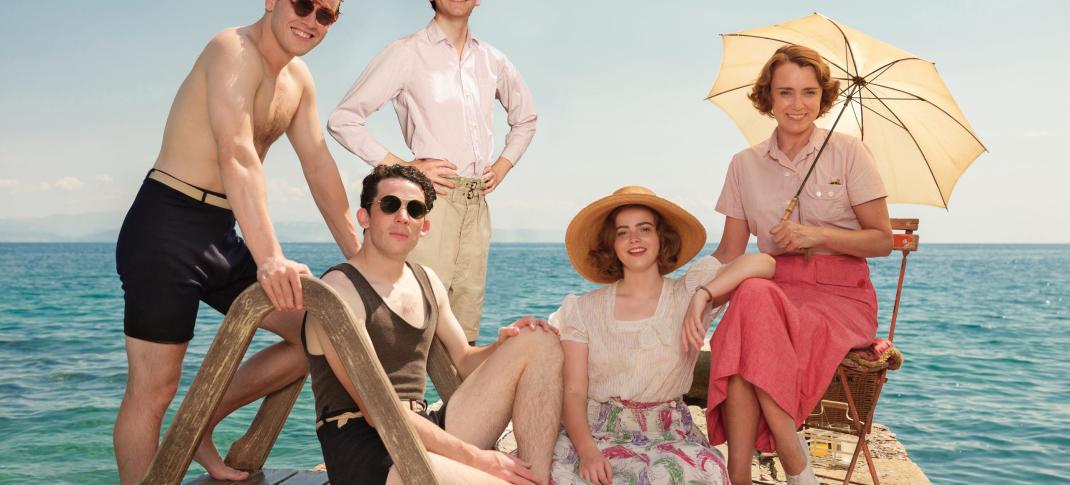 So it's been a few weeks since we said farewell to Louisa, Larry, Leslie, Margo and Gerry a.k.a. The Durrells in Corfu. And, yeah, we all miss this heartwarming family tale. 
For those of you who may be feeling at a loss, I've taken a spin around the streaming platforms in search of some substitutes to ease your Durrell withdrawal. It's true that no one series contains all the unique elements that made The Durrells so special, but I've compiled a list that might fill a few of the voids left after the series finale. 
The Indian Doctor
Perfect If You Miss: The fish-out-of-water/foreigners abroad aspect of The Durrells in Corfu. 
Premise: When a Welsh mining town loses its only physician, their local union rep finds a replacement doctor from India. To everyone's surprise, Dr. Sharma is educated, cultured and eager to help his new community. His wife, on the other hand, is less than enthusiastic, preferring the sophistication of 1960's London.
Cast: Sanjeev Bhaskar and Ayesha Dharker as Dr. and Mrs. Sharma; Mali Harries as Megan Evans; and Jacob Oakley as young Dan Griffiths.
Where to Watch: All three seasons can be found on Hulu, Amazon Prime and Acorn TV.
Wild at Heart
Perfect If You Miss: Was Gerry's love of animals and the menagerie he nurtured over the past four years your favorite part of The Durrells? Then 2006 series Wild at Heart might be a good substitute for you.
Premise: The Trevanions are a less than harmonious blended family when father and veterinarian Danny takes them on a trip to South Africa. Their vacation becomes a life-changing calling when they decide to stay in order to restore a rundown game reserve.
Cast: Stephen Tompkinson as Danny Trevanion; Deon Stewardson as Danny's business partner; and Hayley Mills as Danny's mother-in-law.
Where to watch: Acorn TV and IMDB TV
Mum
Perfect If You Miss: The Durrell family is led by Louisa, a widowed mother of four children. If you were specifically taken with Mrs. Durrell and her predicament, you might want to give the bittersweet 2016 sitcom Mum a try.
Premise: After the death of her husband, Cathy attempts to navigate her new life surrounded by a well-meaning, but ultimately self-centered family. Despite their demands, Cathy moves slowly but surely ahead to rediscover who she is and explore the possibility for another chance at love.
Cast: Lesley Manville as Cathy; Peter Mullan as her supportive friend Michael; and Lisa McGrillis as Kelly, the girlfriend of Cathy's son who has her foot forever lodged her mouth.
Where to watch: The entire run of the BAFTA-award winning Mum is available to stream on Britbox.
Perfect If You Miss: The Durrell family could boast, not just one, but two successful writers in its ranks. Both Gerald and Lawrence, whose literary struggles and triumphs we witnessed in the series, were prolifically published authors in their lifetimes.
If you were drawn to the bookish side of the Durrell experience, 2017 filmTo Walk Invisible: The Bronte Sisters might be your cup of tea.
Premise: While filling their expected roles as ordinary, unmarried daugthers tending to household matters and their widowed father, the Bronte sisters simultaneously became the secret authors of the world's most sensational literature of the time.
Cast: The Bronte sisters are portrayed by Finn Atkins as Charlotte, Charlie Murphy as Anne and Chloe Pirrie as Emily. Jonathan Pryce plays their father.
Where to watch: This two-hour TV movie can be streamed on both PBS Passport and Amazon Prime.
Raised by Wolves
Perfect If You Miss: Above all, The Durrells in Corfu embodied a delightfully eccentric family who broke from the expectations of English society to find their own version of happiness in Corfu.
If this celebration of individualism is what drew you most to the series, the 2013 comedy drama Raised by Wolves might strike a similar note with you.
Premise: A loosely based account of the unconventional upbringing of journalist and bestselling author Caitlin Moran and her sister Caroline, Raised by Wolves follows a Wolverhampton family of socially awkward, homeschooled siblings and their unique and indomitable single mother.
Cast: Rebekah Staton as mother Della Gary; Philip Jackson as Grampy; Helen Monks and Alexa Davies play sisters Germaine and Aretha Gary.
Where to Watch: Acorn TV is the exclusive streaming platform for this series.
My Family and Other Animals
Perfect If You Miss: If you need a little more of the real-life Durrell family in your life, then you might want to seek out the 2005 TV movie My Family and Other Animals.
Premise: Based on the first book in the real Gerald Durrell's Corfu Trilogy, you'll get a chance to revisit the Durrells' story in a shorter form. Written by Simon Nye who also penned the TV series scripts,the film stars Imelda Staunton as "Mother," Matthew Goode as Larry and Russell Tovey as Leslie. Durrells favorites Spiro, Theo, Lugaretzia and even Henry Miller feature in this version as well.
Unfortunately, I couldn't find this film streaming anywhere currently so you may want to check out your local library!
Does anything particularly strike your fancy or do you have any additions for the list? Durrells fans, please share your thoughts! What's filling the Durrells-shaped hole in your heart?
---
By
for on November 21st, 2019
More to Love from Telly Visions