By
for on July 30th, 2023
'Miracle Workers' Continues to Miraculously Waste Good Talent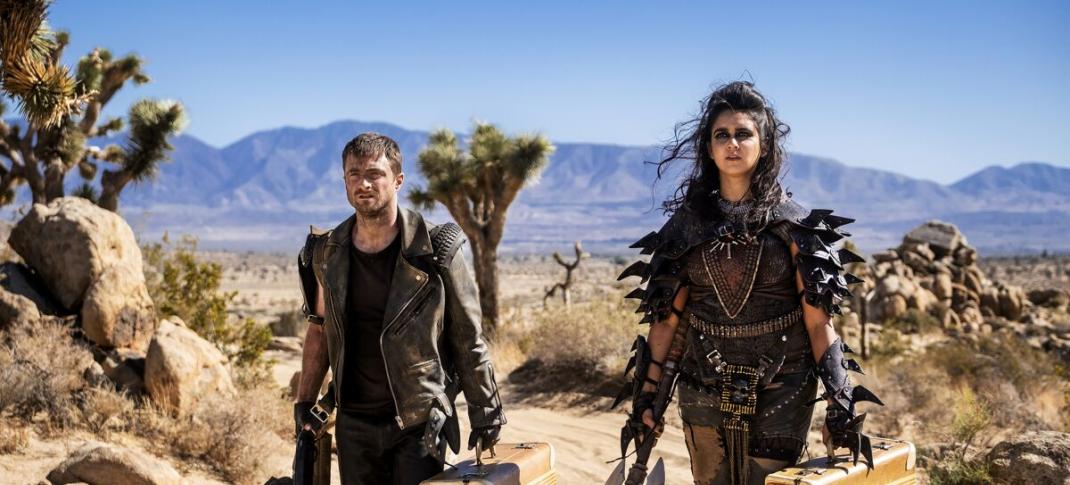 The TBS comedy series Miracle Workers has been uneven since its initial debut in 2019, and, especially in Seasons 2 and 3, painfully unfunny. Initially billed as a heaven-set comedy, it quickly became an anthology series with a self-contained story starring the same ensemble cast each season, similar to shows like American Horror Story, but without the style or charm. The show wants to be Monty Python but is neither sophisticated nor clever enough to pull that off, relying on the star power of lead actors Daniel Radcliffe (Harry Potter) and Steve Buscemi (The Death of Stalin) bolstered by the engaging work of Geraldine Viswanathan (Blockers) and Karan Soni (Deadpool).
Season 1 held promise; the story, about two low-level angels (Radcliffe and Viswanathan) trying to save the Earth from being blown up by God (Buscemi), was cute, often funny, and full of heart. Heaven is a mega-corporation where the workers are uninspired, and the work culture is a soul-crushing bureaucracy. God, as CEO, is beholden to a board of directors and is also an illiterate slacker and royal screw-up. The angels try their best to perform miracles while balancing unintended consequences. For instance, answering one person's prayer for rain accidentally creates a monsoon and kills hundreds of people.
It was an interesting dynamic showing how the angels must employ restraint and cunning. By season's end, cooperation, friendship, and perseverance win the day and save the Earth. But it was not without problems, often bogged down by a plethora of penis jokes and bits that failed to land, leaving it feeling like it needed another edit. However, the season worked best because it was a complete story, whereas the following seasons feel more like "day-in-the-life-of" skits connected only by setting.
Seasons 2 and 3 were worse, with the cast's comic chops mercilessly buried beneath stagnant, awful writing. It is a testament to the actors' inherent charisma that they manage to remain untarnished by the atrocious material. Set in a small kingdom in the Dark Ages, season 2 throws away all the goodwill the show originally garnered, and the writing takes a massive nosedive, with a left turn into an overlong and dreadful Saturday Night Live skit where no one is laughing. (Fittingly, Lorne Michaels of SNL fame is one of the show's producers.)
The season starred Viswanathan playing Al, a commoner with too much ambition for her place in history. Buscemi plays her father, Eddie, and Radcliffe is the foppish, foolish Prince Chauncey, who is a constant disappointment to his tyrant father, King Cragnoor (Peter Serafinowicz). Soni takes up the role of Lord Vexler, a former commoner who rose through the ranks to become the king's right-hand man. Serafinowicz is an accomplished comedic actor who is actually quite fun, but it is his performance that brings amusement, as is equally true for the rest of the cast. The season introduces a mountain of toilet humor, placed front and center with Al and Eddie's job: they literally shovel excrement for a living, and as last names in that period are based on vocation, Al, her brother Mikey (Jon Bass), and Eddie are all Sh*tshovelers. This is supposed to be funny.
Season 3 heads to 1840s America, with Radcliffe as Reverend  Ezekiel, who convinces his famine-stricken flock to take the Oregon Trail west. Buscemi is Benny the Teen, the "trail master," really an outlaw avoiding a bounty hunter, played by Soni. Viswanathan is the bored, frustrated Prudence who wants to escape her marriage to Todd (Bass). With thinly veiled juvenile allegories to Trump and the election process, it continues the sense of an SNL skit gone wrong. The most notable scene finds Ezekiel drunk on snake oil, performing "She'll Be Coming Round the Mountain" as burlesque. Radcliffe has been going for shock value since exiting Potter, but this one borders on embarrassing.
And despite the upward trend of the fourth season, Miracle Workers remains a painful experience we cannot recommend. In the current season, subtitled Miracle Workers: End Times, the ensemble navigates a Mad Max-style post-apocalyptic world. Radcliffe is a wastelander called Sid who meets warlord Freya (Viswanathan). Amidst a fight to the death, they suddenly start making out and end up getting married. They move from the wasteland to the quasi-suburbs of Boomtown with their "dog," Scraps (Bass). Soni plays TI-90, a killer robot in the style of a Terminator, who is Freya's best friend. Buscemi plays the rich, racist, and sexist junkman Morris.
The humor is better here, partly due to the ripe-for-mining circumstances of a destroyed society trying desperately to maintain any semblance of normalcy. Bass as the human dog is particularly entertaining, and his canine-centered gags definitely land. The best scene is one where Scraps is left home alone and destroys the house like a petulant dog, ripping up the couch and gutting pillows with his teeth. However, many jokes still reek of stupidity, such as Radcliffe and Buscemi pretending to be a two-headed mutant, or of violent absurdity, such as when Scraps kills the mailman and makes it look like a suicide. It's too dark to work.
It is truly bewildering how the show survived past Season 2, though perhaps the exit of the series' original creator, Simon Rich, for a new set of showrunners gave the Turner Networks hope of an overhaul. Questions that kept surfacing were: Who is this show for? Whose sense of humor is this catering to? Considering how many series new Warner Bros. Discovery head David Zaslav canceled as tax write-downs, it's quite startling this was not one of them, considering viewership was lowest in the third season. (WBD owns all Turner based networks, including TBS, TNT and CNN). If you venture in, watch only the first and fourth seasons, and let's hope the series is put out of its misery soon.
Miracle Workers Season 1 (and 2 and 3 if you must) are streaming on Max. Season 4 is currently airing weekly on TBS on Monday nights at 10 p.m. ET, and will move to Max upon completion.
---
By
for on July 30th, 2023
More to Love from Telly Visions