By
for on January 5th, 2015
Michael Kitchen Returns in a New Season of 'Foyle's War'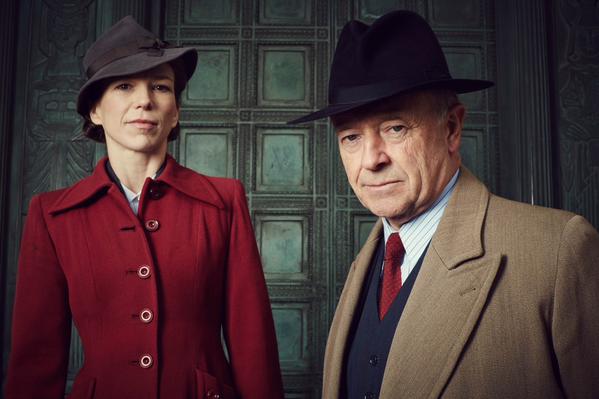 Get excited, mystery fans – an all new season of Foyle's War is headed our way!
Star Michael Kitchen is back as Senior Intelligence Officer Christopher Foyle, along with Honeysuckle Weeks as his loyal assistant Samantha Stewart (now Wainwright), who is still struggling to balance her life working with Foyle and her life at home with her husband Adam.. Other returning cast members include Daniel Weyman as Adam Wainwright, Ellie Haddington as Hilda Pierce, Tim McMullan as Valentine and Rupert Vansittart as Sir Alec Meyerson.
The new season also boasts a handful of formidable guest stars, including Frasier's John Mahoney, Silent Witness' Richard Lintern, Four Lions' Nigel Linsday and more.
These three new, feature-length episodes – entitled High Castle, Trespass and Elise – follow Foyle's continued battles in the dangerous world of espionage, at a time when Britain's history when political and foreign governmental relationships were delicately balanced. 
Per the official press release, this season will explore the world of the American and German businesses that were accused of fuelling Hitler's War Machine and will reflect on the tangled web of promises to the Jews to create a state of Israel in British Palestine. The major blight of post war Britain, the Black Market, will be focused on as will some of the darkest secrets from operations conducted by the British Special Operations Executive during WW2. So, that sounds pretty intense.
Watch the new ITV trailer for yourselves below: 
The most recent series of Foyle's War aired on Masterpiece in late 2013, and featured Kitchen's official return as Christopher Foyle after a three year absence, and transitioned the character into the post World War II era.
The drama was renewed for another season late that same year, to the delight of fans around the world.
Season 8 began this week in the UK (lucky ducks, as per usual), but hopefully American fans won't have to wait too long to see Foyle again. Rumor has it that the new episodes will screen here later this year (late Spring or early Summer sounds possible), but I'll keep you posted as soon as I hear anything firm on that front. At any rate, it doesn't sound like it will take too long for new Foyle's War to get here!
Are you excited at the prospect of Foyle's story continuing? 
---
By
for on January 5th, 2015