By
for on November 26th, 2022
Matilda, or What To Do With the British Musical?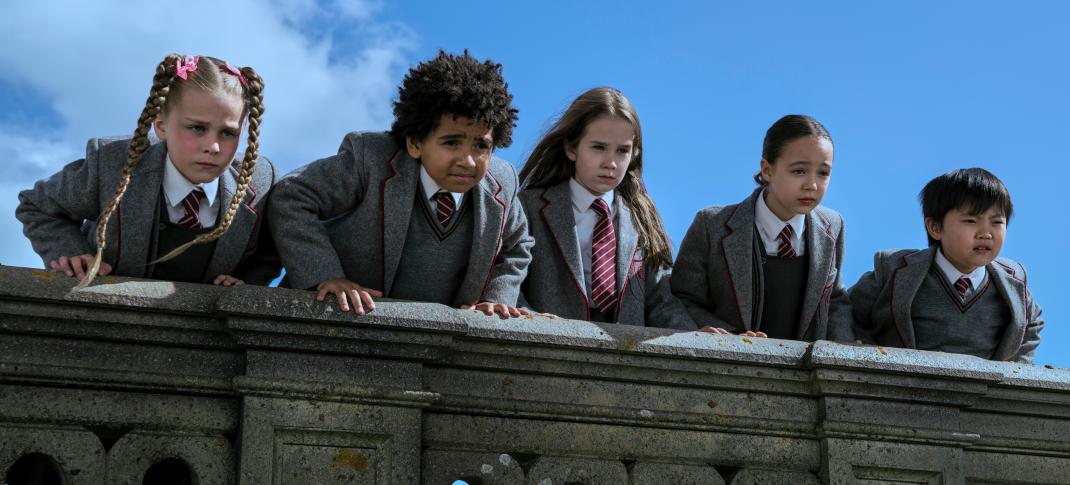 Americans may be credited with inventing the modern day musical, but for decades, Britain has made substantial contributions to the canon. Les Mis, The Lion King, The Rocky Horror Picture Show – none of these iconic moneymakers would exist were it not for the efforts of supremely talented Britons. That's to say nothing of all the titanic shows that originated in the West End, or ones about the British experience – Billy Elliot, Mamma Mia, and the sliding scale of Andrew Lloyd Webber productions (a spectrum that runs from genius to unwatchable) among them. Whenever a stage show hits a stratospheric level of bankable popularity, these shows get adapted into films, some of which become entrenched into pop culture, others which are hastily forgotten.The pattern continues with Netflix and Sony's Matilda The Musical. 
The new adaptation is a film version of Tim Minchin and the Royal Shakespeare Society's 2011 musical adaptation of Roald Dahl's book (which in itself has already been a film – keep up!), filled with bright characters, inventive lyricism, and an enviable amount of catchy songs. Minchin's musical has charmed audiences over the last 11 years, but its film adaptation was a long time coming, stuck in development from around 2013 and then delayed for COVID, before the streaming giant swooped in.(Matilda's development process was so long, it actually predates Netflix's complete co-opting of the rights to Dahl's work.) Even so, Matilda the Musical begins with a Marvel-esque ident letting us know we are in the authorised Roald Dahl content universe, although Willy Wonka does not appear in a post-credit scene to invite Matilda into a super team of quirky characters – a missed opportunity.
Matilda occupies a curious place in the relationship between musicals and films. It's not the first Roald Dahl musical by a long shot – the 1971 Willy Wonka and the Chocolate Factory film featured a slew of original songs, but it was also staged to a less successful degree in West End 2013. However, Matilda The Musical is one of a select few which already exist as a well-known movie, such as The Producers and Hairspray, leading some audiences to mistake the new version for a musical remake. 
But as a filmed version of the stage show, Matilda fits into a broader conversation of British musical films. For a while, the stage-to-film adaptation was happening in reverse – smaller-budget British films were being transported to the stage and extolled for keeping the grounded, usually working-class roots of the drama while leaning more into song. Billy Elliot, Made in Dagenham, Calendar Girls, Kinky Boots (a British film, an American team adapting it into a musical) – there's a long history of British outsiders and underdogs finding an even louder voice onstage.
Matilda is characterized by its commitment to a complete lack of pretension. The child actors play things with much energy and charm, and the adults are as emotionally sincere as the younger characters. Matilda is a rambunctiously silly ride, but it can't be faulted for its earnestness; director Matthew Warchus (whose previous film Pride was a British hit) wants to get as much joy and enthusiasm out of its source material as possible. But with a limited cinema release before it's rolled out on Netflix over the holidays, you wonder if the spare-no-expense approach Sony and Netflix have taken with a technically proficient but relatively modest musical indicates their hope of awards love.
As two stalwarts in cinematic entertainment, musicals and Oscars share an illustrious history. Beyond the five musical-to-film Best Picture winners (West Side Story, My Fair Lady, The Sound of Music, Oliver!, Chicago), over a dozen actors have picked up golden statuettes for musical roles, and countless adaptations have been nominated or secured technical and songwriting trophies – which doesn't even cover the attention all the animated musicals have received. Of the eight or so British films to win Best Picture, only one was for a musical – Lionel Bart's Oliver! Nowadays, a great indicator of a movie musical gearing up for award attention is the inclusion of a reliably crap new number, for the Best Original Song award. 
But were Matilda to feature in award conversations, it would feel distinctly out of place. The critical disappointments of Blonde and Bardo mean Netflix will make a push for whatever it can. But a frothy, sweet film such as Matilda serves better as holiday family entertainment than validated by award attention. Are they hoping to repeat last year's Encanto, which made a modest splash on release but accumulated a huge child audience on streaming over Christmas? Clips of the explosively choreographed dance numbers have already started circulating on social media, so a bolstered viewership from TikTok virality is not out of the question.
Of all the categories Matilda can be classified by, the most interesting one is "The Mid-Budget British Musical That Isn't Sure How Prestigious It Is" (Catchy, I know.) The blend between campy fun and meaningful, affecting stories has resulted in a slew of films that haven't nailed down an identity between "high-budget," and "fluff." Elton John joined the crusade to get Academy attention for Rocketman, but was overshadowed by the perplexingly bad Bohemian Rhapsody, maybe because the Elton biopic had the audacity to get a bit silly with frivolous, bombastic musical numbers. Does it mean you have to play things straighter in order to be taken more seriously? Rocketman director Dexter Fletcher proved already his British musical talents with the Proclaimers jukebox musical Sunshine on Leith in 2013, a film too twee and under the radar even for BAFTA love. Apparently, British mid-budget musicals must be high profile to get noticed, but will still be penalized for going big and authentically celebrating the music and theatricality inherent to their story.
It's not the first time British musicals have attempted to break big on streaming in recent years. In 2021, 20th Century Studios distributed the queer coming-of-age film, Everybody's Talking About Jamie from its 2017 original musical. It got a bit further than Sunshine on Leith, getting nommed in a crowded Outstanding British Film category at the BAFTAs. Still, it's likely the film would have done better keeping away from awards entirely, rather appealing to younger crowds eager to catch the next big thing on streaming. 
On two polar extremes of intended prestige and success in execution, we have Anna and the Apocalypse and Cats. The former is a tongue-in-cheek original work, a Scottish-zombie-Christmas-teen-musical (name a film with more genres, I dare ya); the other is proposed as a delightful, mystical voyage into a fantastical animal world. One was decent fun; the other was a complete misfire. While it was hysterical watching the Oscar buzz for Cats evaporate overnight, it's frustrating seeing so much money and talent poured into something this incompetent while original fare has to scramble for a tiny budget with no support from big studios or producers. It suggests something like Matilda is only attempted because every facet leading to its production assumed a massive success.
Matilda is sweet and fun and ought to be treated as such, without the incessancy where musicals with mild ambitions are pushed for prestigious acclaim as if without it, no one would take the sincere silliness of musicals seriously. (If there were no bias, Mamma Mia 2 would have swept the 2019 Oscars.) Is Britain's film industry putting the most deserved musical adaptations forward, or is it just the ones with more worthy subject matter and form? The next few months will tell what impact the latest British musical will have on the world stage. Still, as every industry mind turns to how they can score big with awards, you feel like the audience who unabashedly loves slight, frothy British-made fun is being catered to less and less.
---
By
for on November 26th, 2022
More to Love from Telly Visions