By
for on March 20th, 2015
Confirmed: The Upcoming 'Sherlock' Special Will Be 'Victorian'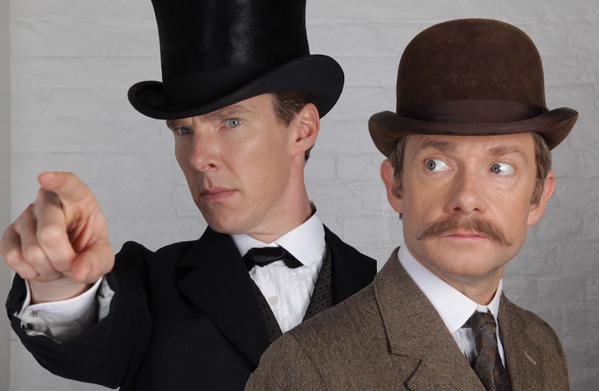 You may have noticed the blog's been quite quiet for the last few days – this is because yours truly has been a bit busy at the annual SXSW Interactive festival in Texas. I learned a lot, including the tidbit referenced below.  It was awesome – but I am very glad to be home, and catching up on the tons of stuff it looked like I missed!
Sherlock fans everywhere are already counting the days until the release of the series' new one-off special later this year – you know, the one that is totally, probably a Christmas special that no one is willing to call a Christmas special yet? Yeah, that one.
Anyway, the real point is that stars Benedict Cumberbatch and Martin Freeman will definitely be back on our screens at some point in 2015, and that's enough to make every kind of fan happy, right?
Another little tidbit sure to intrigue fans is that we now have official confirmation that the upcoming special isn't going to be exactly what you'd call a normal episode. Executive producer Steven Moffat has confirmed that the special will be set in the Victorian period. 
Well, that certainly explains that lone initial promotional photo, as well as the various set photos that have been circulating since filming took place earlier this year.
How does this work, you might ask? Every since that first promo photo dropped, the decidedly un-contemporary (and subsequently un-Sherlock) costumes have had fans speculating whether the special episode would somehow involve time travel, a dream sequence, a fancy dress party or possibly Doctor Who's infamous TARDIS.
Apparently the correct answer is: None of the above.
"The special is its own thing," Moffat told Entertainment Weekly during a break before a panel at the SXSW conference earlier this week. "We wouldn't have done the story we're doing, and the way we're doing it, if we didn't have this special. It's not part of the run of three episodes. So we had this to do it – as we could hardly conceal – it's Victorian."
[Co-creator Mark Gatiss] and me, we wanted to do this, " Moffat continued, "but it had to be a special, it had to be separate entity on its own. It's kind of in its own little bubble."
That certainly sounds as though the special will exist in a world separate and apart from the larger ongoing series, which means that viewers should probably mentally preparing themselves now for the fact that we're probably going to have to keep waiting to see any fallout from the surprise-Mary-is-a-secret-assassin situation, or the fact that Sherlock basically just murdered a guy in cold blood to close out the last season.
Interestingly enough, Gatiss himself has hinted in previous interviews that the special will solve the Moriarty mystery left over from the Season 3 finale.  How does that jive with the whole Victorian thing? Your guess is as good as mine.
Executive producer Sue Vertue also confirmed the Victorian setting during her SXSW panel on how to create a multi-platform drama success. (She also pointed out that the lengthy hiatus-es between Sherlock seasons require the show's producers to come up with "treats" for the so-called "fandom that waited," such as this special one-off episode, the Sherlock mobile app and the upcoming SHERLOCKED convention set to take place in London this April.
Moffat also revealed that filming on the special has been completed and that he was "very pleased" with the final product so far. (We can probably safely assume they're still in post-production at this point.) No airdate is set on either side of the pond as yet – though the smart money's probably on a transmission date somewhere around Christmas.
What do you think folks? How do you feel about the prospect of Victorian Sherlock? To be honest, I'm torn – this seems like a fun concept, but there are so many Series 3 plot threads still left dangling out there that I want to see dealt with, it's hard to not want those handled immediately. That said, the prospect of Cumberbatch spending the entire episode running around in a deerstalker does have a certain appeal.
What are your thoughts on the subject? Let us know in the comments! 
---
By
for on March 20th, 2015