By
for on February 27th, 2022
'Killing Eve' Season 4, Episode 1 Recap: "Just Dunk Me"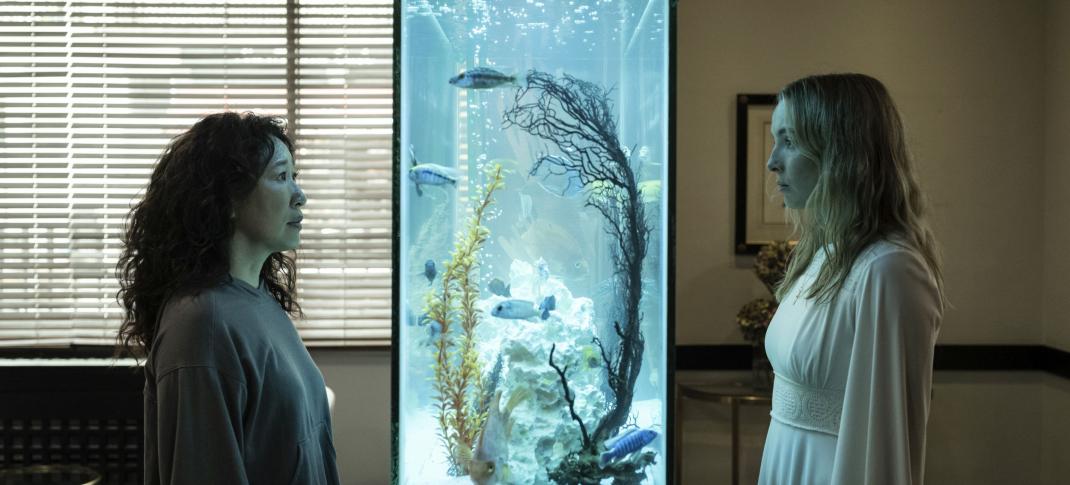 It's been almost two years since the last episode of Killing Eve aired, one of the many shows that were delayed by the ongoing lockdowns and shutdowns that began a month before Season 3's debut. If you don't recall what happened, I don't blame you, but suffice to say the Tower of London bridge ending was the kind of limbo-esque cliffhanger that demanded resolution upon return. But this is Killing Eve, one of the most maddening shows on TV, so, of course, it doesn't do that. Instead, we open in Russia, months if not years later, with Konstantin's face plastered across campaign posters as the mayor of a small town.
Villanelle: Well, if you're baptized in a forest, and no one sees you getting baptized, are you really baptized?
A helmeted figure rides up to the government mansion on a bike and bursts their way in, guns at the ready, as Konstantin sits behind a desk getting a scalp massage with one of those octopus-wire-head-thingys. The helmeted figure storms in, holding him at gunpoint, but surprise, it's not our regularly scheduled assassin, Villanelle. It's Eve. She's looking for Hélène, the Twelve middle-manager (Konstantin refers to her as a "talent scout") who took charge of Villanelle after Dasha flamed out last season. When Konstantin asks the practical question — why not ask Villanelle for the contact info rather than this country-hopping rigamarole, Eve doesn't respond. However, the answer is in a church, where our former assassin has gotten religion.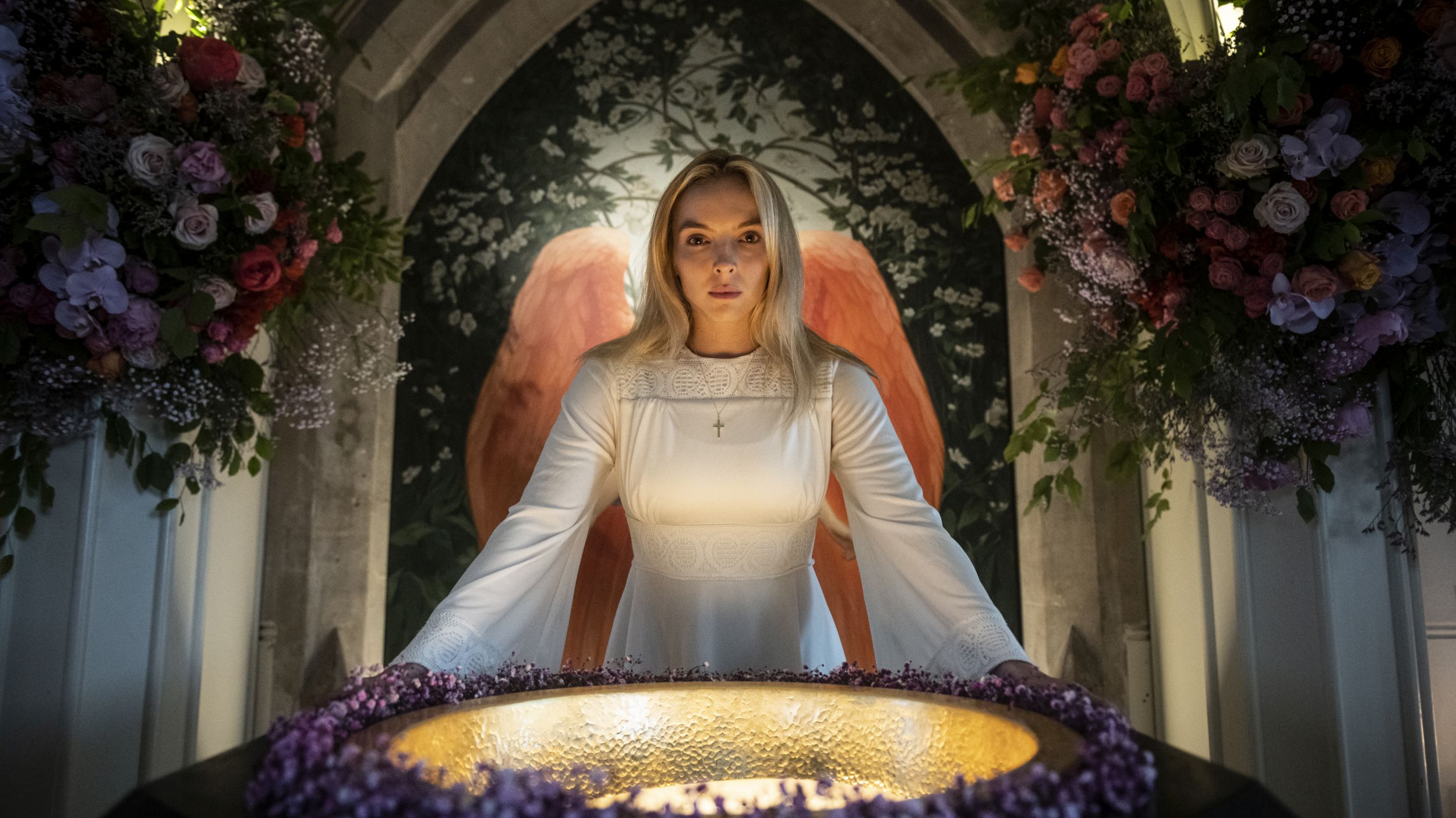 Once again, the two women are on opposite tracks. Villanelle has become Nelle Petrova, the good Christian soldier. Eve is in high spy mode, with a new hot boyfriend, Yusuf (Robert Gilbert), both of whom have gone AWOL from their private security firm to focus on Eve's obsession. "Nelle" is trying to live by strict bible rules, residing with the vicar, Phil (Steve Oram), and his daughter, May (Zindzi Hudson), who has a crush on her. However, her killer instincts come out at inopportune times — like killing May's cat. She tries to hide it and then lies when Barbara (Cecilia Noble) finds it, but the vicar is suspicious. Eve meanwhile, is trying to track who took care of Rhian's body at the end of last season in the hope it will lead to Hélène.
Meanwhile, Carolyn is stationed as a cultural attache in Mallorca on the Balearic Islands, a fancy way of saying she's been fired. Her minder, David (David Moorst), can barely keep her awake. But then the Czech intelligence officer she's waiting for, Milos (Robert Luckay), walks in with evidence of another murder in a series of tortured to death victims, who turns out to be a member of the Twelve, and she's bright and bushy-tailed. She's also got Hugo hanging about (remember him from Season 2?) now at her old job at the Russia desk, threatening to have her arrested for Paul's murder if she doesn't drop it.
Eve continues hunting the people who work at the funeral parlor where Rhian's body was taken, Elliot (Manpreet Bachu) and Pam (Anjana Vasan), convinced they are Twelve agents. But these three can't be kept apart for long. With Hugo sniffing about, Carolyn needs someone he can't blackmail, so she turns to Eve to find out who is killing the members of the Twelve. Meanwhile, "Nelle" is sending invite after invite to Eve to attend her upcoming baptism. Unsurprisingly, Eve doesn't show to the latter, though she does take the files from the former. Villanelle must be baptized unseen by the one person she was doing it for.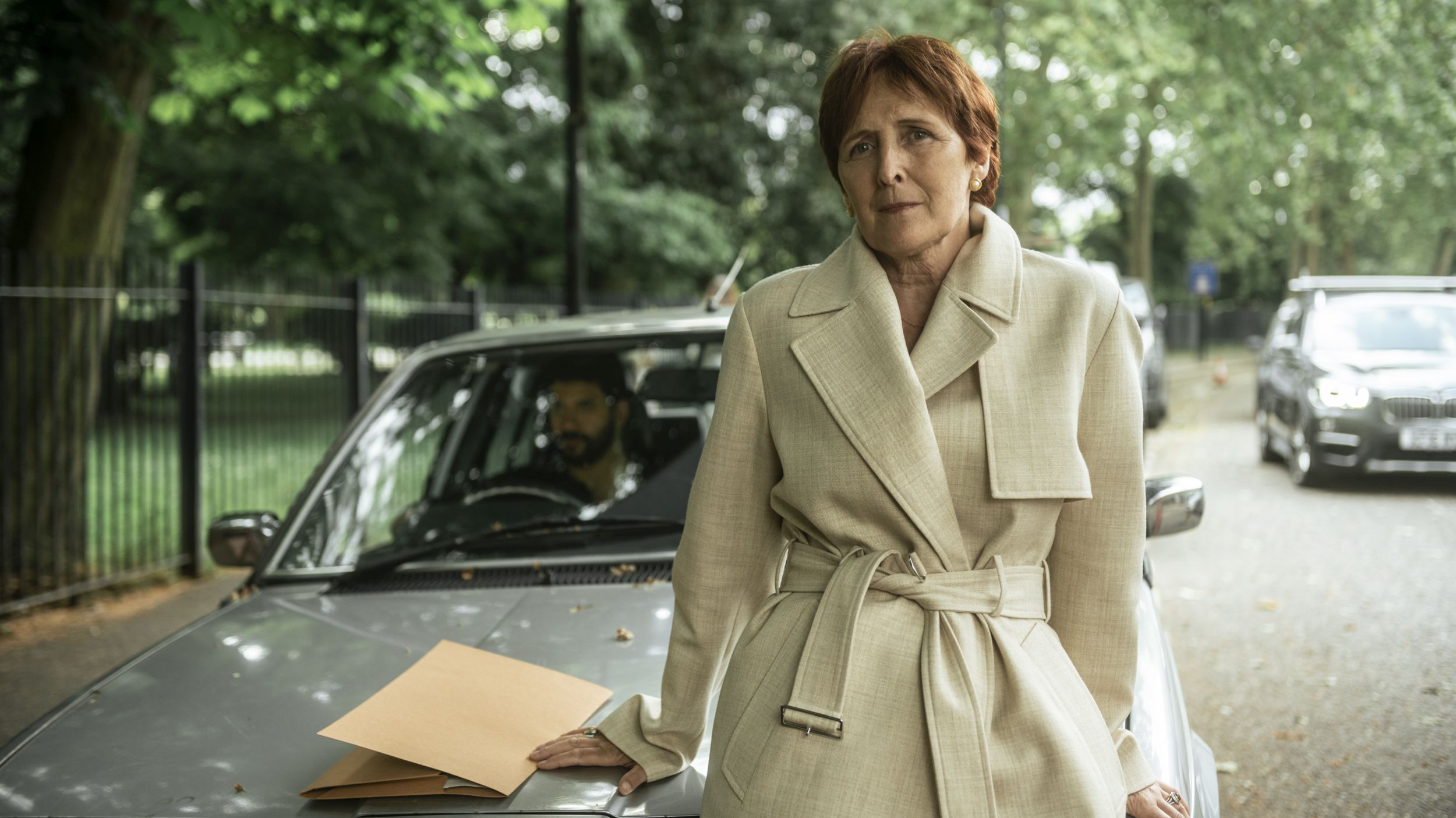 But if Mohammed won't come to the mountain, the mountain will come to Mohammad, so Villanelle turns up at Eve's hotel, protesting how much she's changed. Eve insists if Villanelle changed, she'd leave Eve alone. Villanelle responds that if Eve had changed, she wouldn't have been able to find her. No, none of them have changed, no matter what they protest; Carolyn, Eve, or Nelle. As Eve slaps Villanelle, Carolyn stares at the MI-6 building she once ruled and spat in rage. Villanelle responds by returning to the church, threatening Jesus, and nearly drowning a drunken May out of habit. 
But Eve is a good spy — she's always been a good spy. Following Pam as she leaves work turns out to be the lead she wanted. At first, it's not clear if the girl attacks her and runs because she's being followed and is good at self-defense or what. But as the car she gets into pulls away, Eve spies Hélène in the back seat. As for Carolyn, she isn't about to lay down and accept defeat. She's headed to Moscow and her old buddy Vlad (Laurentiu Possa), who greets her with "Hello traitor." And Villanelle? Well, she goes home and finds Jesus, hanging on the couch with a bucket of popcorn and really great gold gogo boots. Salvation ahoy!
Is it the most promising start? Not really, but the continual changing of the guard behind-the-scenes at Killing Eve means that each season begins with a new showrunner resetting the pieces and feeling their way around the room before getting down to business. Hopefully, Killing Eve can find the way to stick the landing, even if takeoff is this rocky.
---
By
for on February 27th, 2022