By
for on September 17th, 2022
British Actors You Should Know: Adeel Akhtar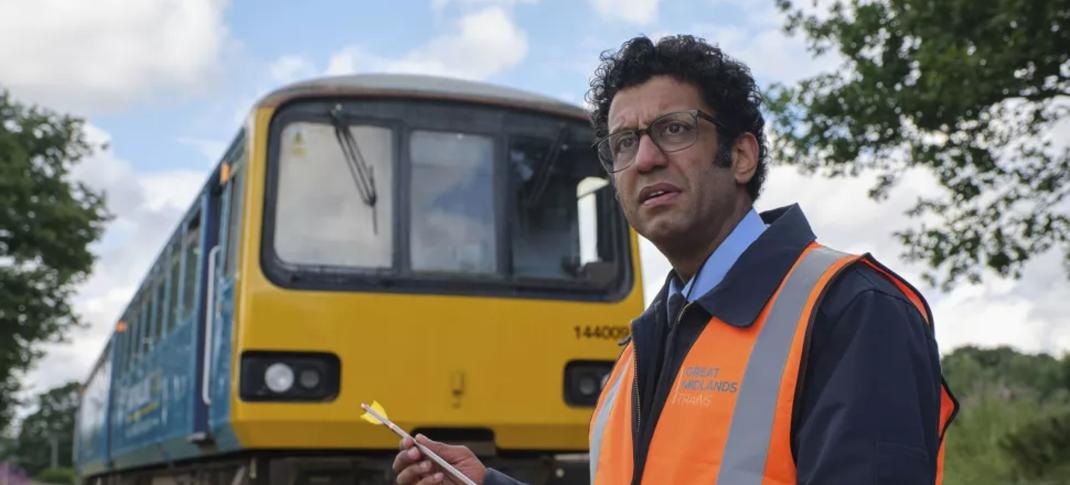 If Adeel Akhtar had deferred to paternal pressure, he might have followed in his father's footsteps and become an immigration lawyer. The London-born son of Pakistani and Kenyan immigrants did, in fact, study law. But fortunately for us, his mother enrolled him in National Youth Theatre classes on the sly, and his love of acting never left him. Akhtar eventually set the law career aside and opted to take up acting instead.
In 2002, while traveling to New York to audition at the famous Actor's Studio, Akhtar was erroneously identified as a terrorist, which resulted in his arrest and detainment at JFK. This may be why, for the most part, the actor has avoided being typecast in such roles, aside from his first screen credit in the TV movie, Let's Roll: The Story of Flight 93. The first non-white actor to win the Best Leading Actor in a TV Series BAFTA award, Akhtar's first big break had him playing a terrorist of a different sort.
Four Lions
Four Lions was one of the few comedies to take a punch at Islamic terrorism without resorting to debasing racist caricatures. The 2010 BAFTA-winning satirical farce follows a group of homegrown Jihadists from Yorkshire who dream of the glory of martyrdom. Luckily for the innocent citizens of England, it turns out they're an inept and quarrelsome cadre of terrorists. Akhtar plays Faisal, a trusting, dimwitted soul who thinks he can train crows to be suicide bombers.
Utopia
Utopia, remade recently for American audiences on Prime Video, takes its name from the manuscript of its in-world cult graphic novel. The comic draws five strangers together in this 2013 dystopian drama produced by Channel 4. When the group finds themselves hunted by a ruthless establishment known as The Network, they must work out and defeat the organization's plot against Utopia to get the targets off their backs.
In a BAFTA-nominated performance, Akhtar portrays Wilson Wilson, a survivalist and conspiracy theorist who has wiped all traces of himself from the world. His paranoia and idealism create an inner conflict that eventually divides Wilson's loyalties.
Murdered By My Father
Akhtar broke barriers when he won the Best Leading Actor TV BAFTA (the first non-white actor to win this particular award) for his role in Murdered By My Father. In the 2016 BBC movie about honor killing. He plays Shahzad, a widower doing his best to raise his two children alone. When his teenage daughter Salma (Kiran Sonia Sawar) keeps her new boyfriend a secret from her father, it sets off a set of circumstances that lead to humiliation and, well… murder.
The Night Manager
The 2016 AMC Emmy-winning John le Carré spy thriller, The Night Manager, tells the story of an ex-soldier (played by Tom Hiddleston) recruited by intelligence officer Angela Burr (Olivia Colman) to infiltrate an arms dealer's inner circle. Akhtar portrays Rob Singhal, one of Angela's colleagues working on Operation Limpet, a case very unpopular with MI6.
Swimming with Men
The tagline for Swimming With Men was "The Full Monty in Speedos," which wasn't incorrect. This 2018 underdog sports comedy begins with Eric (Rob Brydon), a man struggling with depression brought on by a mid-life crisis. When he encounters a ragtag team of male synchronized swimmers at his local pool, their acceptance serves as a lifeline. Akhtar's performance as Kurt, one of the brotherhood of swimmers who train together for a competition in Milan, was singled out as one of the best in the film.
Les Miserables
Masterpiece viewers may recognize Akhtar from his appearance in the 2019 BBC production of the Victor Hugo epic and musical theater blockbuster Les Miserables. He plays Monsieur Thénardier, the scavenger-turned-landlord, whose comedically irresponsible character soon turns dark and foreboding. Fun fact: this is the second credit on this list where Akhtar is a scene partner with Olivia Colman.
Enola Holmes
In 2020, Akhtar was cast as Inspector Lestrade in Netflix's Enola Holmes film, starring Millie Bobby Brown as Sherlock's younger sister. The star-studded movie (which features Henry Cavill as Sherlock and Helena Bonham Carter as the Holmes family matriarch) features the teenage Holmes investigating her mother's disappearance and the attempted murder of a young aristocrat. Enola also spends the film trying to avoid being apprehended and sent back to school by the always diligent (but not very intuitive) Inspector.  
Killing Eve
Though Akhtar's British intelligence therapist character, Martin, wasn't introduced until Killing Eve Season 2, his character slowly grew in prominence as Eve's psychiatrist. By the show's final season, Akhtar ended up with his own major arc. Most notably, he gets kidnapped by assassin extraordinaire, Villanelle, who demands he provide her with therapy the same way he did Eve until her psychopathology is cured. 
Sherwood
Set in a Nottinghamshire mining village, the 2022 BBC crime drama Sherwood tells the story of two shocking killings that spark a massive manhunt. In it, Akhtar plays Andy Fisher, a shy and fragile widower who still struggles to cope with his wife's death. He relies on his son for emotional support but worries about losing him to his son's fiancée Sarah (Joanne Froggatt). The series debuts in the US next month on BritBox.
Akhtar's list of impressive credits goes on for days, but we've got to stop somewhere. Considering Mr. Akhtar's only in his early 40's, we look forward to many more years of entertaining and affecting performances.
---
By
for on September 17th, 2022
More to Love from Telly Visions