By
for on February 18th, 2020
'Killing Eve' Season 3 Has An Official Premiere Date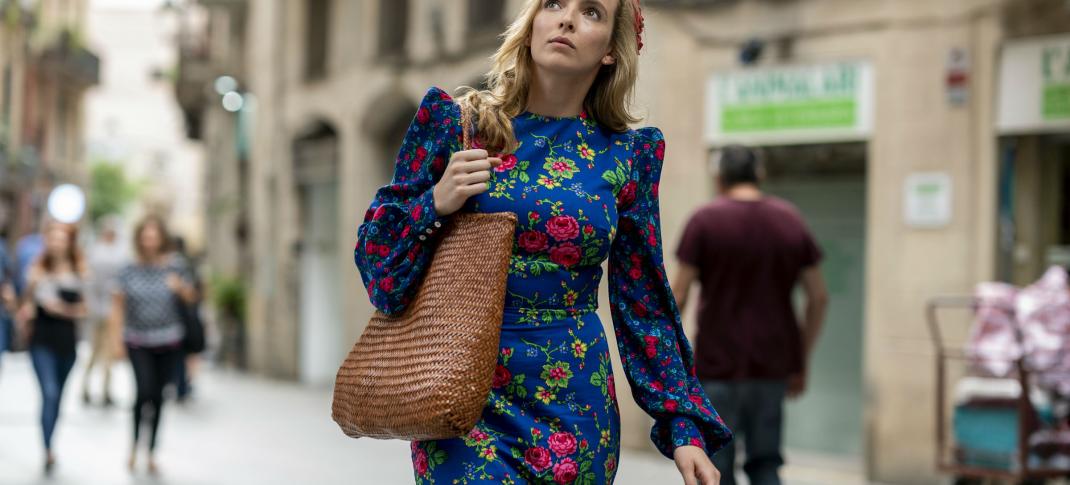 We already knew that BBC America's buzzy female assassin drama Killing Eve was set to return for its third season this spring. (The network pretty much said as much when it announced the series' early Season 4 renewal back in January.) But now we know precisely we can expect to see Jodie Comer and Sandra Oh back on our screens. 
Killing Eve Season 3 will officially kick off on Sunday, April 26 at 10pm, and the series will once again be simulcast on both BBC America and its parent network AMC. 
The official trailer announcing the series' return doesn't have any new footage, or offer any information at all about Season 3. But it's still perfectly on brand for everything Killing Eve is about. 
We don't have a ton of information to go on just yet about what the new season entails, just that there's a lot of fallout to navigate from last season. Season 2 concluded with assassin Villanelle (Comer) shooting MI-5 agent Eve Polastri (Oh), meaning that both women have officially tried to kill one another at this point. 
Season 3 will pick up six months later. Eve, naturally, is alive, because we all knew that was going to happen, although naturally we're still all a bit unclear on the specifics of how she survived her gunshot wound.
"It's the most personal season — and the most emotionally rocky season," executive producer Sally Woodward Gentle told Entertainment Weekly. Which makes a lot of sense, when you consider the fact that this is also the first season in which it sounds as though both women will be trying to forge lives without the other. Part of that is due to the fact that Villanelle apparently thinks her attempt to kill Eve was successful. For Eve, it means building a life that keeps her hidden from the woman who tried to kill her. 
The third season continues the story of two women with brutal pasts, addicted to each other but now trying desperately to live their lives without their drug of choice. For Villanelle (Comer), the assassin without a job, Eve (Oh) is dead. For Eve, the ex-MI6 operative hiding in plain sight, Villanelle will never find her. All seems fine until a shocking and personal death sets them on a collision course yet again. The journey back to each other will cost both of them friends, family, and allegiances…and perhaps a share of their souls. 
Killing Eve has been a remarkable little series that could ever since it debuted back in 2018, steadily building buzz, grabbing awards and - most importantly - increasing its viewership season over season. Expectations are pretty high as it returns for its third - and we all have a lot of questions about how it will manage to continue its story. The ongoing dance/flirtation/obsession between Eve and Villanelle is a primary driver of the series' narrative, and one has to wonder what a season in which neither is even really aware of the other will work. Though the initial description of Season 3 promises the two will find their way back to this pattern this year, it will be interesting to see how the series will navigate the period where their stories don't exactly intersect. 
What is a Villanelle without Eve like? Or, not just without Eve, but one who thinks that there is no more Eve? Is she pleased about that? Sad? Does she consider her supposed "death" a just punishment?  We'll have to tune in and find out. 
Are you looking forward to Killing Eve's return? What do you want to see in Season 3? Let's discuss in the comments.
---
By
for on February 18th, 2020
More to Love from Telly Visions