By
for on May 5th, 2019
'Killing Eve' Season 2, Episode 5 Recap: "Smell Ya Later"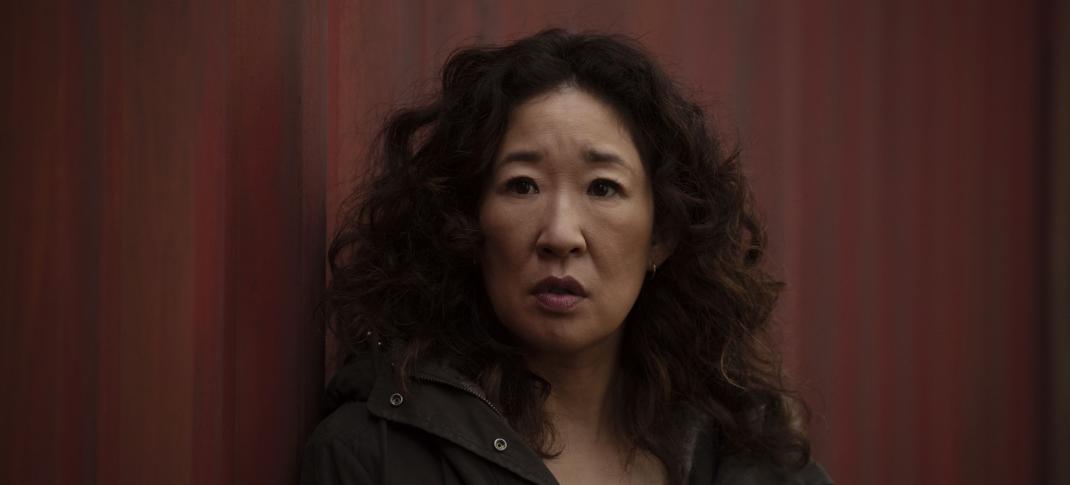 After four episodes being kept apart, this week's Killing Eve puts Villanelle and Eve on a crash course to meet again.
Eve: I wish she were a bit more fun... She kills people for a living, you'd think she works in accounts.
This week's episode starts with another of Villanelle's kills, this time in a car wash. The outside of the car is clean, but the inside could definitely use some detailing. While Villanelle is hard at her job, Eve is grumping over her own, where the Ghost, arrested at the end of last week's episode and whose real name is revealed to be Jin, is not being forthcoming on any particular subject... except Villanelle, when Eve brings her up. The Ghost calls her "the demon with no face." That gives Eve an idea: Crack one by using the other. Jess spills the beans about the Amsterdam job and reveals Eve's favorite girl has gone freelance. As far as Eve is concerned if Villanelle is for hire, then MI-6 should pony up with a contract and put the woman on retainer. Barring that, they should simply put a hit out on Eve and hope Villanelle is the one to take the job.
The sane people in the room are against this, but Carolyn and Hugo back it as smart outside-the-box thinking. Jess is especially upset and tries to get through to Eve that this isn't the way things should work. That Eve never does paperwork on her investigations isn't normal. That there are no records in triplicate means someone doesn't want Eve, or her work, to be documented. As Jess all but spells out, Carolyn is using Eve without a care for her life. She's not the only one who is upset about it either. Villanelle all but flips every lid at Konstantin when she discovers her new assignment, and immediately goes into mourning at the idea of her upcoming loss.
Carolyn may be agreeing in principle, but in practice, she's clearly got something more up her sleeve. She sends over Martin (Adel Akhtar) to do a little song and dance presentation on "psychopaths," but it's evident from the getgo that he's monitoring Eve's responses to images from grotesque, bloody bodies to Villanelle's picture. Martin's professional response to his observations when he returns to Carolyn is that Eve is clearly too close to everything and MI-6 should absolutely not go through on this plan. 
The good news for those of us who spend every week worrying Niko is going the way of Bill, someone's first act is to remove him from the situation, sending him off to Oxford to help out with the Spelling Bee, where everyone hopes he will remain safe and maths-oriented. Considering the next delivery to the house (after Indian takeaway) is a floral display spelling out Eve's name, one can hope it was Villanelle who was so lovely about removing Niko from harm's way. (Actually, it was Carolyn, she was Spelling Bee champion back in 1973, very supportive network.) 
Despite all the warnings Eve is receiving, including one where Carolyn all but admits to her face Jess was right, Eve is going through with this plan to capture Villanelle. Hugo is on board, no surprise there, but Kenny is not, leading Eve to sack him rather than hear sense. In case anyone thinks Eve is sane right now, she nearly pushes a man off the tube platform in front of an oncoming train on her way to the set up at her house. Once she realizes Villanelle is at the door, she removes the bulletproof vest she's been given too.
The scenes between Jodie Comer and Sandra Oh were the heart of the first season's electricity, and this season is no different. The series spends multiple episodes keeping them apart for precisely this reason because once they're in the room together, there is nothing else. Everything that doesn't make sense, anything about the show that's silly or over the top or doesn't work just... fades away in the face of the chemistry between these two women. The Villanelle "poisoning" Eve scene (it's not really poison, why would she think that?) is absolutely riveting, as is Villanelle making Eve promise to give her whatever she wants, as long as our serial killer agrees to help with Eve's little work problem. Best part? As they leave Eve's house and ride away to the confrontation to break the Ghost, in the next car back, Carolyn and Konstantin are seen, sitting in a car outside. One can only hope they would have done something if things went sideways.
As for the Ghost, she's been trussed up and put inside a shipping container out in the woods. Villanelle's query if this is all legal might seem funny on the face of it, but she's not exactly wrong. (Also I think Kenny would be glad to know someone is looking out for Eve's best interests.) Eve tries one more time to get answers about Alaister Peele's death and associated hits, but Jin isn't talking. Villanelle seems almost delighted that she now gets to go in as the ultimate bad cop half of their duo. The answer, by the way, is the one everyone saw coming. The Ghost was hired by Aaron Peele, not to gain ownership of the company, but to sell it unhindered. In Villanelle's words, he's selling it, and the data they've collected as the ultimate weapon. ("It's always a weapon.") She even got the truth out without killing the Ghost, which, thank heavens for that, I suppose. And with that Villanelle walks away.
She's not done with Eve yet though, not by a long shot. They're colleagues now, after all. And Villanelle is more than happy to let at least one person know it: Niko, who perhaps wasn't as safe in Oxford as we thought. Not that's Villanelle's taking him out, this time anyway. She just wanted a face to face moment to plant a stake in the ground over their mutual interest. The competition has begun.
---
By
for on May 5th, 2019